Looking for a quick recipe that the whole family can enjoy?! Look no further! I would like to share with you my recipe for Chicken Rice Bake. Of course this is a plant based recipe, but it is super yummy and full of texture and flavor.
I was sitting at my computer working when I realized that it was time for supper and I hadn't even started cooking it. I knew my littles would be in the kitchen complaining about their hungry tummies and how they want a snack. I quickly got up and assessed my almost bare cupboards and fridge and found a few items I could work with.
Side note: I don't always have bare cupboards. We just didn't take our weekly shopping trip. Yep, that's right, weekly. We try to buy the freshest locally organic produce we can and we only buy for the week. Other items like canned tomatoes and sometimes canned beans are bought in larger amounts for the month. But, we can save this topic for another blog.
After coming up with this recipe on the spur of the moment, I was surprised at how much my family loved it. My girls went back 3 times to get more. It makes enough for a family of 4 and I already cooked the brown rice ahead of time (Youtube Video Here), as I use it in other dishes through the week. The veggie chicken was thawed slightly, enough to get my knife through to cut it into little pieces.
I chose to cook this in a cast iron pan as I was moving it to the oven after the stove. If you prefer to melt your veggie cheese on the stove-top, please do so. I felt it made the dish awesome. I chopped two slices of bacon from a previous recipe here and sprinkled it on top of the dish before serving to add that crunchy layer. No need to bake those, they are super thin and will burn if placed in the oven.
Overall, this was a great recipe for everyone in the family and needless to say, I will be making it again.
Enjoy!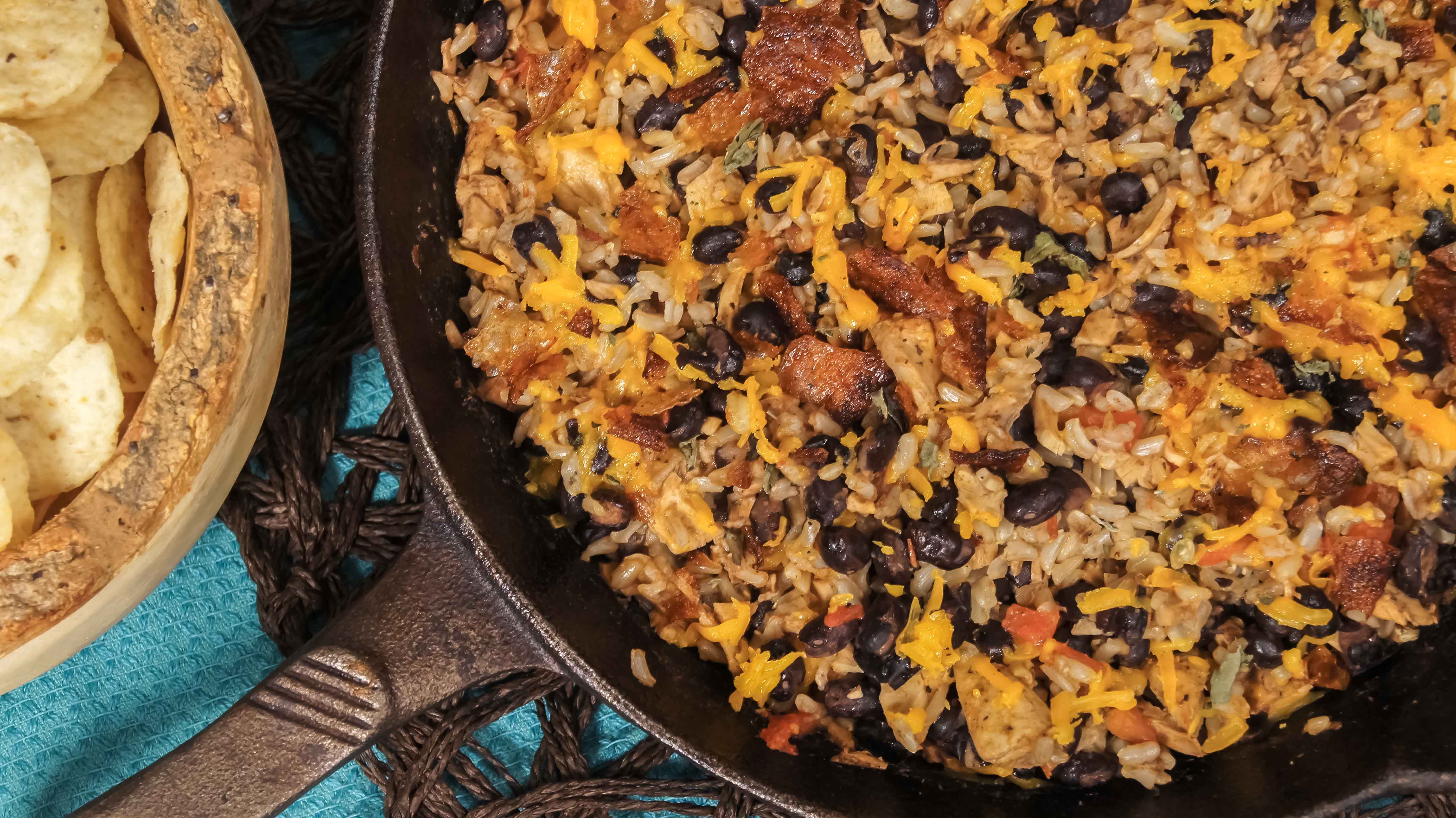 Veggie Chicken Rice Bake
This dish will leave your family wanting more. It is full of flavor and texture. The best of all it is quick and easy to make. Enjoy!
Ingredients
2

Tbs

coconut oil

2/3

Bag

Beyond Chicken, chopped in pieces

Brand: Beyond Meat, I found it in freezer section at Walmart. It's Gluten Free too!

2

tsp

smoked paprika

1/4

tsp

black pepper

1/2

tsp

dried basil

salt

To desired taste.

1

15-oz can

organic black beans

rinsed and drained

Roma tomatoes

fresh and diced

1/2-1

cup

water or coconut milk (not canned)

I used water, but milk will give a fuller, fattier taste.

2

cups

brown rice

I made mine ahead. See Youtube video.

1/2

cup

Daiya cheddar cheese

2

strips

Vegan Bacon

See recipe link below.
Instructions
In large cast iron pan or skillet (if not putting in oven), add coconut oil and Beyond Chicken pieces. Cook over medium/high heat until chicken is golden or lightly browned. About 3 minutes.

Add Black beans, seasonings and tomatoes and cook for about 2 minutes. Let seasonings marry together.

Add in 2 cups of brown rice and 1/2 -1 cup of water or coconut milk. The milk is to soften and fluff the rice. If you add too much milk, it can cook or bake out. You will just need to add more time to your cooking process.

Cook mixture for 7-10 minutes.

Sprinkle with cheese and place in oven for 5 minutes on 400 degrees, or let sit on stove until melted. * I prefer the oven as it tends to melt vegan cheese better and adds a little crispy to the edges.

Top with meatless bacon for added crunchy flavor and texture.