Pumpkin! Yep, it is November and I am still making pumpkin recipes. This will continue to happen all the way through this month. I am just, that kind of gal. Fall makes me happy and so does pumpkin, so why not mesh the two as long as I can. Anyways… I often have a hard time finding a breakfast that I enjoy and that is quick to grab and eat. I was introduced to overnight oats this year and love them so much. Not only are they tasty, but they are healthy too. I love that I don't have to cook the oats and their nutrients are not destroyed by heat. The non-dairy milk and liquid, soften the oats overnight and make them easy to grab and eat. There is very little time spent prepping these jars for the week and they are filling each time you enjoy them. The recipe I found was from Jar of Lemons. She uses protein powder in hers, I found that it was too dry and I didn't like the texture of it. If you wish to add that in, feel free to look up the original recipe
here
. The recipe also called for stevia. I have a thing with using artificial sweeteners, as told in the Sugar Blues Webinar (November 10, 2016), so I decided to use brown rice syrup. It is still sugar, but it is metabolized differently than fructose and goes well with my gut health recovery. If you don't want to use Stevia or Brown rice syrup, you can use agave or (if you aren't vegan)- honey. Overall, this was a great recipe for a busy mom like me or even good for those busy kids hurrying off to school. Enjoy.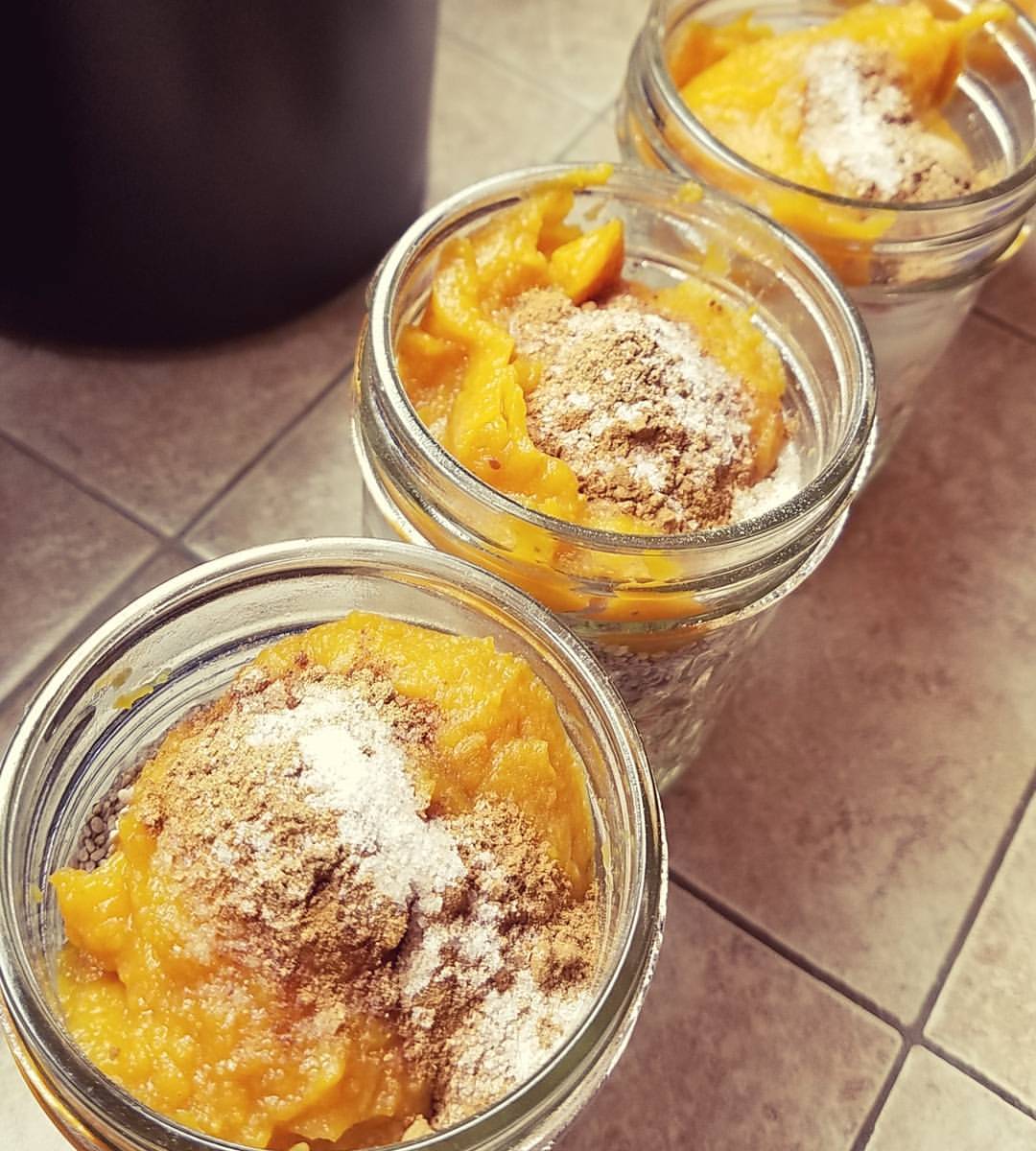 Pumpkin Overnight Oats
This recipe is great for a busy mom like me and for all those busy kids too. It is creamy and will remind you of a pumpkin pie treat for breakfast. The recipe is only for one jar, so you will need to duplicate it to fill each small jar.
Ingredients
1/3

cup

pumpkin puree

1/2

cup

rolled oats

I use gluten free oats from Trader Joes

1/3

cup

Unsweetened non dairy milk

2

Tbs.

vegan vanilla yogurt

optional

1

tsp.

brown rice syrup

OR 1 Stevia packet

Pinch

salt
Instructions
Combine the dry ingredients in a jar or a container with a lid.

Add in the pumpkin puree, milk, brown rice syrup and yogurt.

Stir, then cover with a lid and leave in the refrigerator overnight.

In the morning, open the container and enjoy!