My kids love macaroni and cheese, but the homemade version. They actually have never had the boxed version due to their gluten intolerance and dairy sensitivities, which I am perfectly fine with. I found rice stick noodles, in the Asian section of the grocery story, that work really great for this recipe. You can choose to use these noodles or any noodles you like. Through the years, I have tested many noodles, here are just a few gluten free ones for a quick review:
Tinkyada Brown Rice Pasta- Not a fan. This pasta has a specific cooking method. It is made of brown rice and gets super hard when put in the fridge. When I re-heat it on stove it crumbles.
Ancient Harvest Quinoa Pasta- This pasta wasn't bad but not what I expected. It is made with corn and quinoa flour, not just quinoa. Made a unique taste.  It was hard when cool.
Heartland Gluten Free Pasta- Corn based, processed in a facility the manufactures wheat products, easy to cook but if overcooked, starts to fall apart.
Barilla Gluten Free Pasta- Best tasting of the pastas. Corn and rice flour pasta, cooks just like regular pasta. It still tends to get hard when cooled.
Tolerant Foods Red Lentil Pasta- Unique lentil taste, cooks like regular pasta, but if overcooked it will turn mushy.
Modern Table Red Lentil Pasta- Unique lentil taste, texture is fair. It tends to get more mushy the longer you let it sit in a sauce. It also breaks apart very easily if left to sit in sauce for awhile.
I am sure there are many others out there, but these were my perceptions of what I try. I now use rice stick noodles. They hold sauce well and don't get hard in the refrigerator. There is not much taste to these noodles so it should be paired with a sauce. If eaten by themselves, they taste like rice, obviously since they are made of rice and water. The best part about these noodles is that they are really cheap. I buy a whole package for about $1.50. This recipe I am sharing with you has become a favorite of ours. It is flavorful as it is paired with the coconut cheese recipe found
here
. Once the cheese is made, cheesy noodles and peas can be made within minutes and makes for a tasty meal. Enjoy.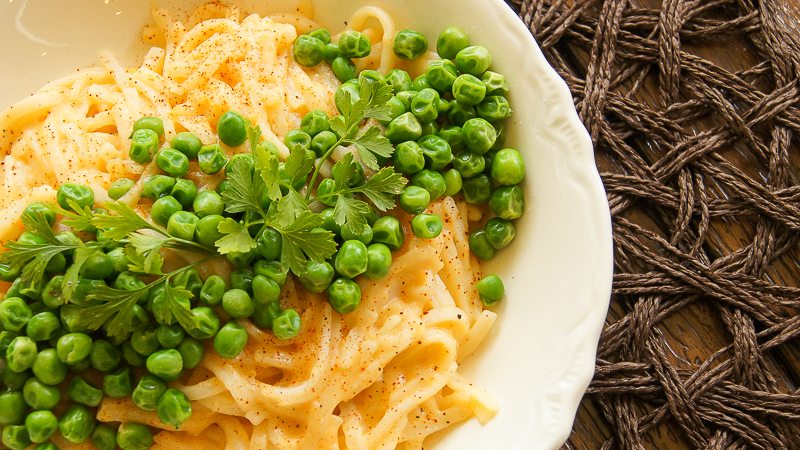 Cheesy Noodles and Peas
This recipe is creamy and full of flavor. It is quick and super easy to make. Perfect for a cold evening or when you want some homemade comfort food. Pair with a salad and garlic bread for a full meal.
Ingredients
1

package

rice stick noodles

found in Asian section of grocery store.

2

Tbs

Unsweetened non dairy milk

1/2

cup

coconut cheese

Smoked Paprika is our favorite for this recipe. Coconut cheese recipe found in notes.

to taste

ground pink himalayan salt

to taste

ground black pepper

optional

1/2

small bag

steamed green peas

I used 5 oz of a 10 oz bag and only steamed them for 1/2 the time.
Instructions
Fill large pot 1/2 way filled with water. Bring to a boil.

Place rice stick noodles in boiling water and cook for 8-10 minutes. Test noodles to make sure they are cooked to desired texture.

Strain noodles and return them to the pot, off the heat. Add non-dairy milk, coconut cheese, salt, and pepper. Mix until the cheese is melted. ** Add as little or as much cheese to meet your desired consistency. **

Add 1/2 bag of steamed peas and fold into the pasta being careful not to squish them. **I steamed the peas for half of the time the instructions suggested, as they were going to continue to cook in the pasta.**