I think it is fun when we can celebrate food. I have a special calendar that let's me know what national food or drink day it is and on Easter day this year, it happens to be National Grilled Cheese day. So to begin our fun, let's take a look at the history of grilled cheese.
In 1914, J.L. Kraft & Bros. Company opened its first plant in Illinois that introduced the concept of processed cheese. This was a cheese that could last a longer shelf life and wouldn't spoil while they transported it. It was also a cheap and scalable product known as "factory cheese."
In the 1920s an inventor by the name of Otto Frederick Rohwedder invented the bread slicer machine. This made it easy for white bread to be distributed and cheaper to buy.
So with these two inventions, people started trying the concept of putting cheese and bread together to make a sandwich, even though the original concept of combining bread and cheese can be dated back to Ancient Rome. When the Great Depression struck, grilled cheese sandwiches became a staple in the American household. It started off as open-faced sandwiches, grated cheese with toppings like pineapple, tomatoes, eggs, and bacon. Eventually, people started closing the sandwiches together. The Americans who were poor could afford the bread and cheese which provided them with enough nutrition so they were able to return to work.
During World War II, grilled cheese became a favorite of the armed forces. Navy cooks would prepare the "American cheese filling sandwiches" as instructed by the government issued cookbooks. These too were open faced. Soon, this became a part of the American meal plan. By 1960s the term grilled cheese finally surfaced.
Grilled cheese today is still a favorite for many. In fact, there are diners all over the U.S. that are dedicated to this sandwich, one being Hammontree's Grilled Cheese diner located in NW Arkansas.
Being vegan and gluten-free. Most of our grilled cheese sandwiches happen right in our very own kitchen. So in honor of National Grilled Cheese Day, I chose to re-make The Pioneer Woman's original recipe found here. With so many vegan cheese options out there it made it easy to remake this recipe. The cheese on the outside made it more crispy for sure and it just added to that yummy cheesy goodness on the inside.
I will stress that this is not a low-fodmap recipe, however, it is vegan and gluten-free. This, of course, was a hit with my family.
Let's Eat!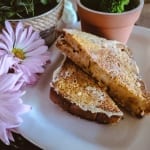 Print Recipe
Cheesy Grilled Cheese
Super cheesy grilled cheese that is sure to satisfy the whole family.
Ingredients
2

slices

gluten-free, vegan bread

softened Earth Balance

grated Vio Life Feta

Shredded vegan Cheddar

Shredded vegan Mozzarella
Instructions
Heat a cast iron pan or skillet over medium-low heat.

Spread the Earth Balance butter on one side of both pieces of the bread.

Sprinkle a little bit of the shredded cheese over the bread. Press it down a little to get it to stick to the butter.

Place one slice of the bread, cheese side down into the pan. Top with a mix of all three cheeses.

Carefully place second slice of bread on top with cheese side up.

Cook on both sides until the middle becomes cheesy. Don't let the surface of the sandwich burn.
Notes
This is not a low fodmap recipe.