When you are on a gut recovery program, it is hard to find things that you can eat that taste good. One morning I decided I wanted to make a biscuit recipe that I could enjoy in the mornings. Since blueberries are an approved fruit that I can eat, I decided that I would make blueberry biscuits. So I set out on the morning venture not sure what I was doing nor if it would work. I had made coconut biscuits recently and they didn't stick together like I would have liked and didn't know if these would turn out the same. To my pleasant surprise, the blueberry biscuits were delicious. There was only one problem, They didn't rise high enough to be biscuits, so I have officially renamed them as scones.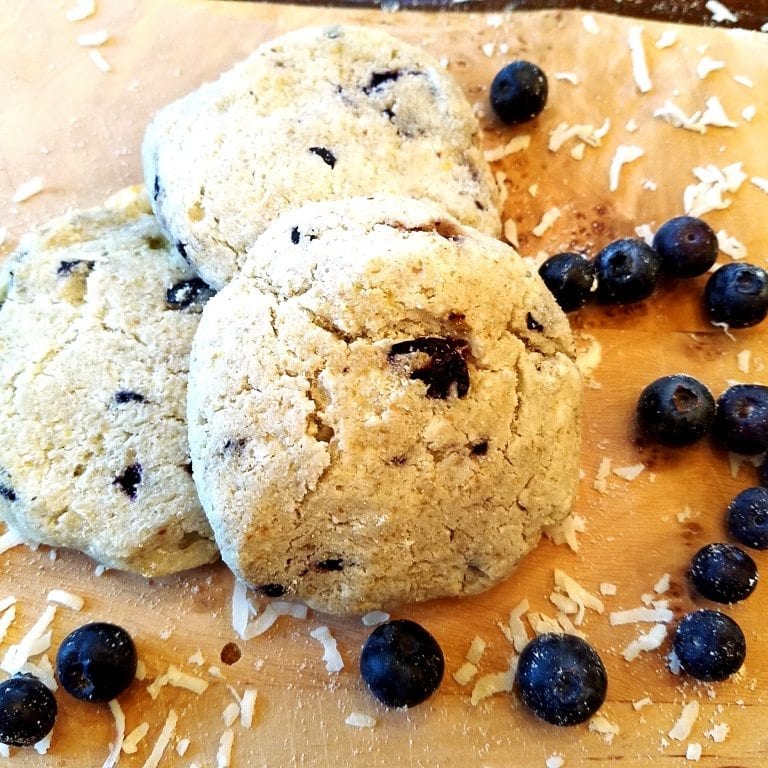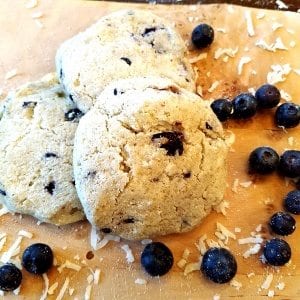 These blueberry scones are great in the morning with your coffee, tea, or whatever you wish to drink. They are moist and so tasty. I passed them by my kids and husband, as I always do before posting, and they gave the seal of approval. My one daughter liked the taste, however she didn't like the blueberry pieces in the scone. So if you, your child, or those you serve these have a sensitivity to fruit texture, these would not be for you as I use fresh organic mulled blueberries. If you don't have this sensitivity, they are quite scrumptious.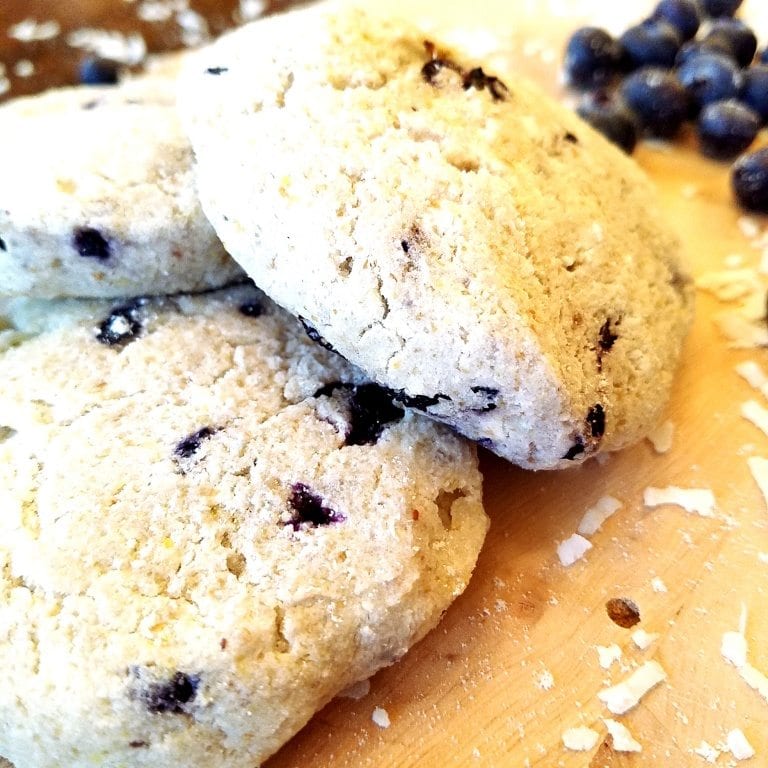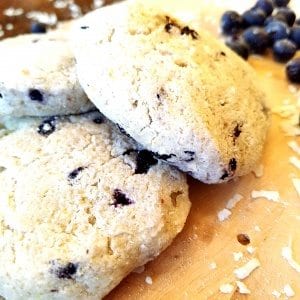 I do need to add that there are no additional sweeteners in this recipe. The only sweetener is the blueberries themselves. I chose to do this to keep with my gut recovery program and for those that can't have the additional sugar. If you do wish for these scones to be sweeter, you can make some buttermilk frosting or a sugar glaze. I understand that what I deem really great is according to the tastebuds of me and my family, so there are some that may want to adjust this recipe to make it their own and they are welcome to. All in all, I hope these are as tasty for you as they were for my family.
Enjoy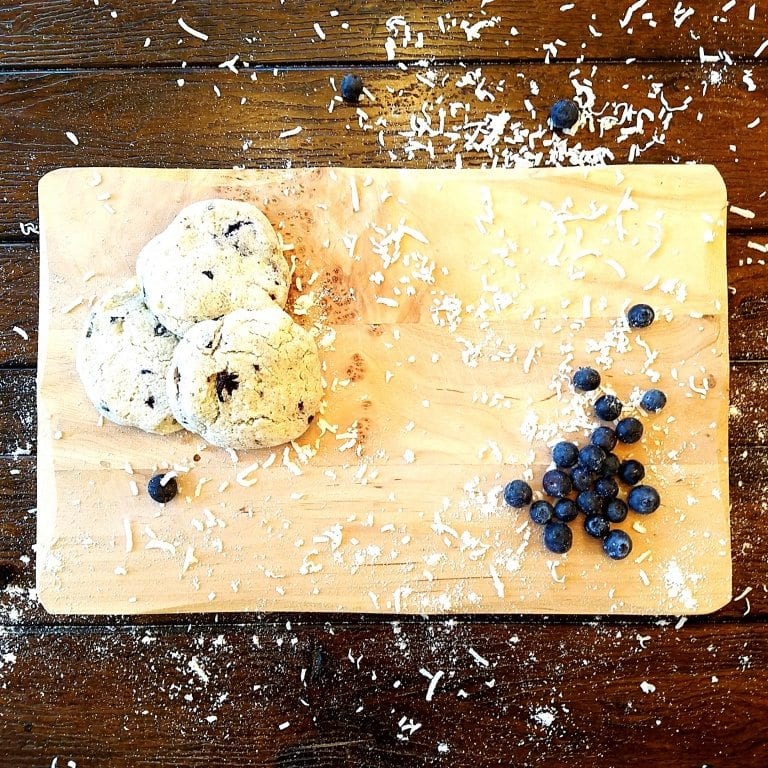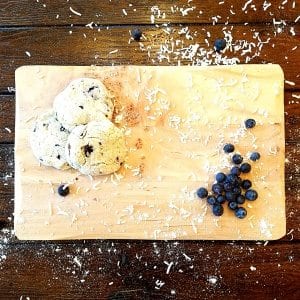 Blueberry Scones
These scones are great for a morning breakfast with your favorite drink. They are moist and carry a fresh blueberry flavor. All items I used in this recipe are all organic and/or Non-GMO.
Ingredients
1

cup

white rice flour

See recipe notes

1

cup

coconut flour

3

tsp

baking powder

1

tsp

ground pink himalayan salt

1/4

cup

coconut oil

Solid, not melted

3

flax eggs

see recipe notes

1

cup

fresh blueberries

mull - "squish the blueberries up"

1 1/2

cup

Unsweetened coconut milk
Instructions
Heat oven to 450 degrees. Place parchment paper on two cookie sheets.

Make 3 flax eggs and set aside for 5-10 minutes. 3 flax eggs = 3 Tbs. of ground golden flaxseed to 9 Tbs. of water

While flax eggs sit, in a large bowl mix flours, baking powder, salt together.

Take solid coconut oil and cut it into the flour with a fork until mixture is crumbly.

Once flax eggs are "gel-like" consistency, pour them into the middle of the dry ingredients and mix in with hands. This ensures it is mixed thoroughly, "with love."

Add coconut milk into batter. Batter should stick together well, but not too wet or dry. If too dry, add more milk a tablespoon at a time until you reach the desired consistency. Batter will be sticky.

Mull blueberries then fold them into batter.

Scoop out 1-2 Tbs of batter and press into a circular shape and place on the parchment paper.

Bake for 13-15 minutes for 450 degrees. * The tops of scones will not turn brown. The bottom of scones will turn. Be careful not to burn them.
Notes
White rice flour- Some gut recovery programs do not allow rice as it is a grain. Since I am vegan, I kept this in my diet as it was not an irritant to me. I however chose to get organic and/or Non-Gmo items because the commercial products use chemicals that can disrupt leaky gut and make it worse.
One Flax egg = 1 tbs. ground flaxmeal to 3 tbs. water- let sit 5 min.
NOTE: I made this exact recipe without the blueberries and it turned out so great. I did have to bake it a little longer (20 min) but they were amazing. If you like plain "scones" then try this out!