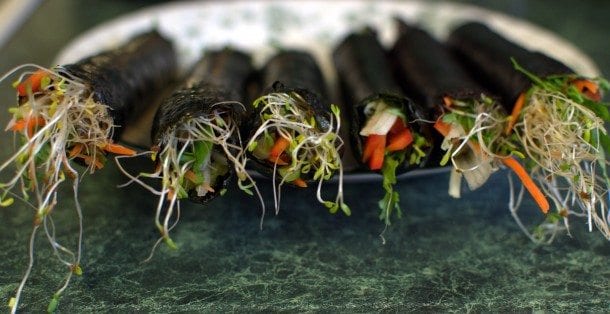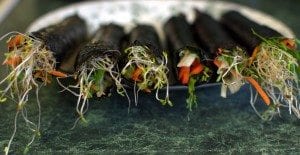 The following recipe was created by the Featured Chef- Colleen Wilson
This dish can easily be made raw by using untoasted Nori seaweed sheets, collard or romaine leaves for the wraps. Personally, I prefer to use Nori sheets for this recipe, and slice them to look like traditional sushi rolls. To prepare them this way, you'll need a bamboo mat for rolling.
Choice of vegetables:

Alfalfa or sunflower sprouts
Avocadoes, thinly sliced
Red, orange or yellow bell peppers, julienne sliced
Cucumber, seeded and julienne sliced
Red onion, thinly sliced
Carrots, shredded
Tomato, chopped or sliced
Choices of spreads:
Miso paste
Pesto
Almond or cashew cheese
Hummus
Salsa
Guacamole
Choices of garnishes/herbs:
Sesame seeds
Dulse
Dehydrated pumpkin or sunflower seeds
Chopped cilantro or basil
Directions:
This recipe is a great one to be creative with! You can use a variety of wraps, herbs, vegetables and spreads. You can make this vegan or raw vegan. If you use collard or romaine leaves for wraps, just roll them with your favorite ingredients and serve.
Storage suggestion: best if served immediately, but if stored in a sealed glass container, the wraps will keep for one day.
Serving suggestion: spicy sweet & sour sauce
Ingredients:
1 cup diced mango
3-6 tablespoons lemon juice
1 ½ tablespoons coconut crystals or palm sugar
1 ½ tablespoons agave or coconut nectar
2 jalapeno peppers, minced
2 tablespoons red onion, minced
½ teaspoon crushed garlic
1 teaspoon grated fresh ginger
¼ teaspoon cayenne pepper (optional, to taste)
¼ teaspoon Himalayan crystal salt
Put all of the ingredients in a high performance blender and blend until smooth
Variations: substitute papaya, pineapple, cherry or plums for mango
Storage suggestion: store in a sealed glass container in the refrigerator and use within three days.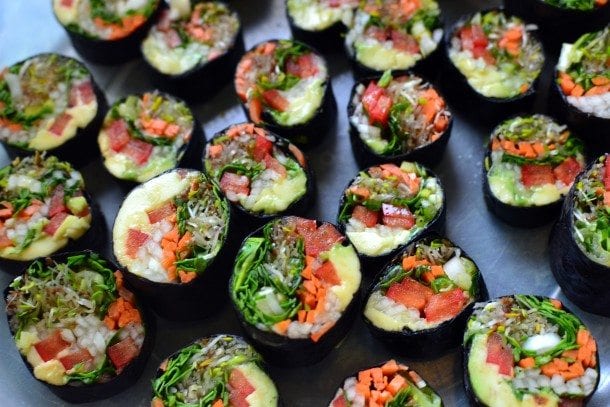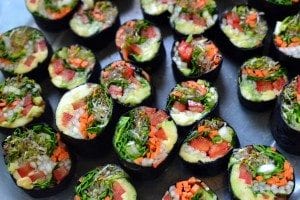 Colleen Wilson is also an outdoor photographer. When not in the kitchen, she is out taking amazing photos. For more information on raw cooking or how to get your hands on some of her pieces, contact her at:
facebook.com/colleenphaedraphotography