There is a time for everything and my time to learn how to make sushi has started. My girls were watching an episode of MasterChef Junior and the kids were instructed to do one of those challenges to make shrimp sushi rolls. I watched as these 8-12 year old kids made these excellent dishes and then beautifully laid them out. I thought, hey! If kids can do it, so can I. HA! If you have never made sushi then you know there is a process and a learning curve. Oh and don't forget you need to decide which kind of sushi you want to do, of the hundreds you can make.
Being vegan and knowing that my girls love avocado and I love sweet potatoes, I chose to make a sushi that had both of those ingredients. I wasn't sure how that was going to taste, but it was worth a try. The following recipe was inspired by all the sushi recipes out there. I wanted to keep it simple, since this was my first try. There are some things I didn't keep by the textbook, like using a short grain rice and sushi rice. I used a medium grain sticky rice to make my sushi. I was looking for that quick option that could help me create something edible. I got so much more out of that. Not only did I create a tasty dish, but I learned about patience. Did those kids on MasterChef learn that too? Hmm, maybe it can be something that my girls will learn in the kitchen someday. Here is the recipe for Sweet Potato and Avocado Sushi.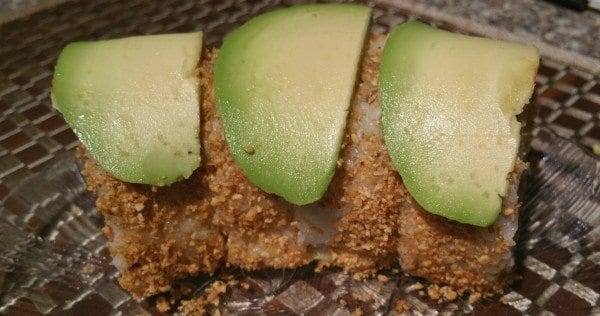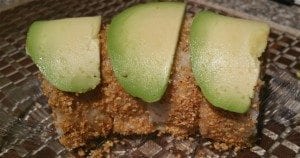 Enjoy.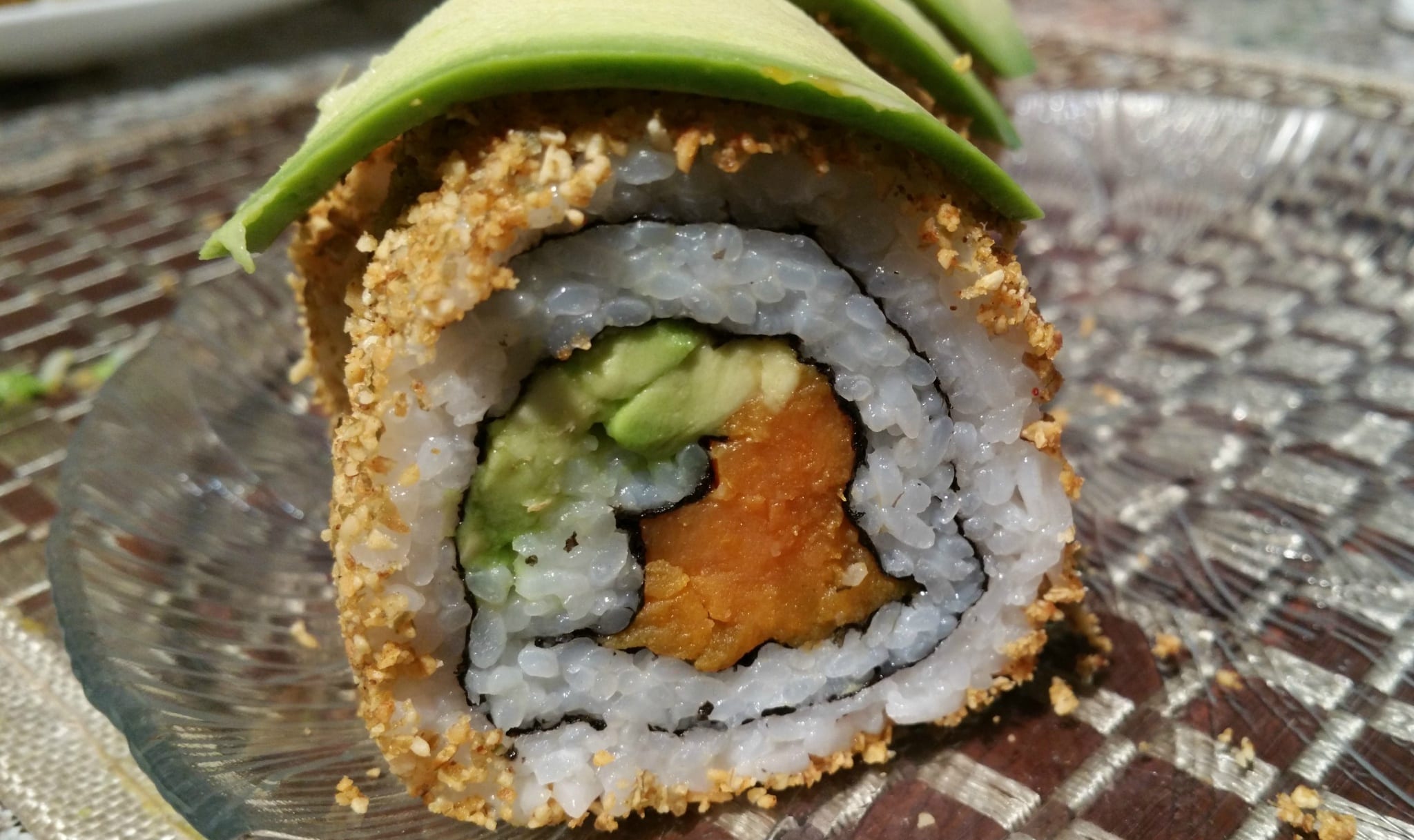 Sweet Potato and Avocado Sushi
Ingredients
1

avocado

1

med

sweet potato

2

sheets

Pacific Nori

2 - 7

oz

instant Sticky Rice

1/2

cup

Pumpkin Seeds

blackened or roasted
Instructions
Cook rice and sweet potato. Place a plastic wrap on bamboo mat or what you have to help roll.

In a small food processor place 1/2 cup of pumpkin seeds and grind into small bits. Pour pumpkin seeds onto a plate and set aside.

Slice 1/2 of Avocado into thin strips. After sweet potato is cooked, Peel and slice sweet potato into 1/2 inch strips.

Spread rice out on plastic wrap. Make sure your hands are slightly wet so the rice does not stick to your hands.

Place 2 sheets of Nori on top of the rice. You may have to trim one to make sure it fits on top of the rice.

Put sweet potato and avocado about an inch from one end and start rolling and squeeze the roll with the bamboo mat. Once sushi roll is complete, slice 1 inch pieces from roll. Dip knife in water each slice you make to avoid sticking. Roll outside of sushi in ground pumpkin seeds.

Serve with side slices of Avocado and Tamari sauce.