I am not sure there has ever been a time that I have been so excited to go on a trip anywhere in the world, as I was for the road trip to the Upper Peninsula, Michigan. For those that don't know us well, I was born in Dearborn, Michigan and Mike was born in Pontiac, Michigan. We have lived in the state for eighteen years of our lives.
Even though we visit Michigan almost every year for the holidays, it has always been my bucket list wish to take my girls back to the place their mama and daddy were from. I wanted to take them at fall peak season to see the colors that I experienced as a child and to visit one of my childhood favorite orchards. I also wanted to take them to a magical place my mom used to take me, Bronner's Christmas Wonderland. The largest Christmas store, all year round. All these things were special to me as they were beautiful memories that cherished as a child, living in Michigan.
Our family decided that it was time to make that bucket list dream come true. One month prior, every Sunday, Mike and I would sit at the kitchen table and plan out this trip. We wanted to be sure that we saw all the things we wanted to see in Michigan, including my parents, since we were driving up through the lower part of Michigan. This trip would take us two weeks. Two weeks of spending time with each other, away from the stresses of work, and all the other activities of life.
Below is a copy of our itinerary for the entire trip and our packing list. I will advise: If you are planning on staying in hotels along the entire trip, you will have to book several months in advance. This area is popular, even though it didn't seem very populated when we were there.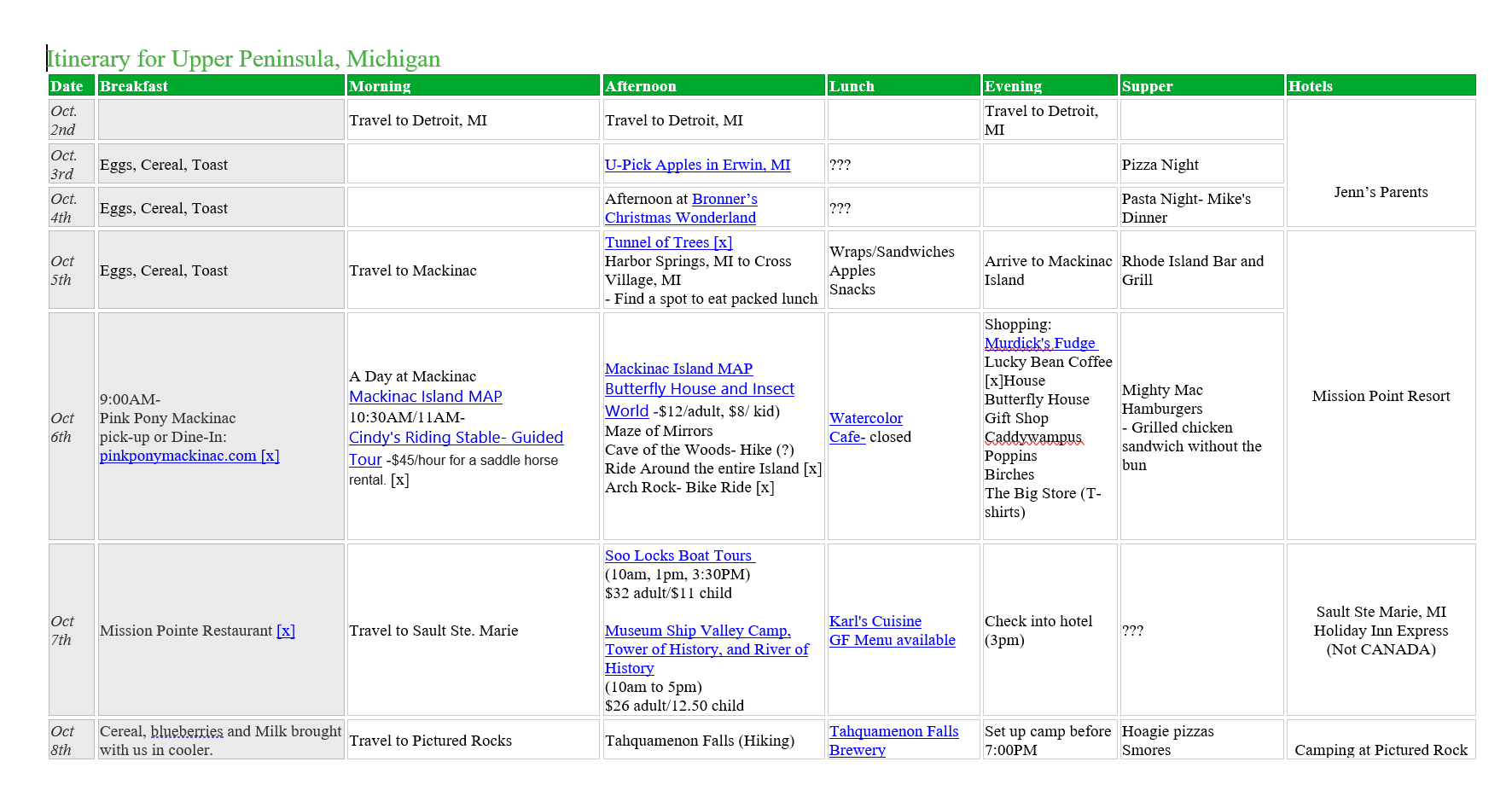 Here is a breakdown of our trip by each day:
Day 1- Travel to the greater Detroit area to my parent's house.
From Arkansas to lower Michigan took us about 13.5 hours with rest stops and eating. We decided to do all of this travel at once to get the long haul out of the way. This was the longest part of the entire 2 weeks. On our trip we went through MO and saw the St. Louis, MO Arch, but we didn't have time to stop and see it this time.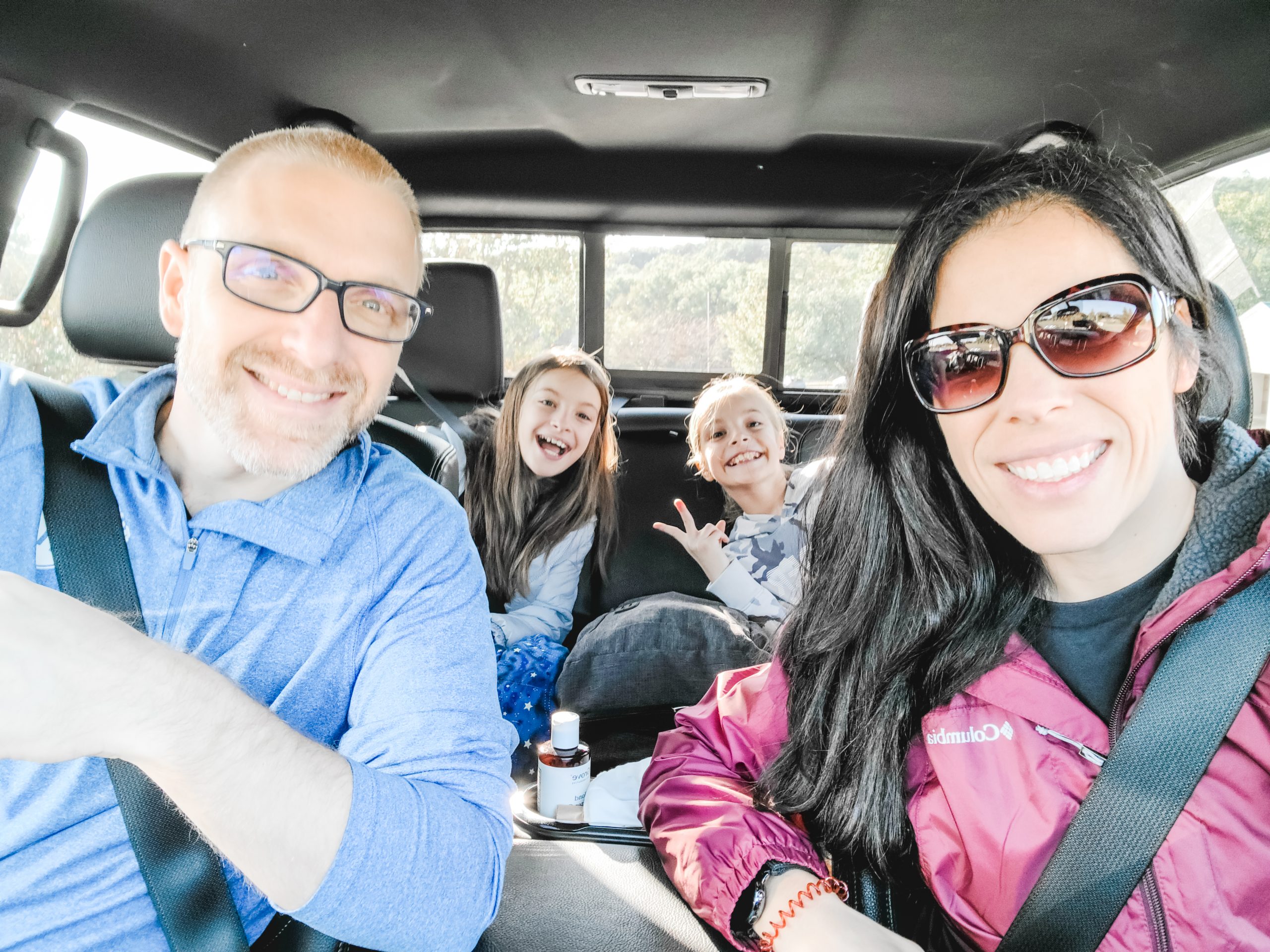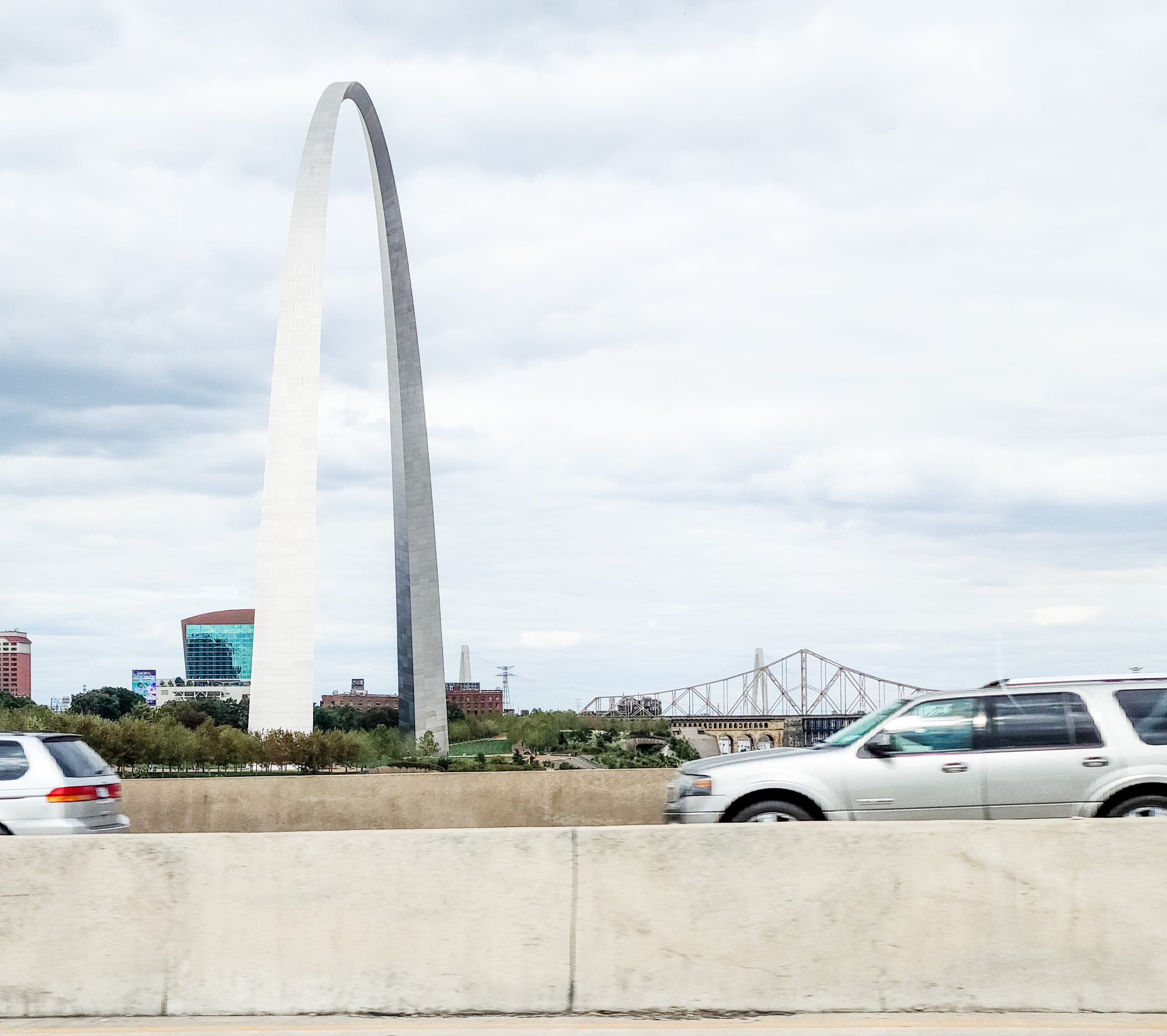 Day 2- Erwin's Apple Orchard
We took our time waking up, enjoying a morning coffee with my parents and then traveled out to Erwin Apple Orchard. This was quite the experience. I remember going to U-Pick orchards with my mom as a little girl and it was a special thing I did with her. This time, the girls loved making the memory with their grandma, mama, and daddy. We took a tractor ride out to the different orchards and loaded up our bag full of apples. They picked apples from all different types of trees, and ate apples until they couldn't eat another bite. We found out that Juliana and Mike liked the Empire apples, Olivia liked Golden Delicious, Grandma like the Mutzu and Mama liked the Northern Spy, (plus the name was pretty cool.) After gathering our golden apples we stood in line with about 400 other people waiting for some of Michigan's best cider and donuts. It took us about an hour to get to the front, but when inside, it smelled delicious. After purchasing donuts (for grandma and daddy) and apple cider for us all, we sat at the picnic table together and enjoyed in a cup of fresh warm cider. A real treat for all of us and a beautiful memory made.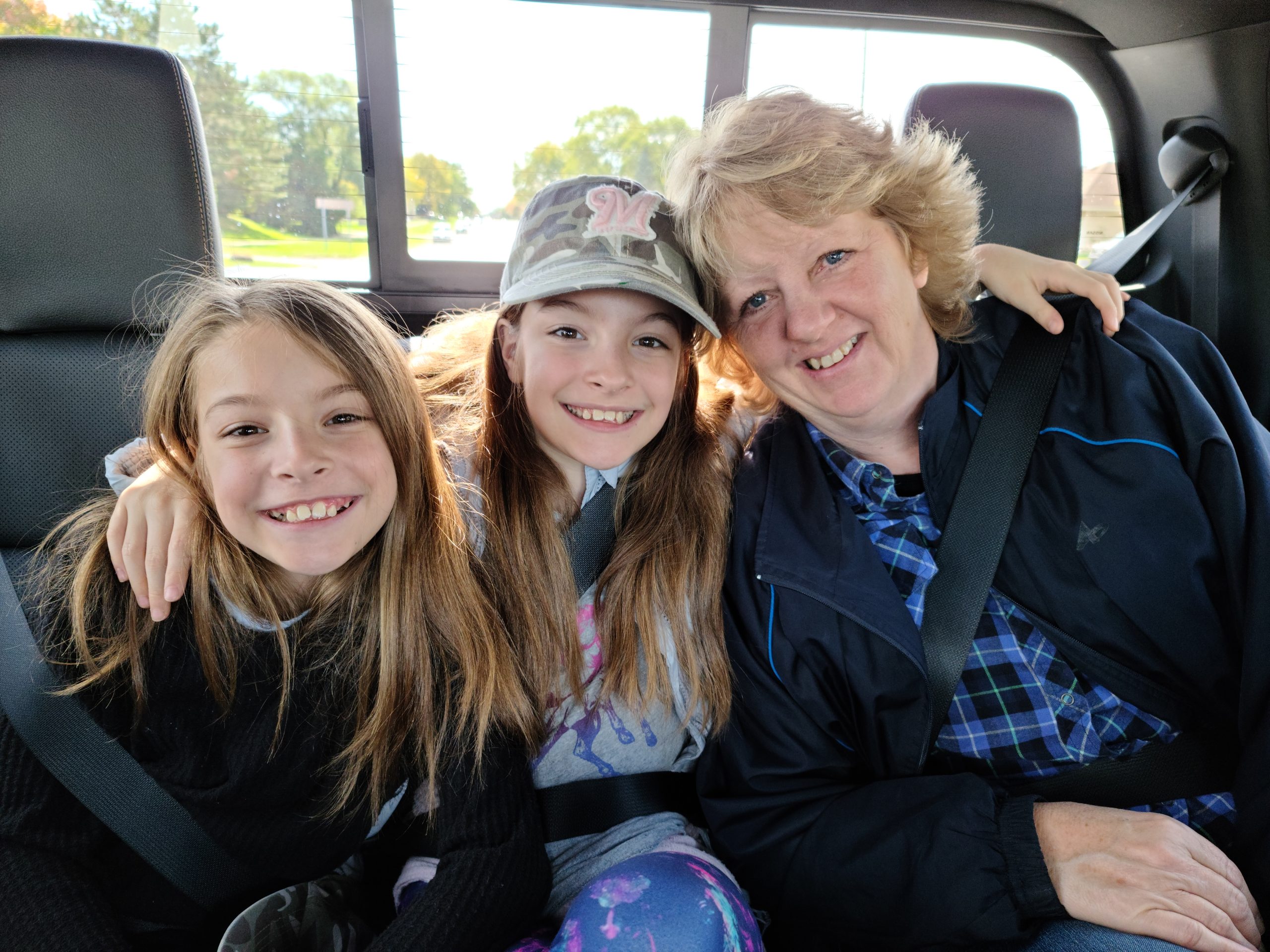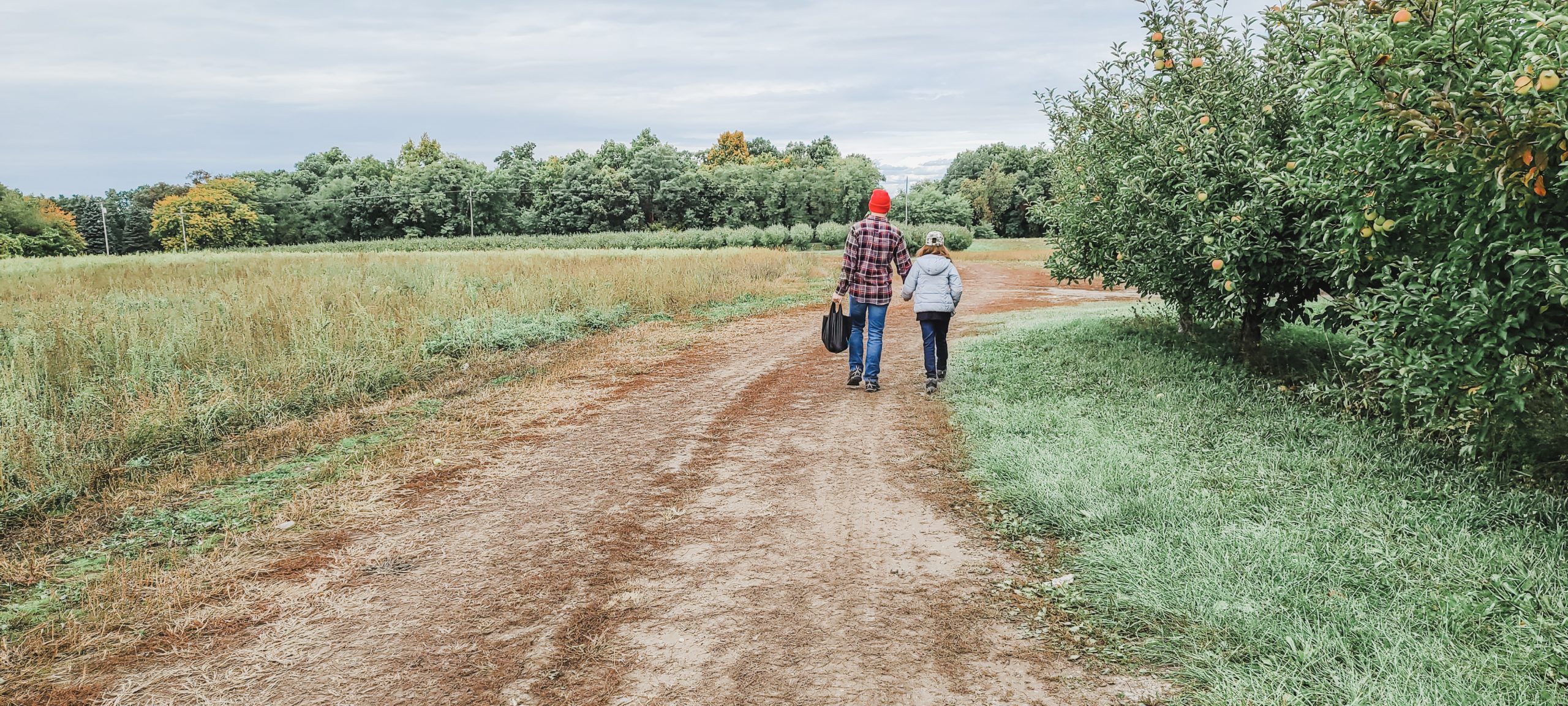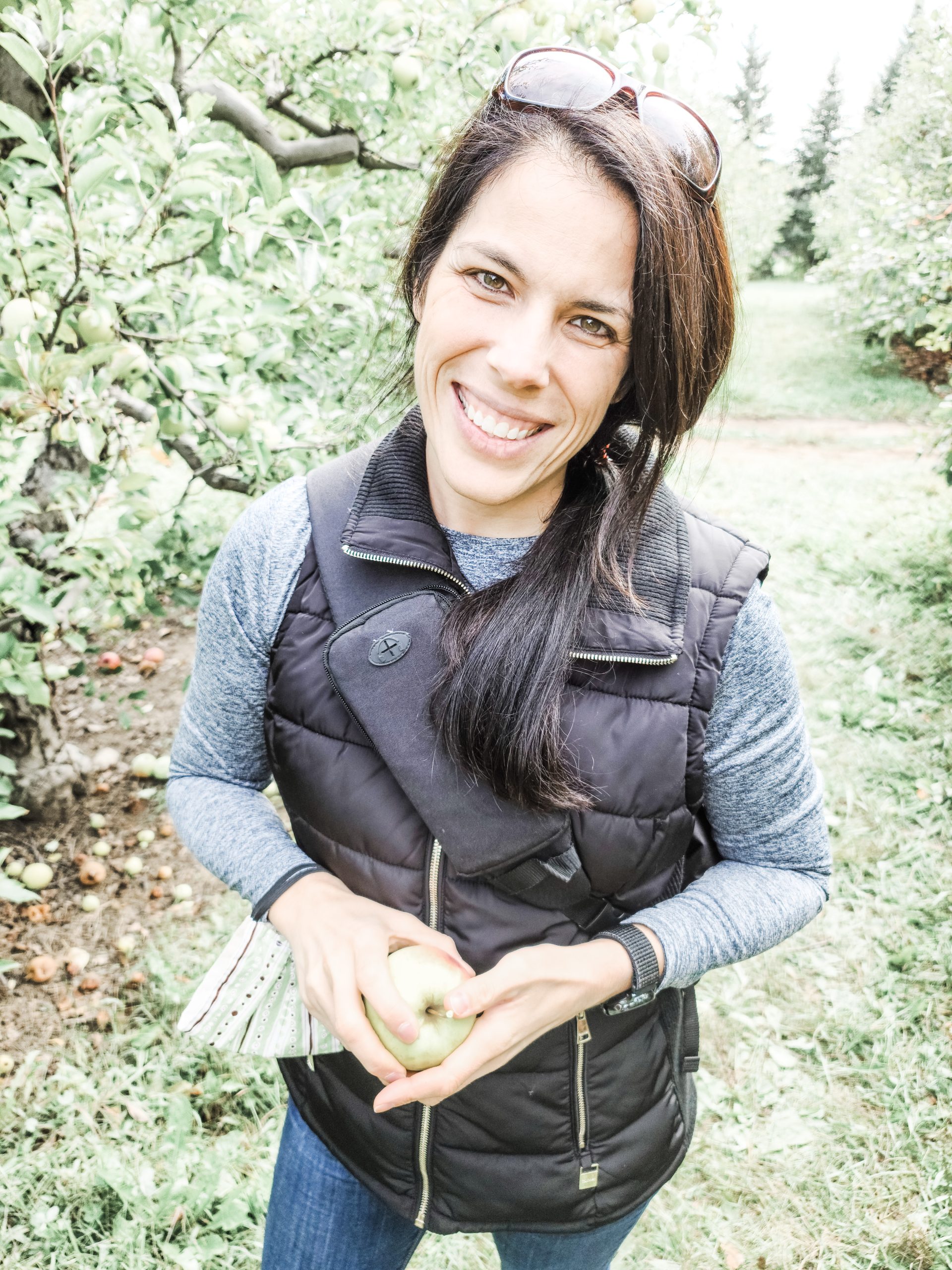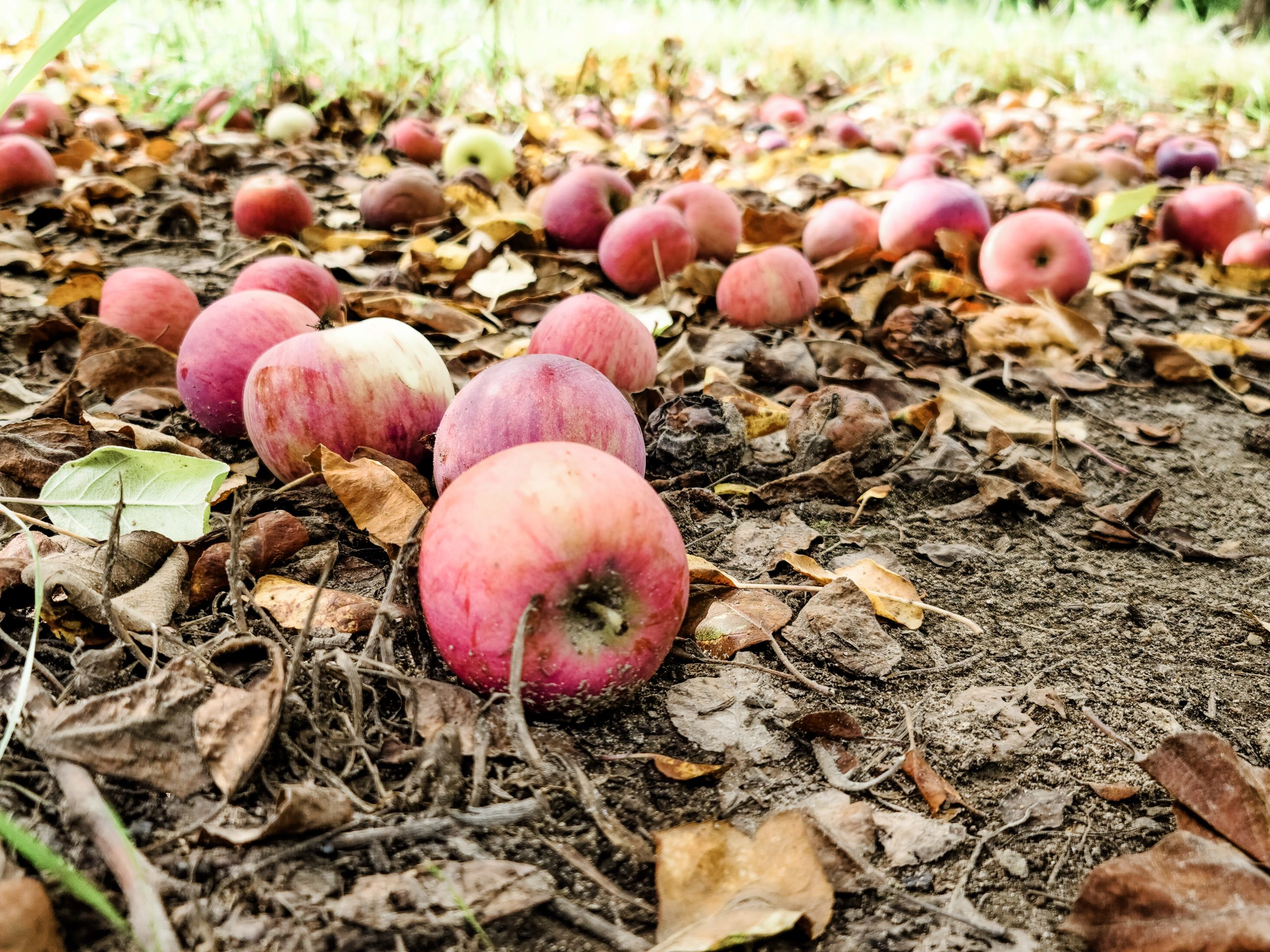 Day 3- Bronner's Christmas Wonderland
Not only was this a special day because it was Mike's birthday, but it was a day that we were taking the girls to my childhood place filled with so many memories. Bronner's. This place lit me up with so much joy then, and the moment I walked in with my family, I had the same reaction. For those that haven't experienced this place and love Christmas, you need to check it out. They have every possible Christmas decoration that you could ever want in this store. We walked through the West wing of the building where all the Christmas decorations were. I stopped, took a deep breath and was overwhelmed with such emotion. I really felt like I was a kid all over again. The excitement returned as if it was the day of Christmas and I was seeing all the lights and music and toys for the first time. It's crazy how strong we remember certain things. Now, I was able to make this visit a reality for my children. Yes, we did end up purchasing a few ornaments, and a few decorations for this year's Christmas. After our fun trip to Bronner's we needed to eat.
For lunch, we needed to grab something to eat. We ended up stopping at the Pita Pit. Wow they had some really great pitas and also had a gluten free option for us all. I wasn't sure how it would turn out, but we were all pleasantly surprised and it filled our tummies right up. For supper that evening we had Mexican for Mike and my parents, and gluten free pasta for me and the girls. Cake and ice cream soon followed as we celebrated Mike's fabulous birthday, we couldn't find the lighter anywhere in the house, but that didn't stop Mike from giving his cake a glow. Oh the belly laughs from us all. It totally made my night.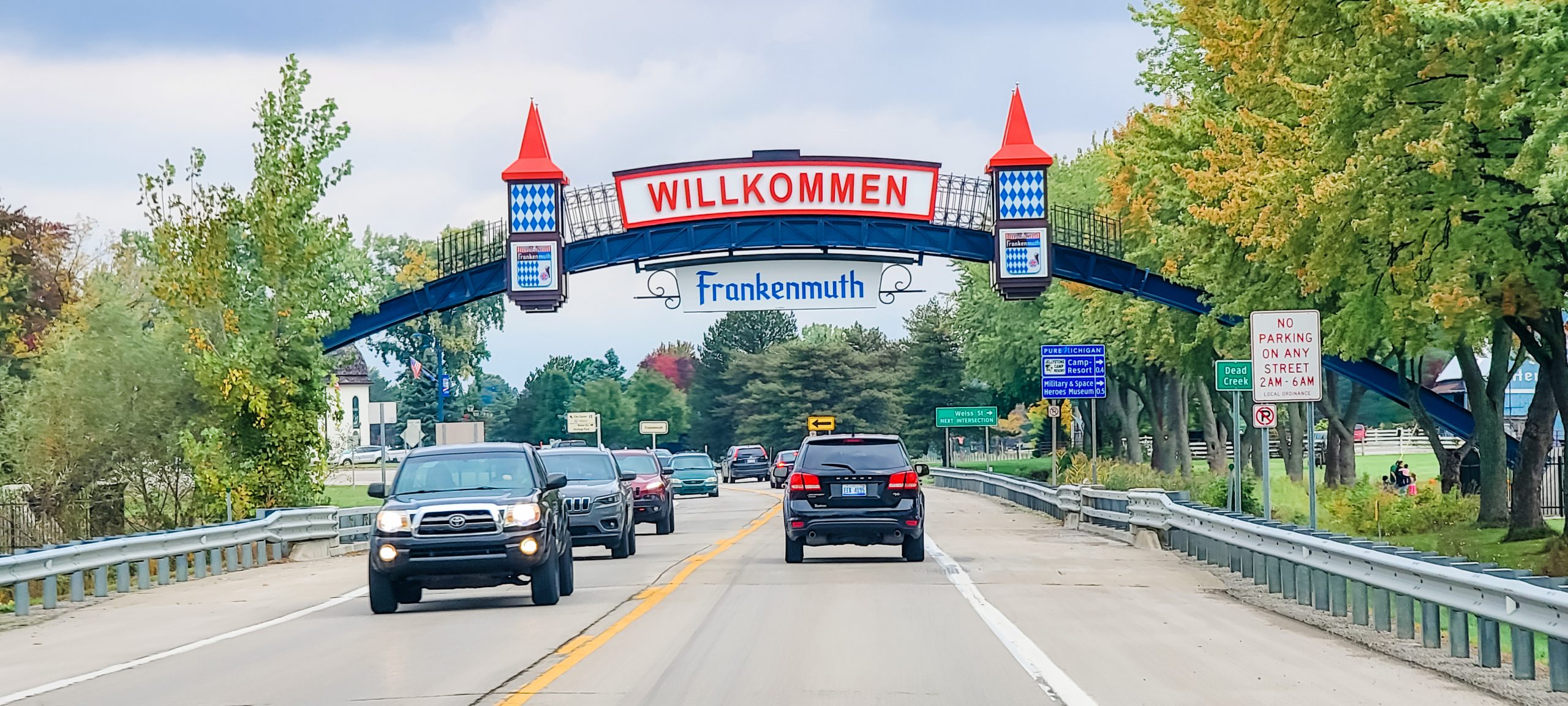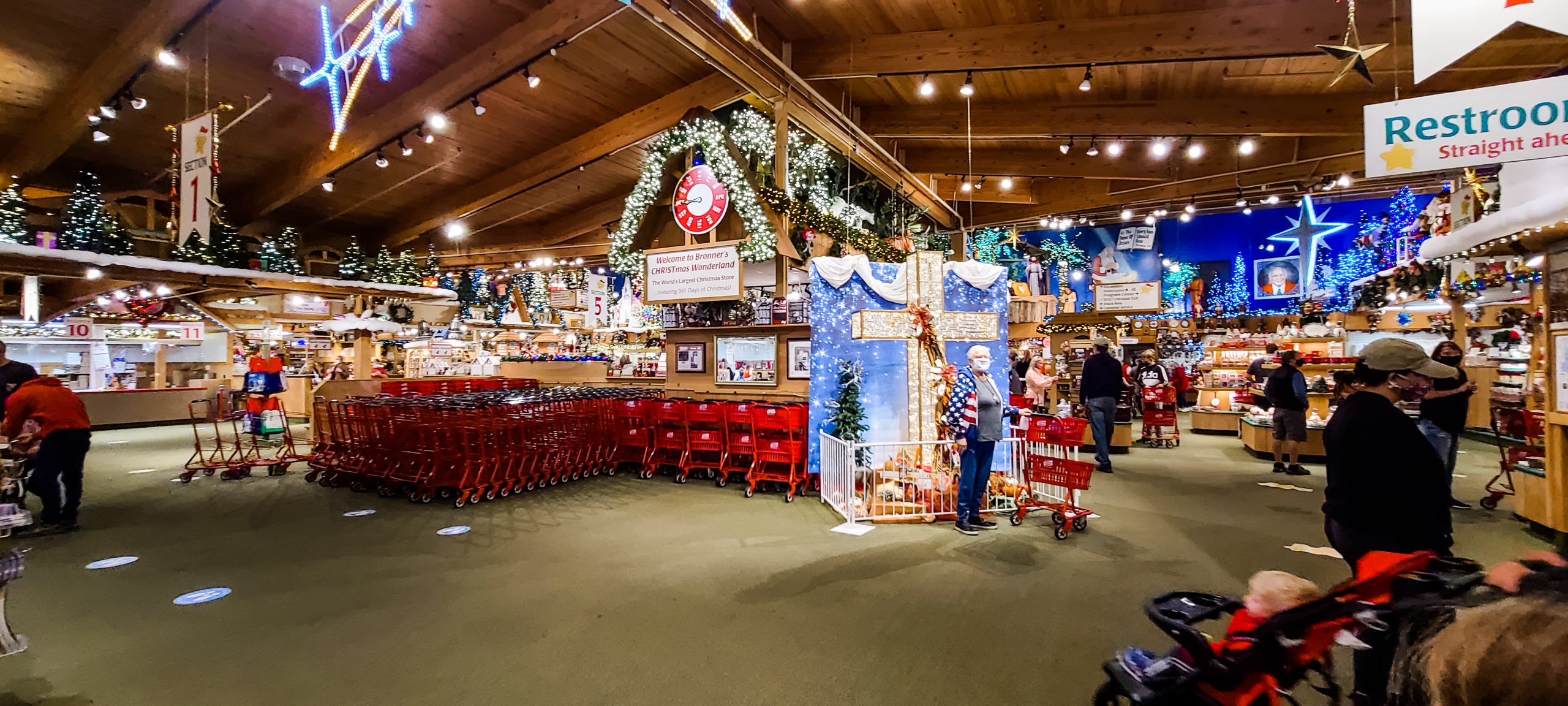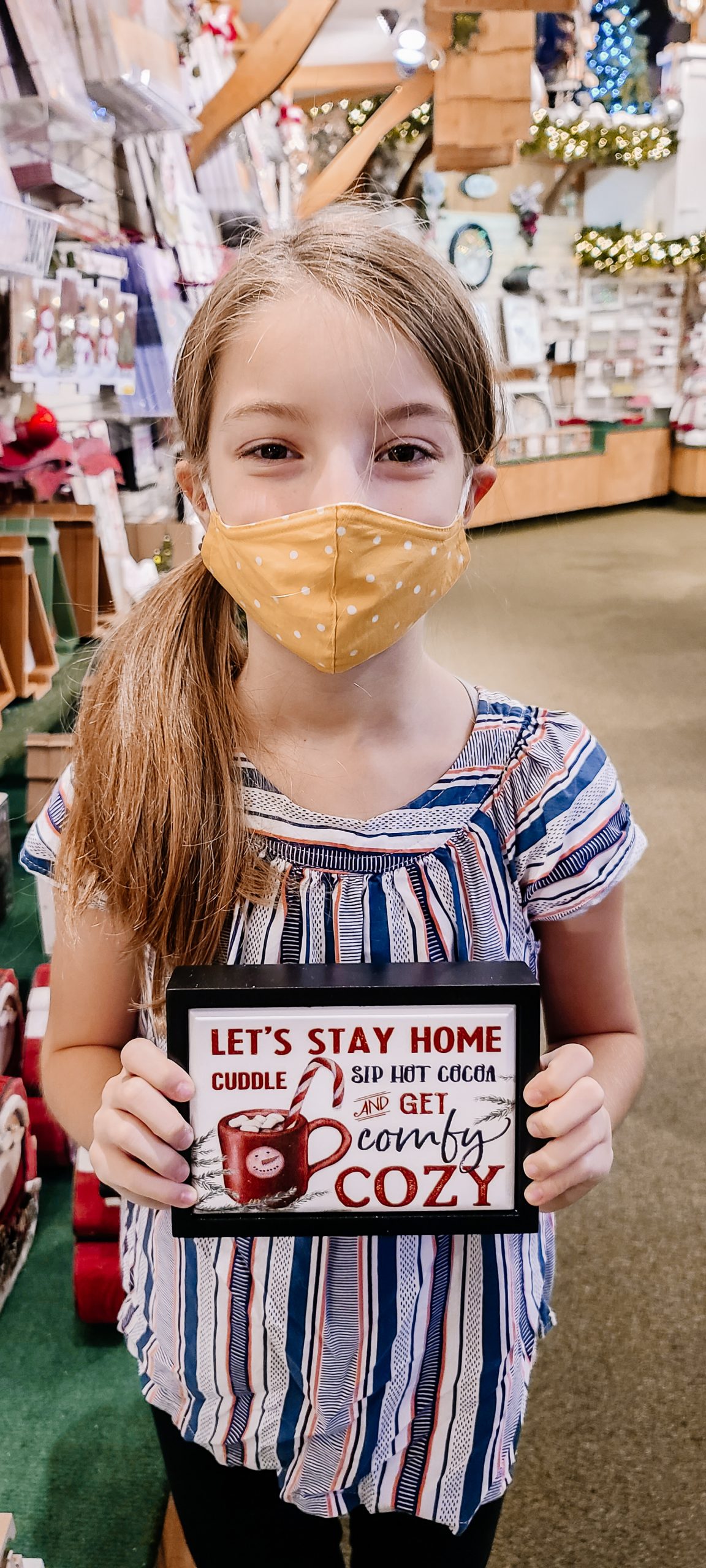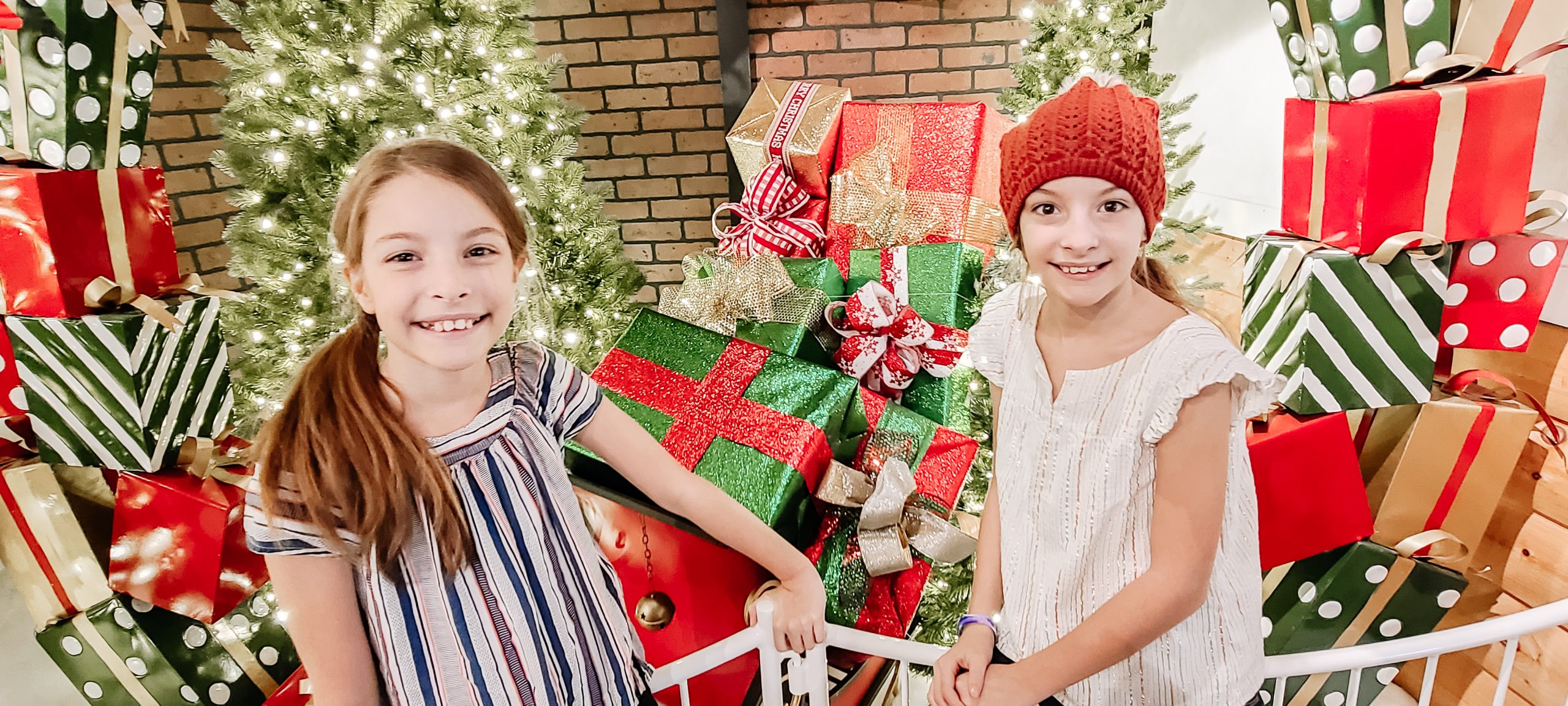 Day 4 and 5- Camp Au Sable/ Tunnel of Trees/ Mackinac Island
It was time to say goodbye to my parents. It was hard for the kiddos, as they were loving the fun times with their grandparents. Juliana especially connected with her grandpa, who is a professional sketch artist, one she really aspires to be like someday. We all had such a wonderful time, but it was time to get on the road and head north to the Grayling, MI to visit Mike and my childhood camp we attended, as kids and worked there when we were in college. It was a quick stop to show the girls where we hoped to send them someday soon. What great memories both Mike and I made there. The best part of this stop was the Barn. The horses were still there and the girls were able to pet them before we made our way to the Tunnel of Trees.
The Tunnel of Trees is a stretch of roadway where the trees are canopied over a long stretch of the road. A beautiful sight to see, especially during the peak fall season. I think we were a tad early, but it was beautiful. We started in Harbor Springs, MI and drove to Cross Village, MI. I wish we had a little more time to go to the local shops in Cross Village, but we had to catch the ferry to Mackinac island before it was too late. We decided to stay a couple nights at the Mission Pointe Resort. We would have liked to stay at the Grand Hotel, but it was all booked during that time. Regardless, the island was a lot of fun and the lodging was nice too.
Mackinac Island is something extra special. Small shops, a road without cars, horses everywhere, and small quaint shops and restaurants. We spent one full day there, we rode horses from Cindy's Riding Stable. The horses were well behaved and trained. It was a blast going off onto the trails on the island. We of course had a guide, since we had children, but it was still a lot of fun. We then rented bikes and rode around the entire island. It was so beautiful. We saw many sights including the bridge from a distance. We stopped on our ride to visit the well known Arch and then eventually came across the Devil's Kitchen. We ended the day with a little shopping, fudge, and tasty food.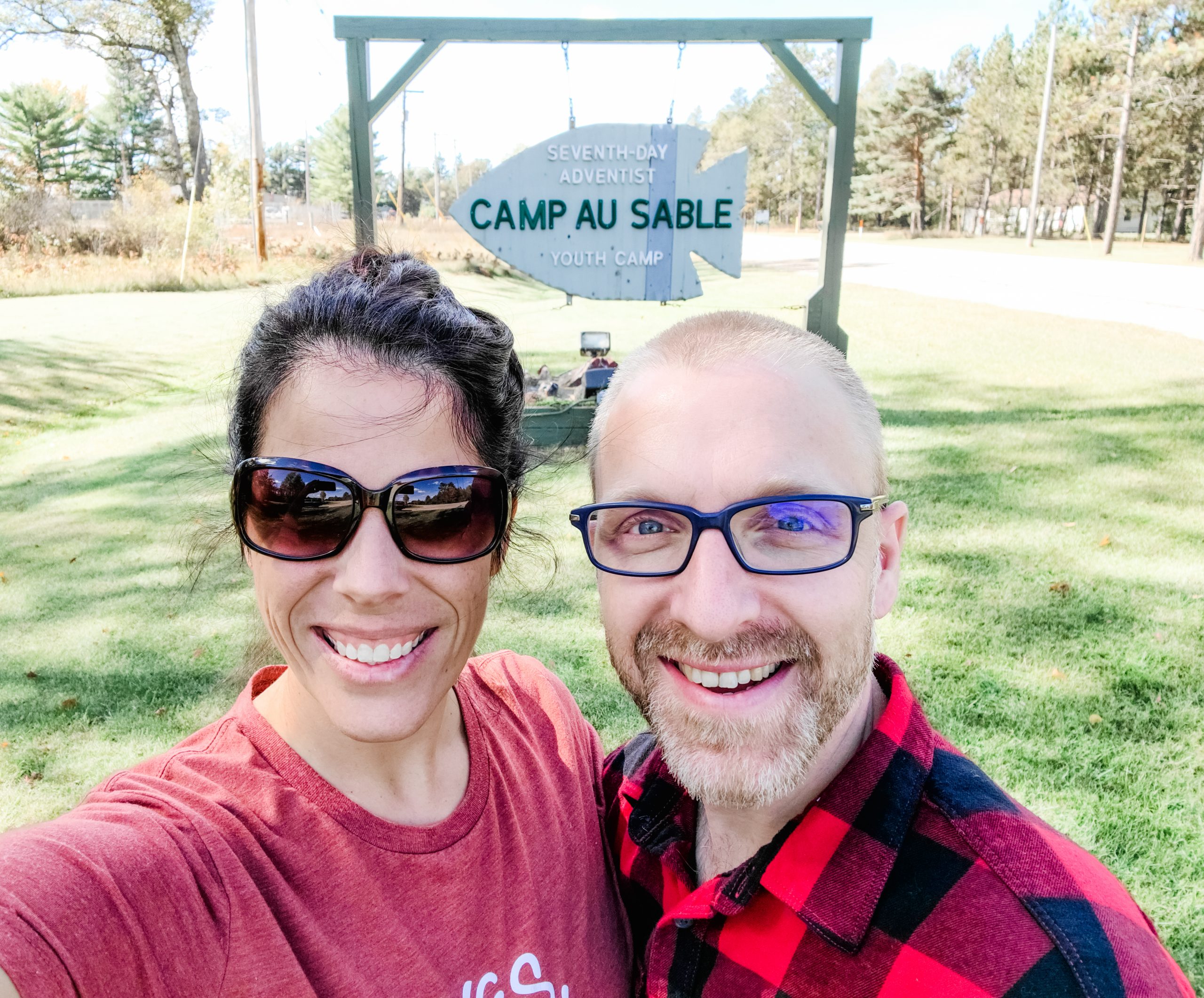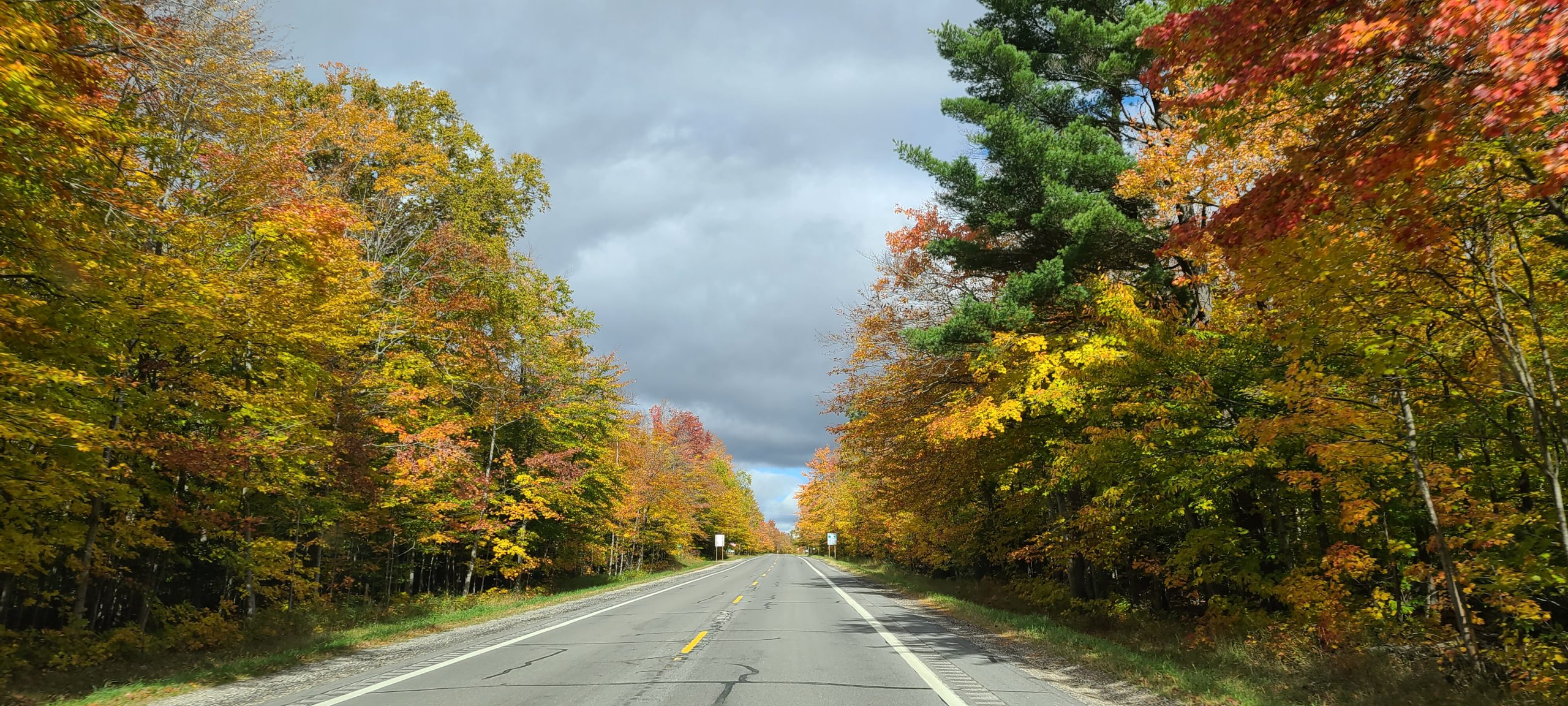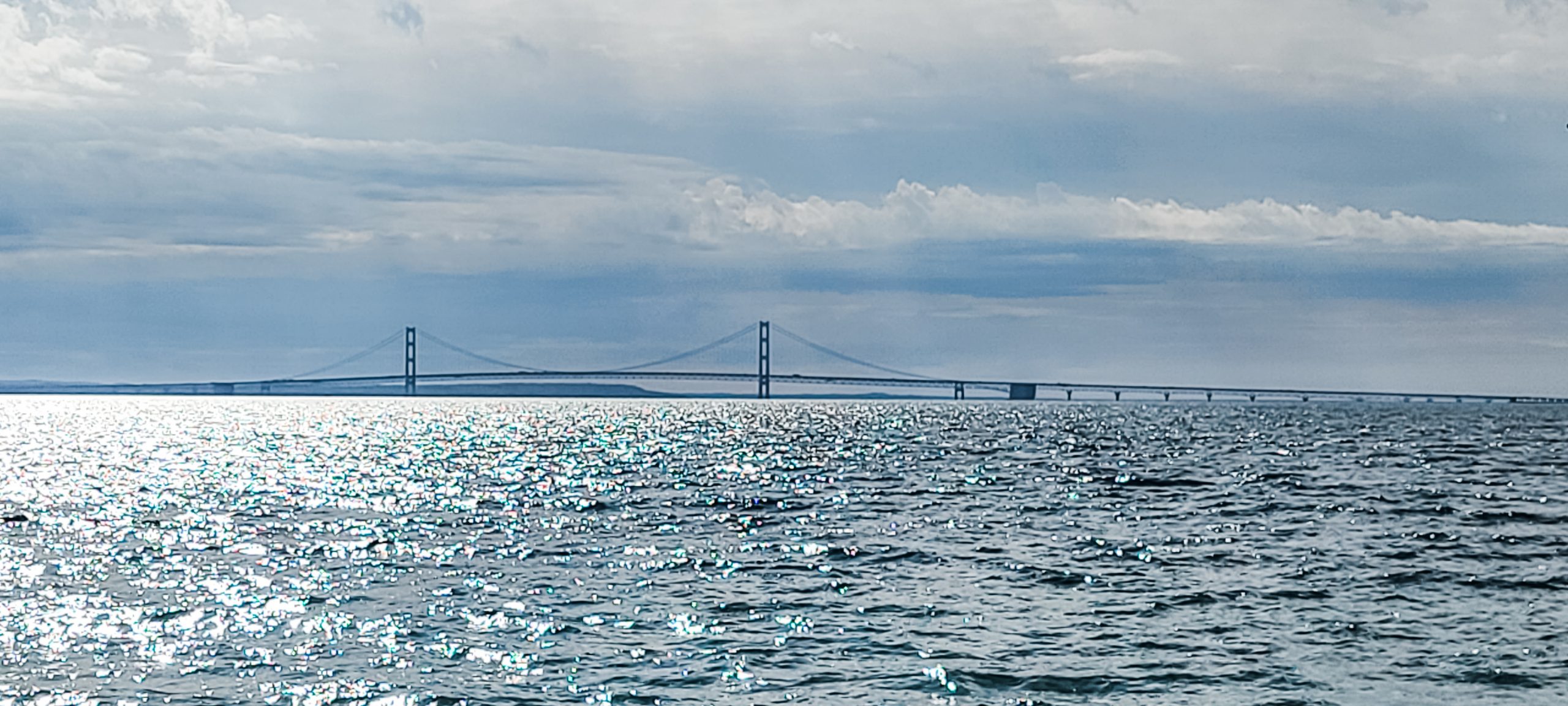 Day 6- Tower of History and Museum Ship Valley Camp, Sault Ste. Marie, Michigan
We left from Mackinac Island in the mid morning to head on up to Sault Ste. Marie. This is where the leaves were really starting to turn and the roads were becoming less populated. When we got into Sault Ste. Marie, we were really hungry and it was around lunch time. We decided to stop at Karl's Cuisine right there by the Soo Locks. It was a small little place with great decor and great service. Not many people were there at the time, so we were able to get a table rather quickly. They had a gluten free menu and the food was exceptional. The waitress was over the top wonderful to our tired and hungry family. This was by far, one of my favorite places to eat during the whole trip.
As we finished our meal we didn't travel very far to our destination, Tower of History. I am not sure how much of a fan I was, of this particular place, solely because of the height we had to go up to see everything. It happened to be a really windy day and the observation deck was too much for me on the outside. The inside observation area I could handle. This is definitely not the place for someone who is scared of heights or claustrophobic, as you ride to the top in an elevator, and everything appears to be quite aged. At least I can say I did it, but would I do it again? That is to be determined.
After the Tower of Terror…I mean The Tower of History, we decided to drive on down to the Museum Ship Valley Camp. I was surprised that the girls liked this so much, being it was a museum, however they did have a scavenger hunt which helped the kids to pay attention and look at all the things through the entire museum. We covered the entire ship from bottom to top, front to back. The most fascinating part about this ship to me was how small the sleeping quarters were and how the laundry room was so far from the sleeping quarters.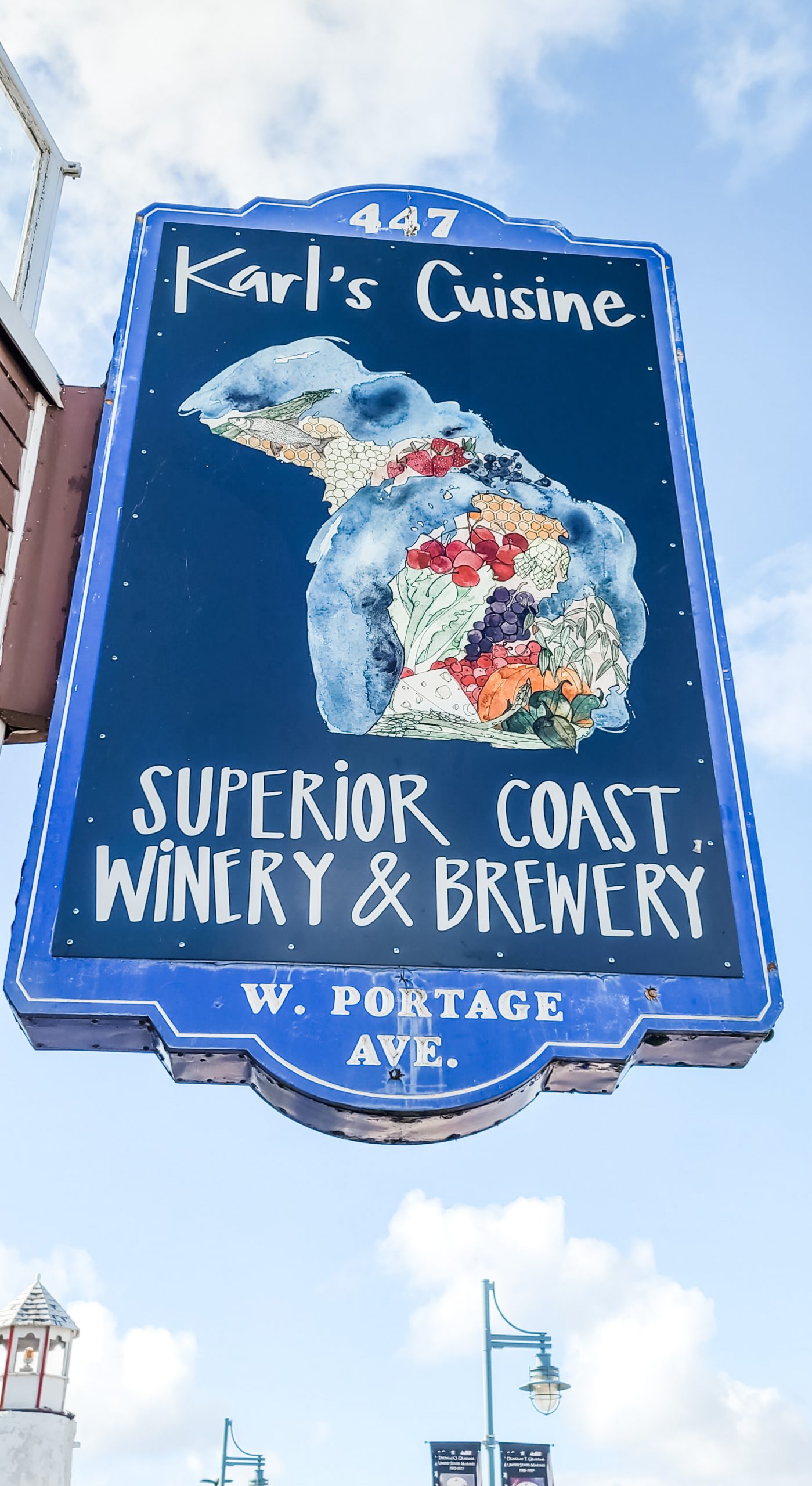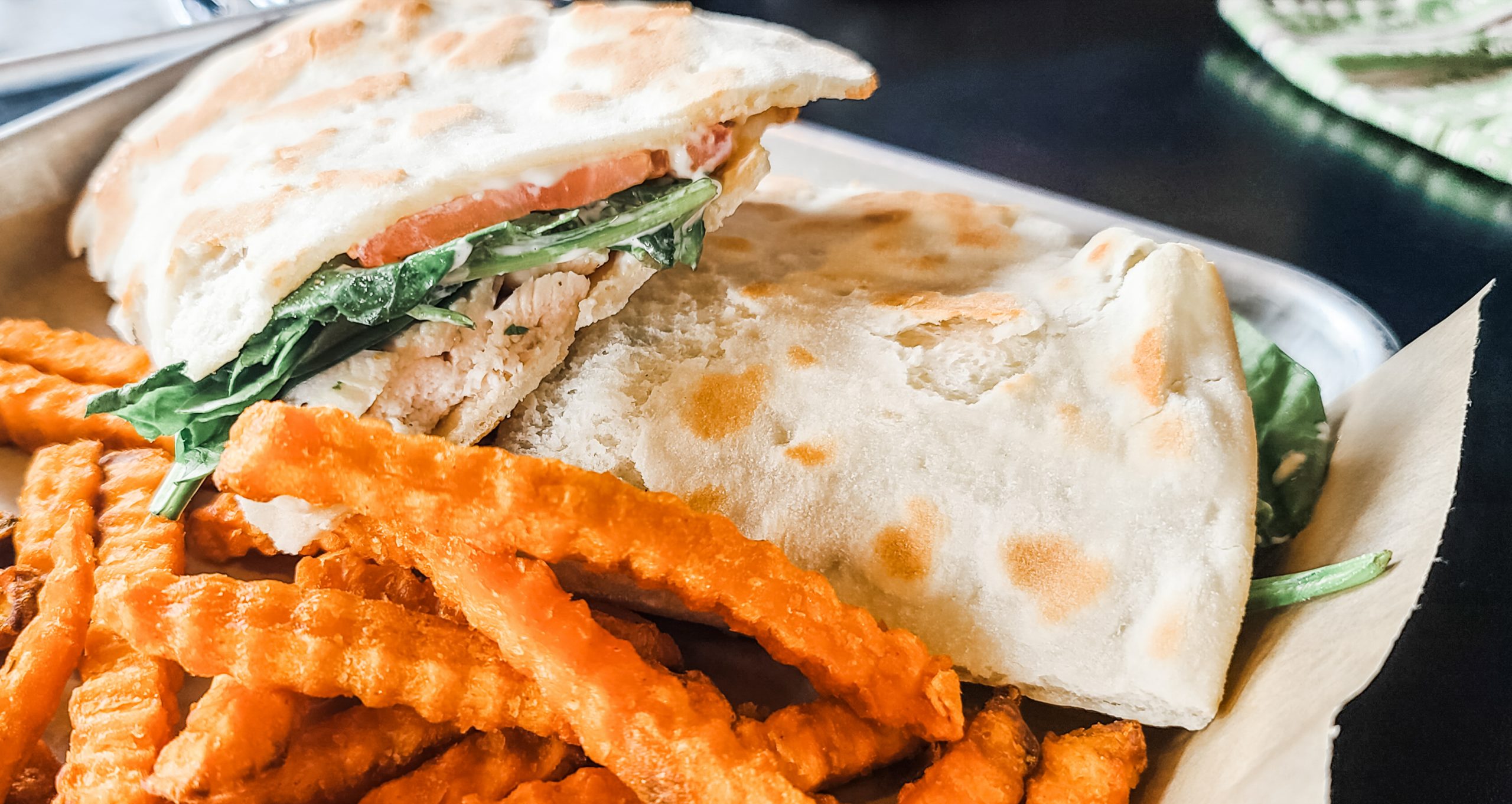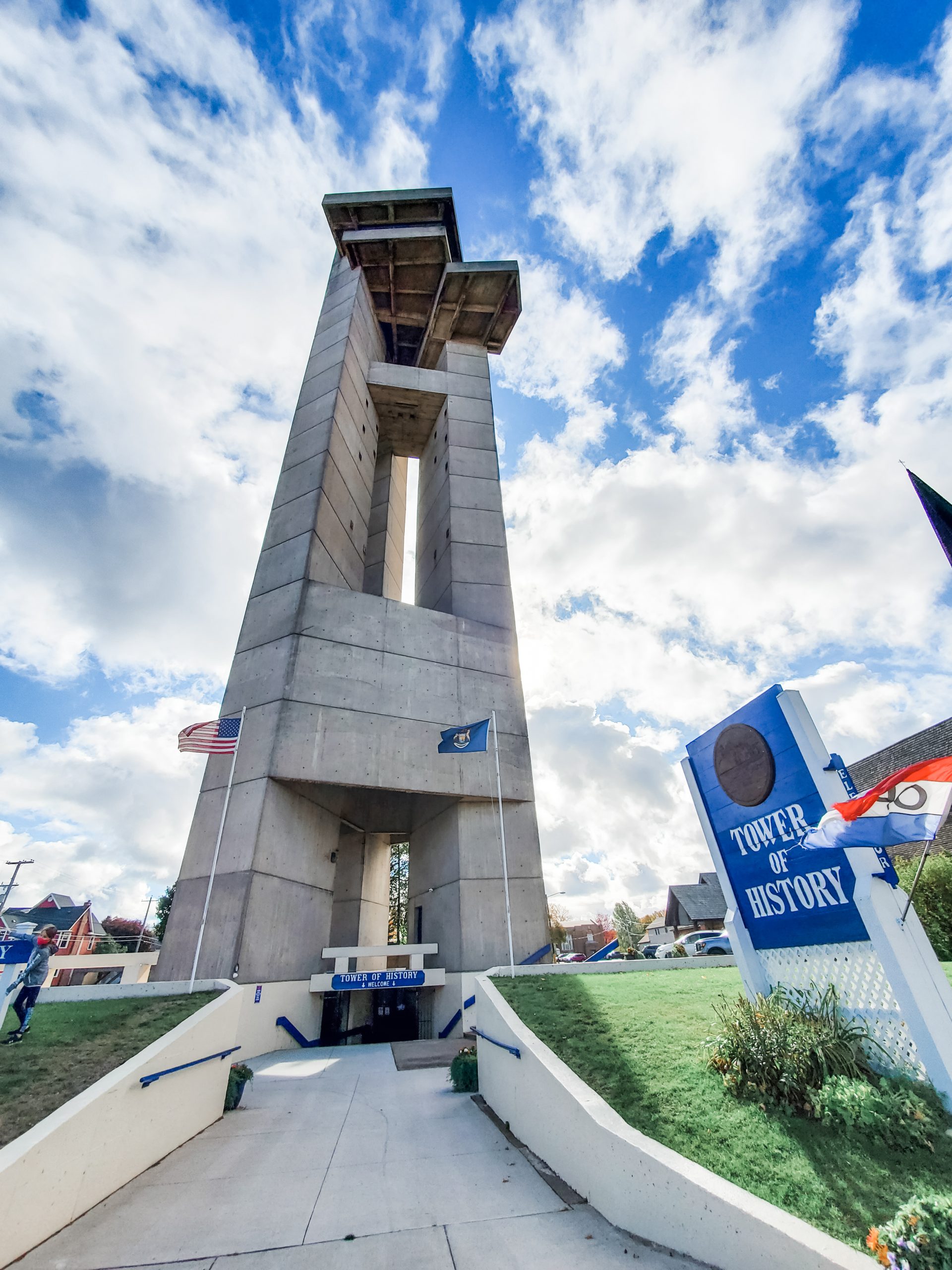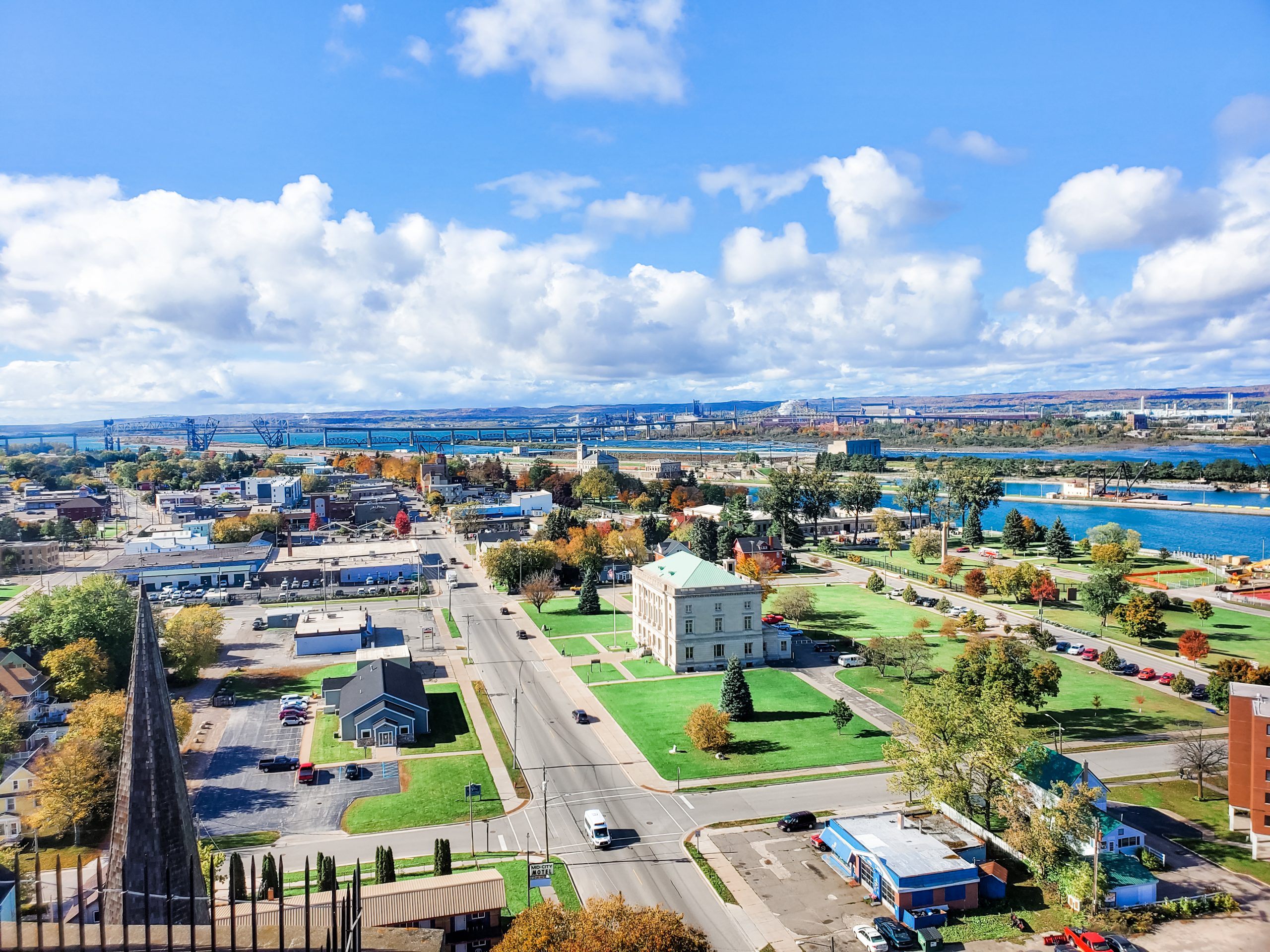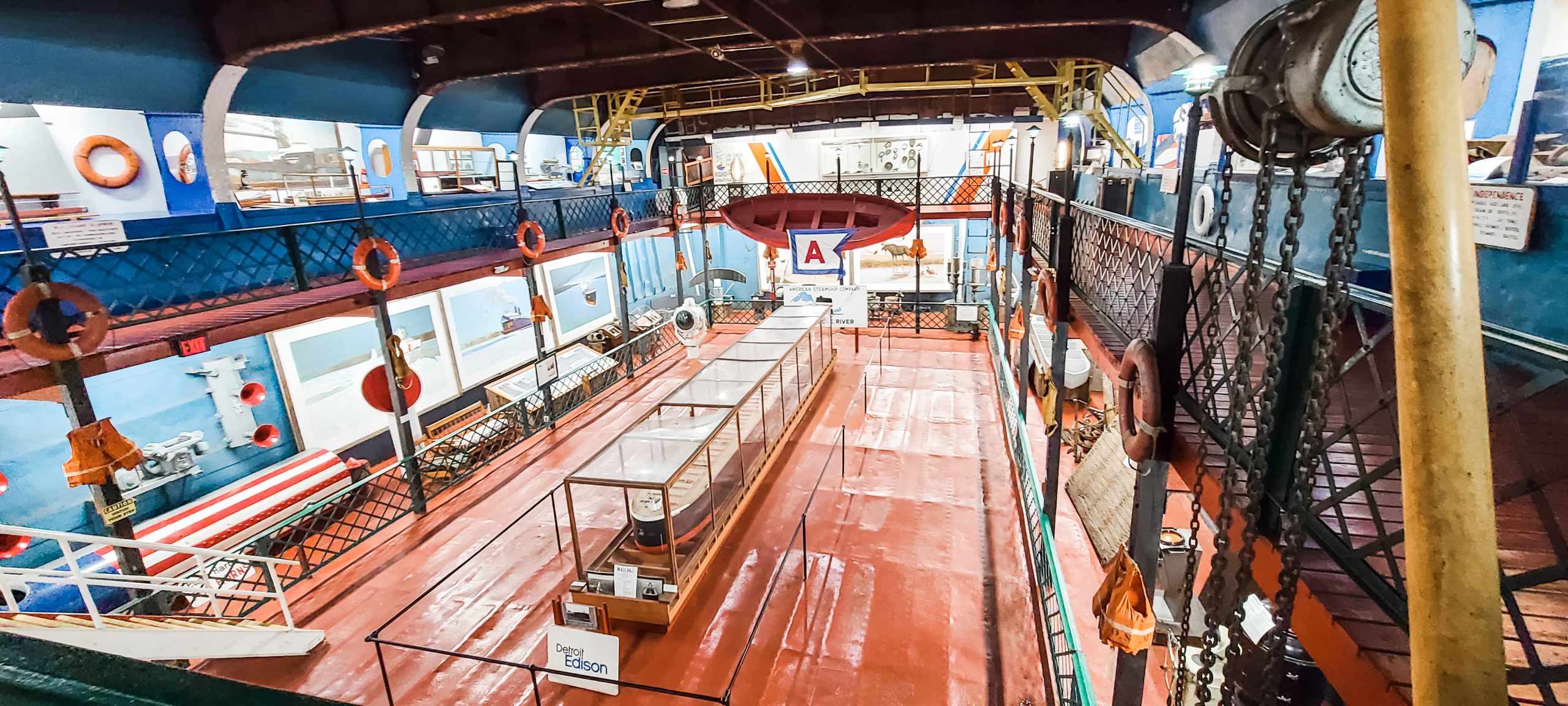 Day 7- Tahquamenon Falls/ Pictured Rocks
The countryside is so beautiful up in the UP. People are nice and it's quiet for the most part. Restaurants are little, much like diners, very personal and a big part of community. We ate breakfast in our room at the Holiday Inn and Suites and packed up quickly and got on the road heading west to Pictured Rocks, but on the way there we planned to stop at Tahquamenon Falls. Wow, I am so glad that we did. When we arrived we were hungry and decided to have lunch there at the Tahquamenon Brewery, the only restaurant around. It reminded me of a Cracker Barrel, in a way. A little shop in the front with the restaurant in the back. The food was excellent, but the best part that I remember was the fresh hot local apple cider. It was delicious. Our whole family enjoyed warming our hands and bellies before we went out to the falls. The falls did not disappoint. We only had time to visit the Upper Falls, but it was so worth the stop.
We knew we had to get on the road to make sure we got to Pictured Rocks before sundown as we had to set up the campsite. This was the first night the girls had ever camped and it was going to be awesome. Our first campsite was a few seconds walk away from the shoreline of Lake Superior. It was so beautiful. We got there right before sundown and quickly set up our tent as we knew the temperature was going to drop. As soon as we had the tent up, we rushed to the shore to get the picture of the sun going down. It was beautiful. We gathered our wood and got a fire started, made our food and called it a night. I will say, everything that we packed for the camping trip we used. This list here was a huge help. It was a great night.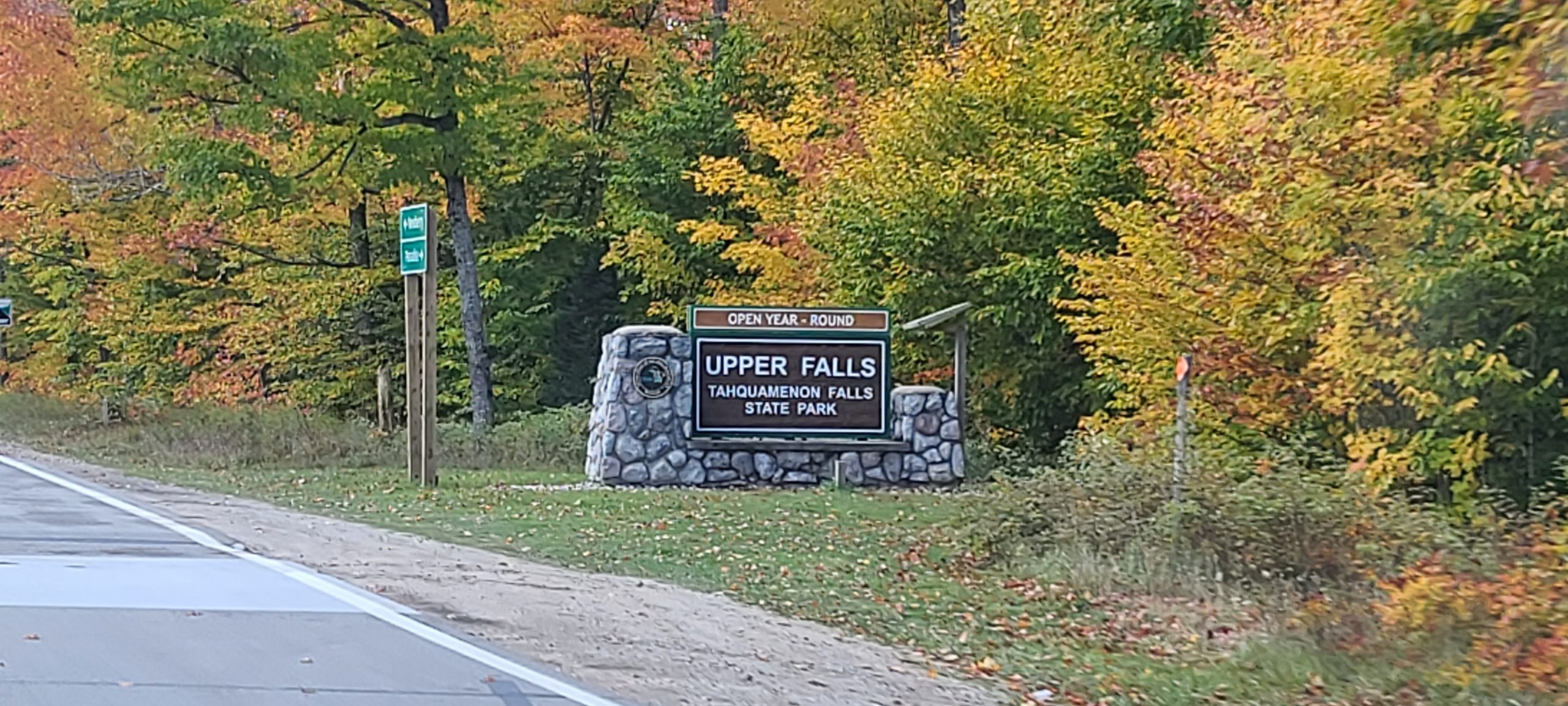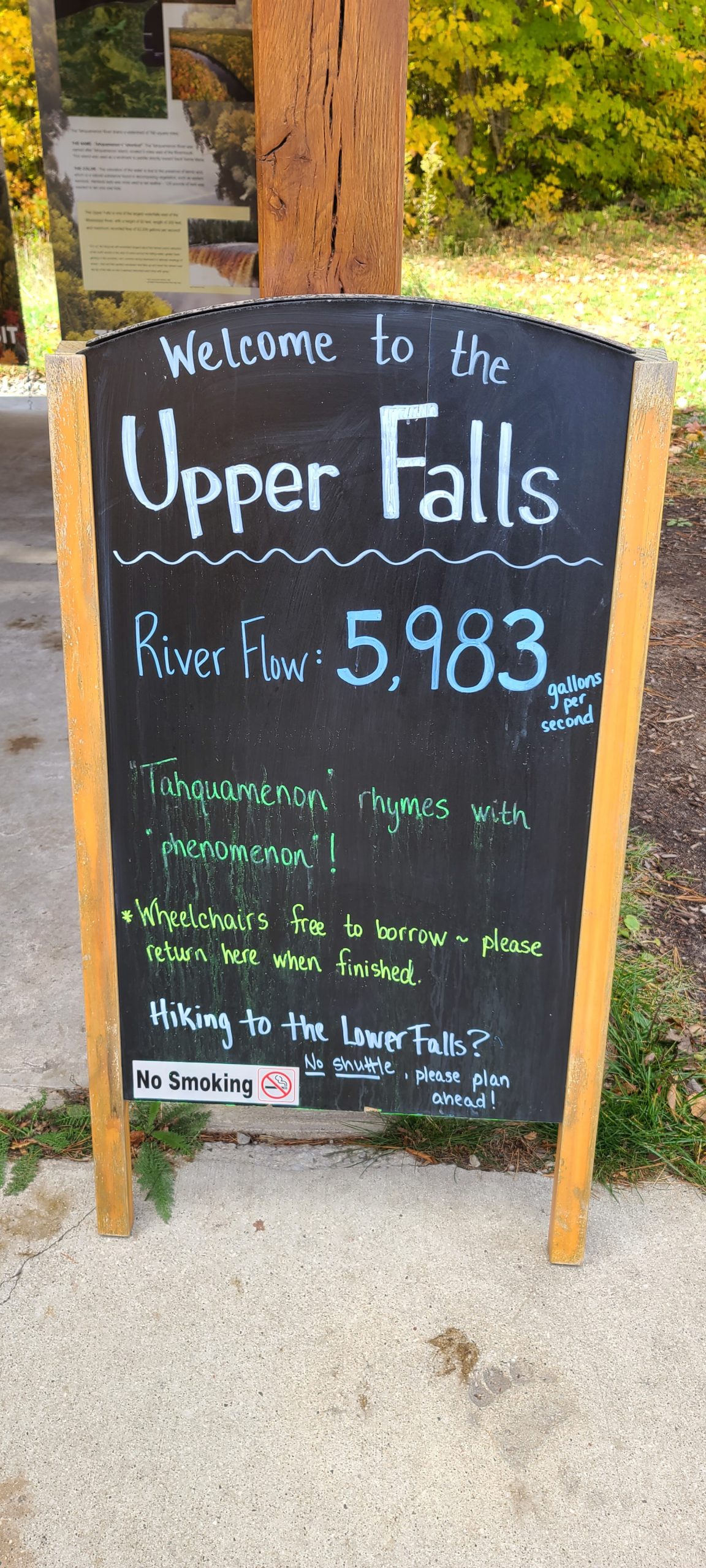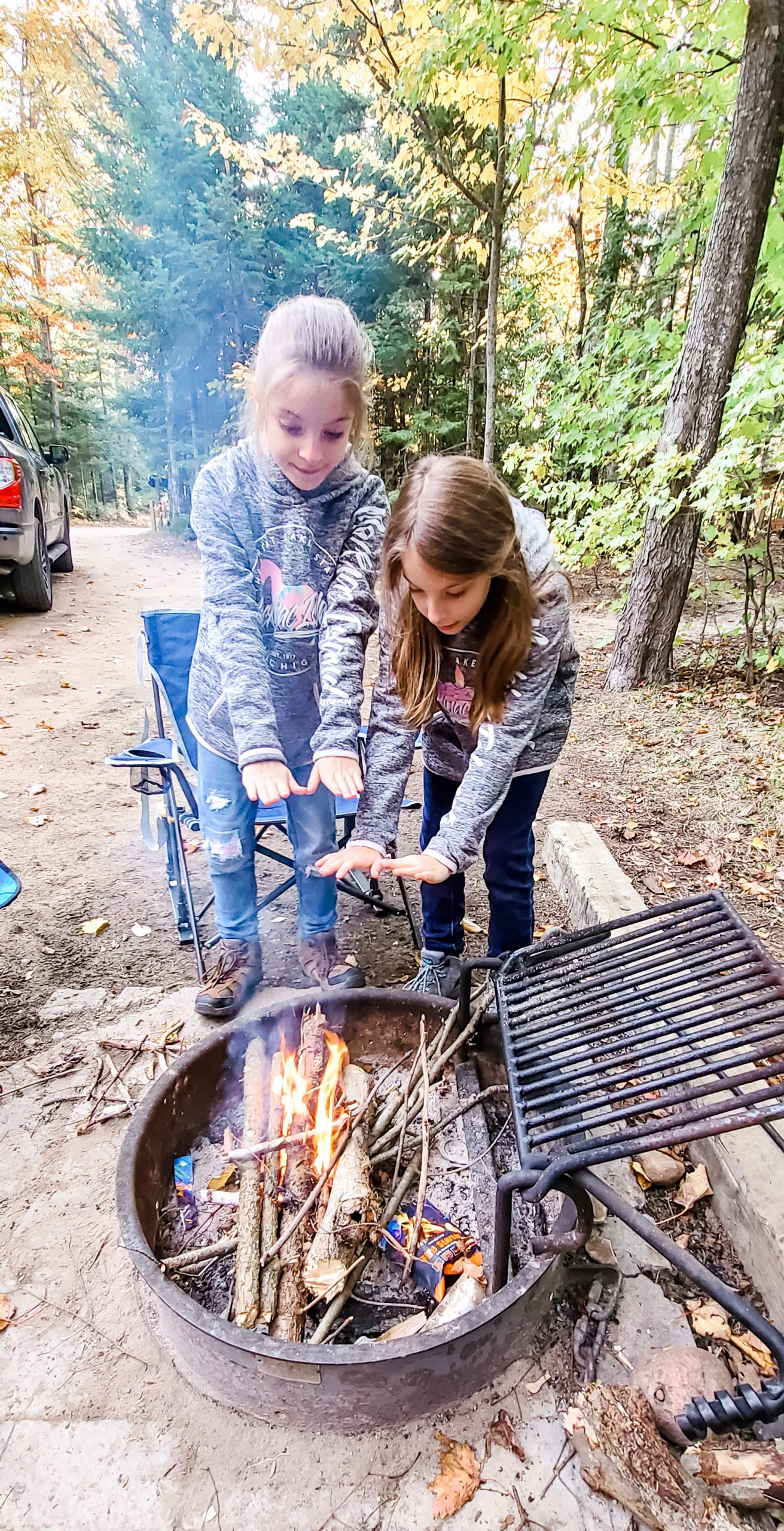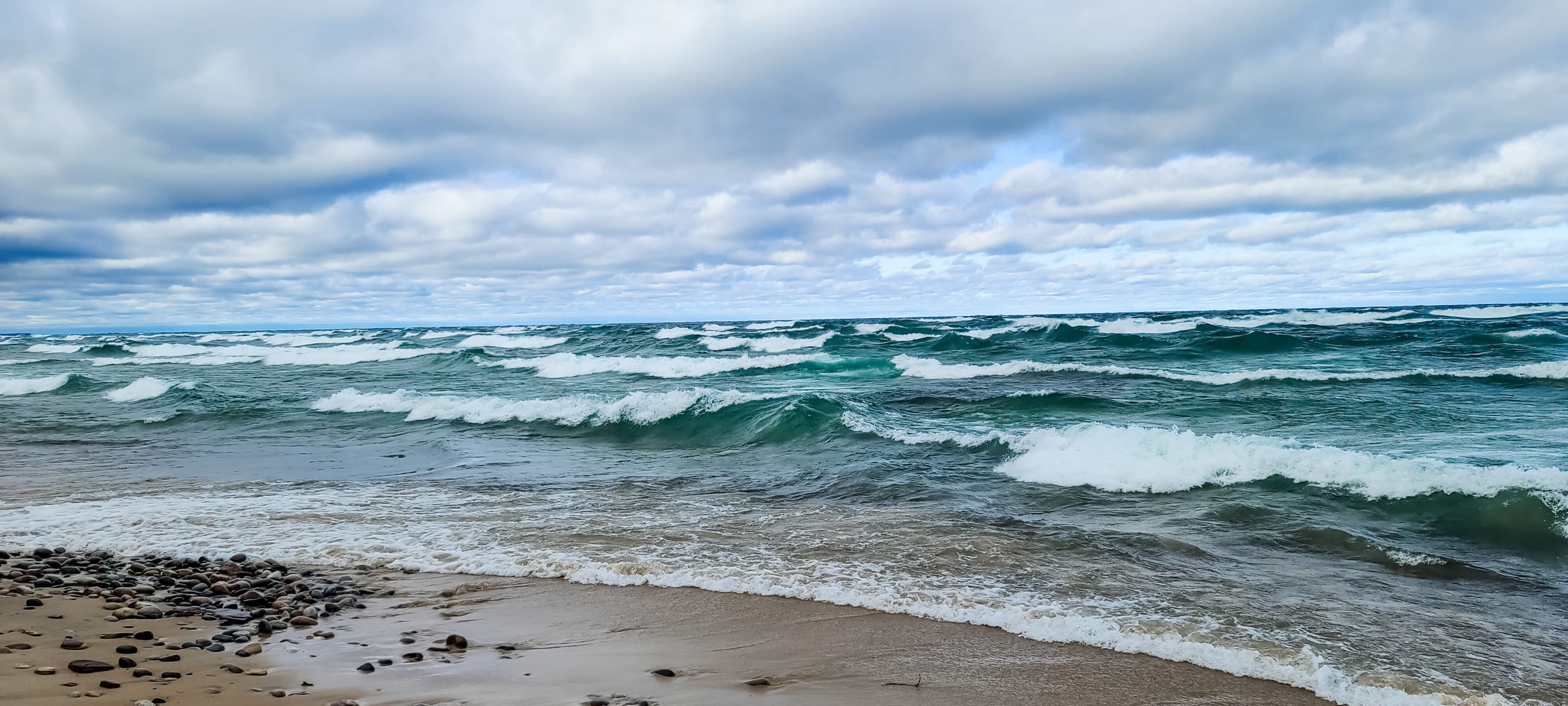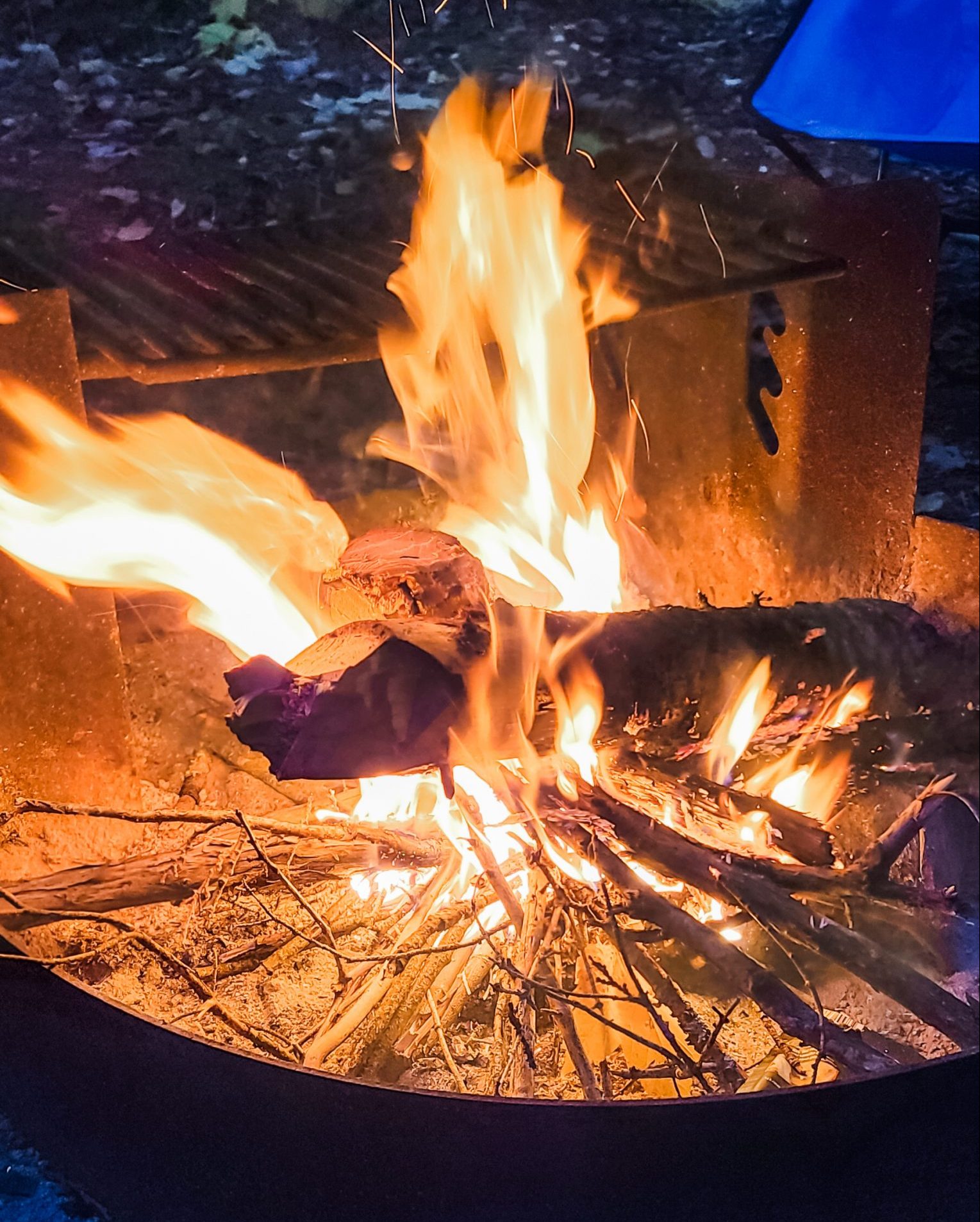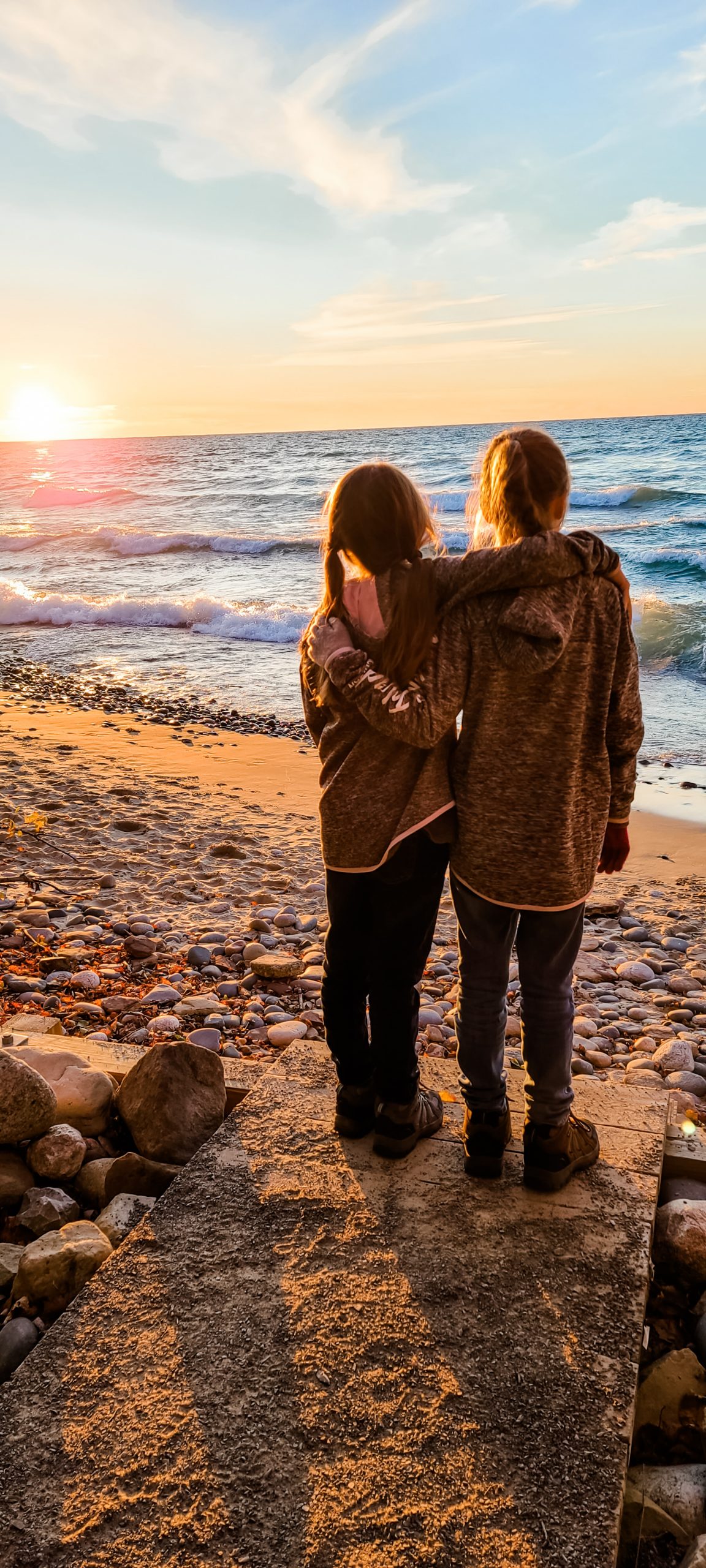 Day 8- Hiking to Au Sable/Chill by the Fire
We took this day as a day to relax and enjoy the nature that we were in. We got dressed, made coffee, moved to our other campsite, on the same campgrounds (again, because we didn't reserve it more than a month in advance) and then made breakfast.
After breakfast we took the afternoon and went for a hike down the shoreline, collecting rocks and searching for the shipwreck that became a part of history. We found it and then headed back up on the wooded trail to the Au Sable Lighthouse overlooking the beautiful Lake Superior. When we got back we the girls enjoyed building a fort and carving using the hatchet we had on camp. For supper we enjoyed the tastiness of campfire nachos and s'mores before going to bed.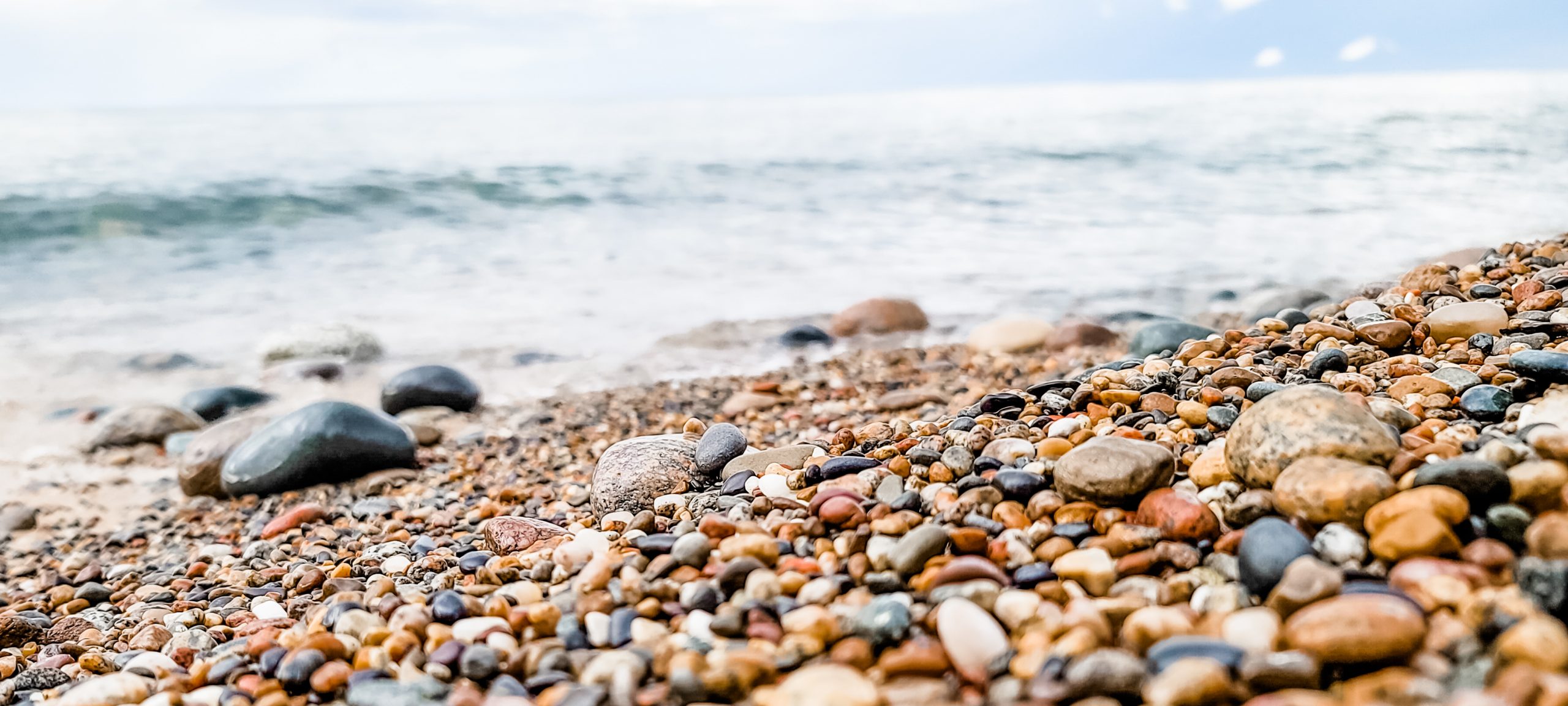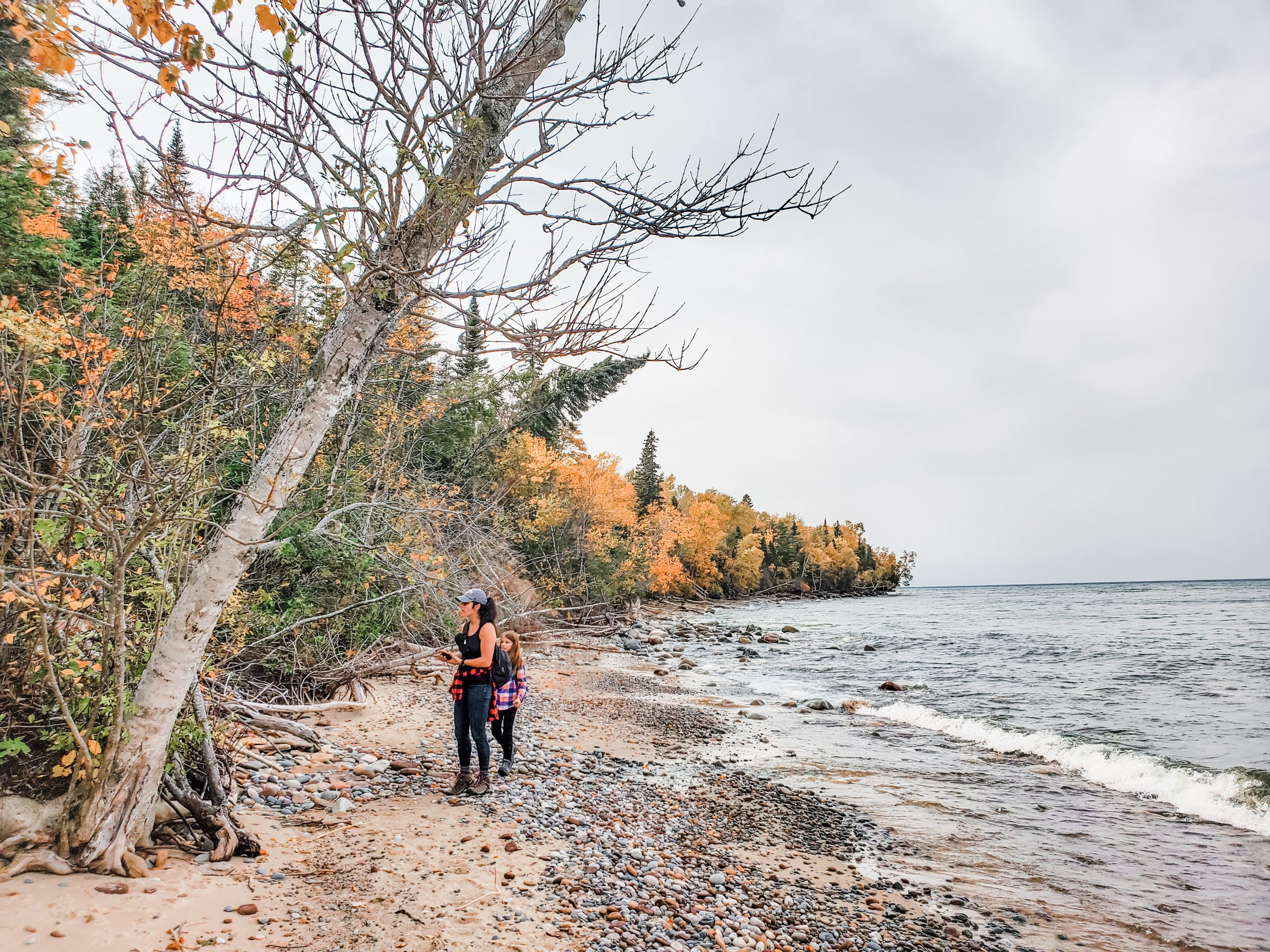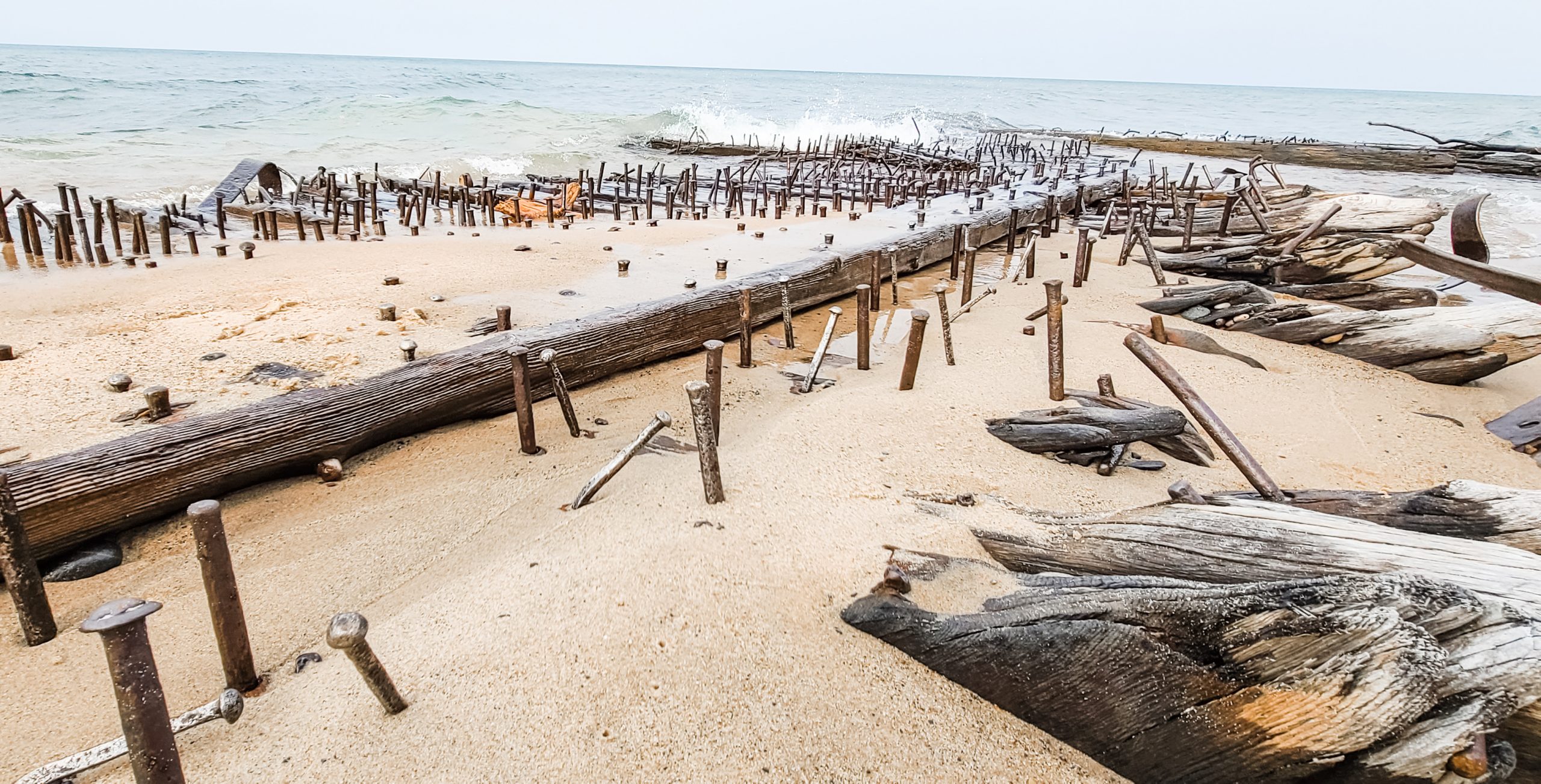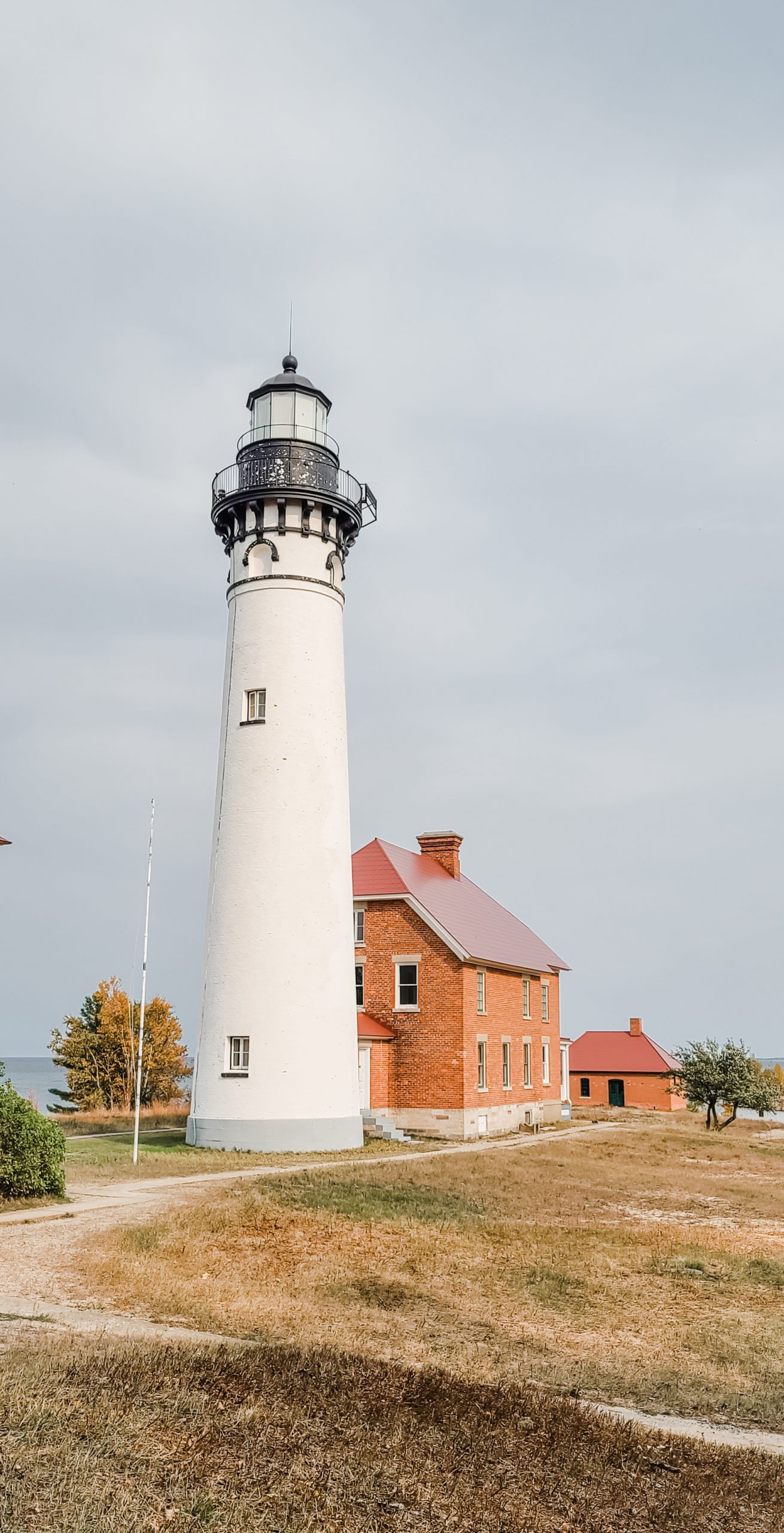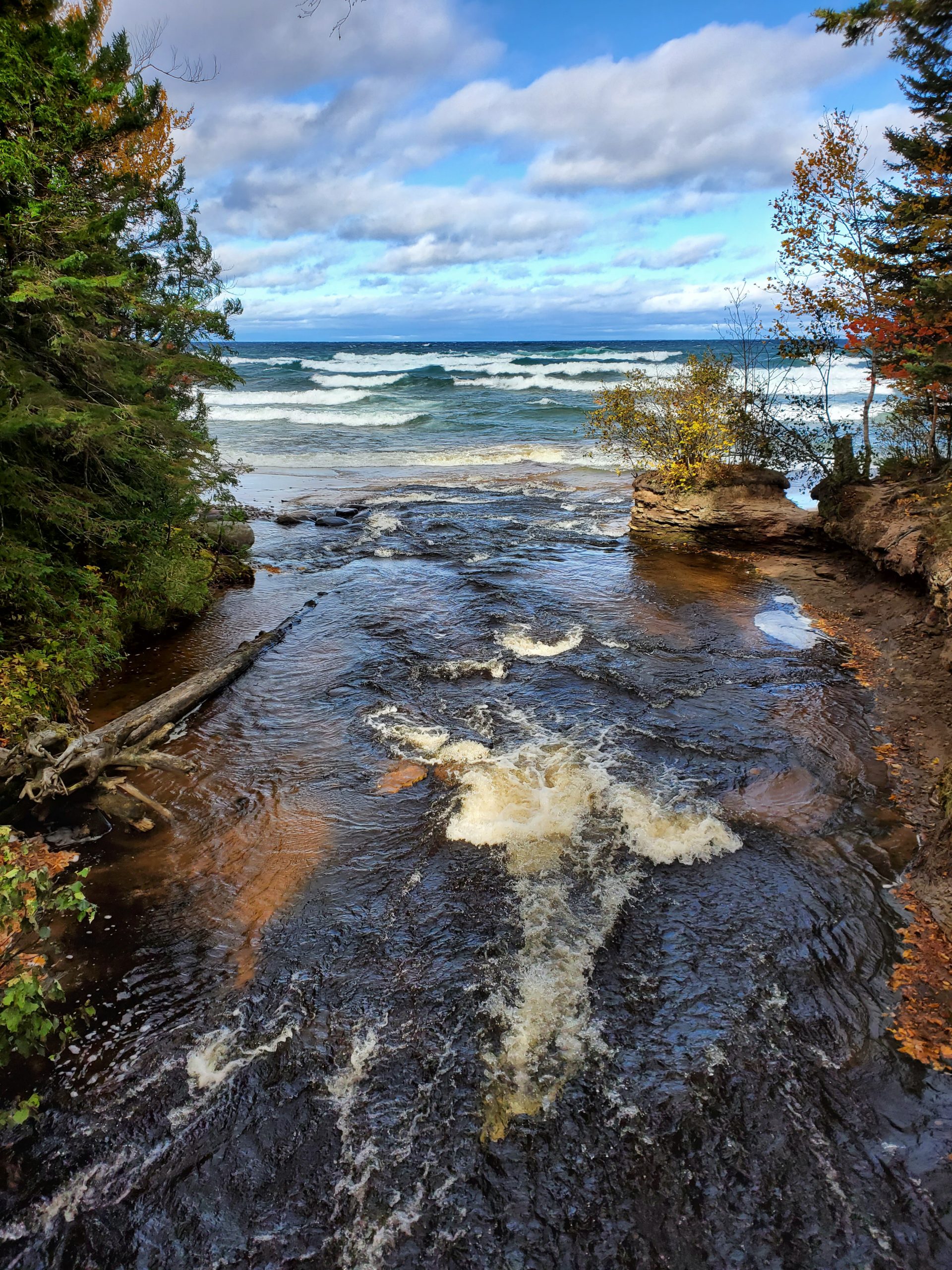 Day 9- Marquette, Michigan/ Donckers
After packing up all of our camping gear, we jumped in the car and headed for Marquette, Michigan. It was a really cold day and we decided to skip some hiking along the way and get right into the city to eat and chill at the hotel and do some laundry. We arrived to Marquette and what a cute city this was. Lots of shopping areas, but we were hungry and it was cold so we went straight to Donckers. A really interesting eatery. We walked in and they sat us at a table in the back. Once we knew what we wanted, we left our table and went upstairs to place our order. After placing the order we went back to our table to wait for our meal. There was a little shop in the front of the store and a place where you could get candies of all kind. I really liked the experience we had here. It was buzzing with people, but it was managed well.
We left Donckers and down the street was a little bakery/coffee shop,
Babycakes Muffin Company
. We decided to give it a go. They had vegan and gluten free chocolate chip cookies that were amazing. We also got a coffee and the girls got hot chocolate. A perfect way to experience this little city and support the local businesses. We took our items back to the hotel with us. We stayed at the Hampton Inn, very clean facility, nice people and cozy vibe. Mike and I spent most of that night washing laundry and getting everything re-organized for the second half of our trip.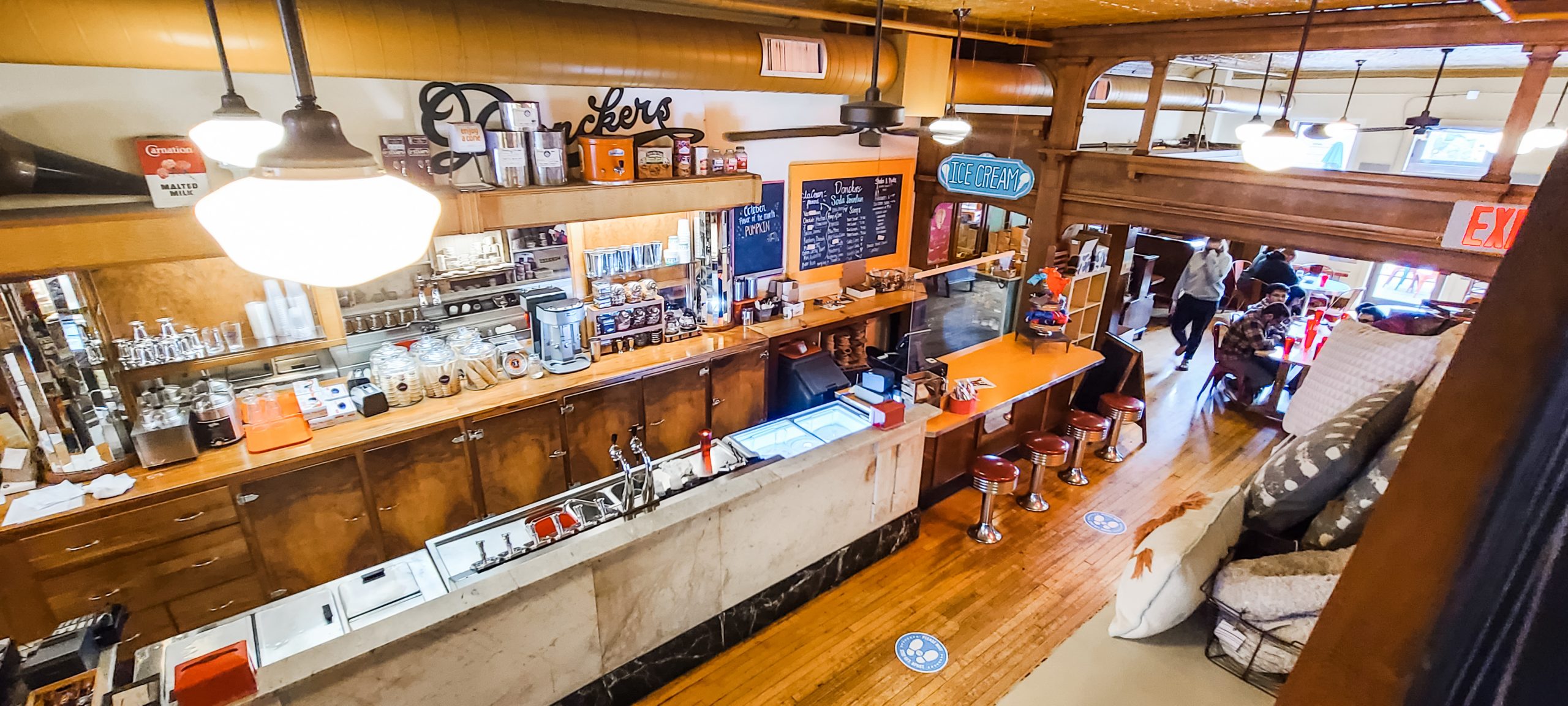 Day 10 and Day 11- Houghton, Michigan/Eagle Harbor/ Copper Harbor
Before we left Marquette, we stopped at Bodega for breakfast. This was one of the best places I have eaten for breakfast, on this trip. The food is made from scratch and very tasty. We did have to wait longer than hoped for, but it was spaced nicely, clean, and managed well. While we waited for our table we visited another coffee shop, down the road, The Crib. It is takeout coffee but it was great coffee. They roast their own beans which they cleverly named, Crappie Coffee. A fun experience before we left Marquette.
Once we arrived into Houghton, we unloaded our things at where we were staying, The Loft on Lincoln II. It was one of the best Airbnb's I have stayed in yet. It was full of character and charm and gave that farmhouse feel that I so love.  The loft was one of many in that building that used to make up a school building. They did well on keeping some of the original flooring and trimming and the structure itself was pretty much in its original state. Everything was brand new and it was nice to be able to cook in the kitchen some food that we enjoy at home.
Houghton had a Walmart, which was the first time we saw one on this trip. We loaded up on food and took it back to the loft. Then the weather changed again. I guess this is what we get for traveling during fall. We somehow managed to dodge the rain, but not on this evening and next day of staying in Houghton. It down poured. Which, I am thankful we were not in a tent during that time. We chose to enjoy the time in the loft, getting caught up on some reading and studying that we wanted to do on vacation. It was nice and peaceful.
On the second day, when the rain let up a little, we decided to brave the weather and go up to Eagle and Copper Harbor to see the lighthouses. If we made it that far, a little rain shouldn't stop us from reaching that point and I am so glad that we went. We first stopped at Eagle Harbor, and of course everything is shut down for the season, but we were still able to walk around and take some great pictures. We got back into the car and headed all the way to the furthest part, we could go, Copper Harbor point. We were unable to go out to the lighthouse, but there was a section that you could pull off, park and see the lighthouse at the overlook. Fortunately, I knew this before going, so I took my tripod to see if I could get a good picture. It was hard. The weather made it difficult to get anything clear, but it was still a great experience. We were all sopping wet, but laughing along the way. Mike even stopped alongside the road so I could get out, run to the middle of the road for me to take a picture. It was a very unpopulated area, so no worries, we were safe. We went back to the loft for some R&R.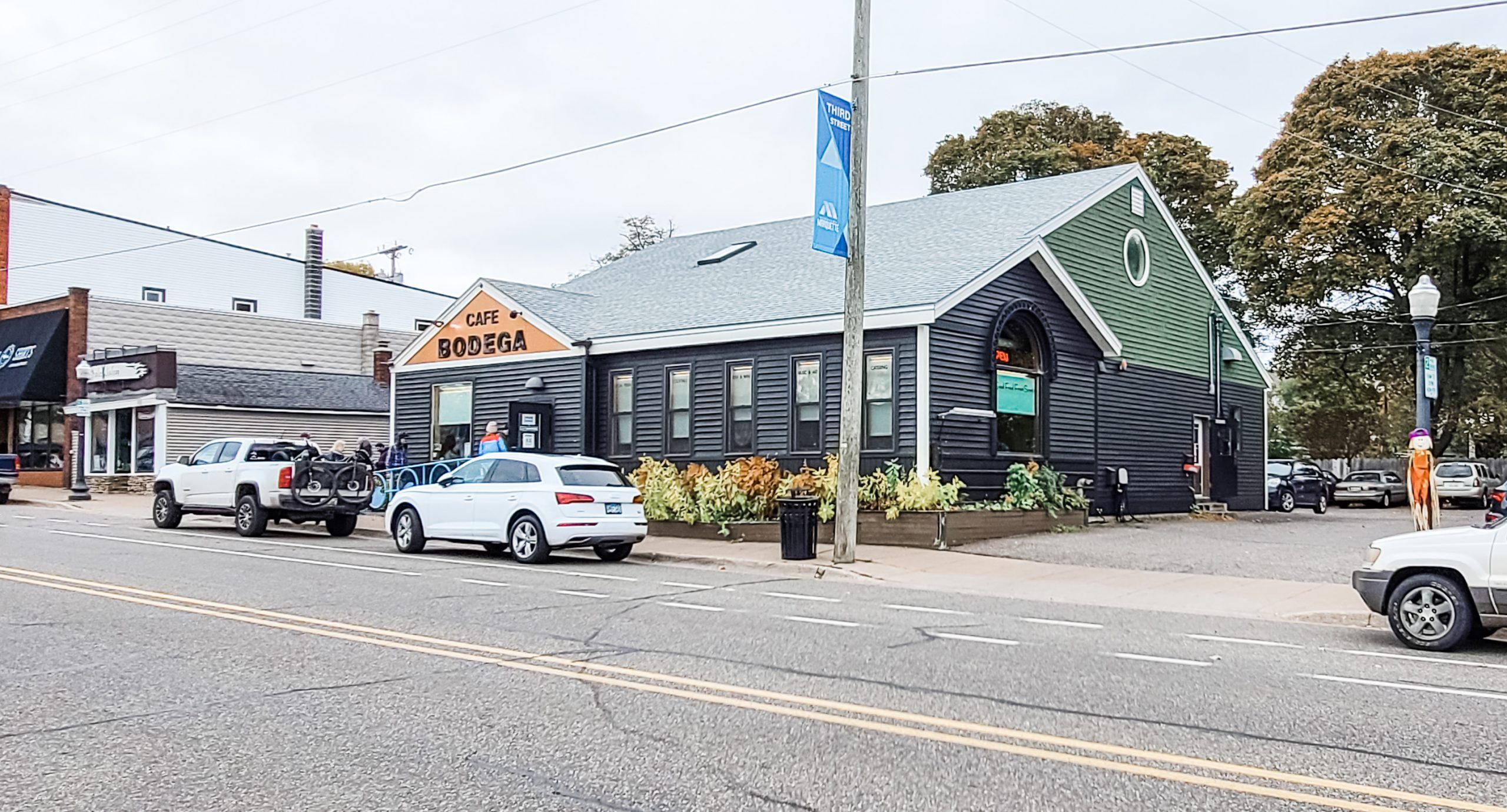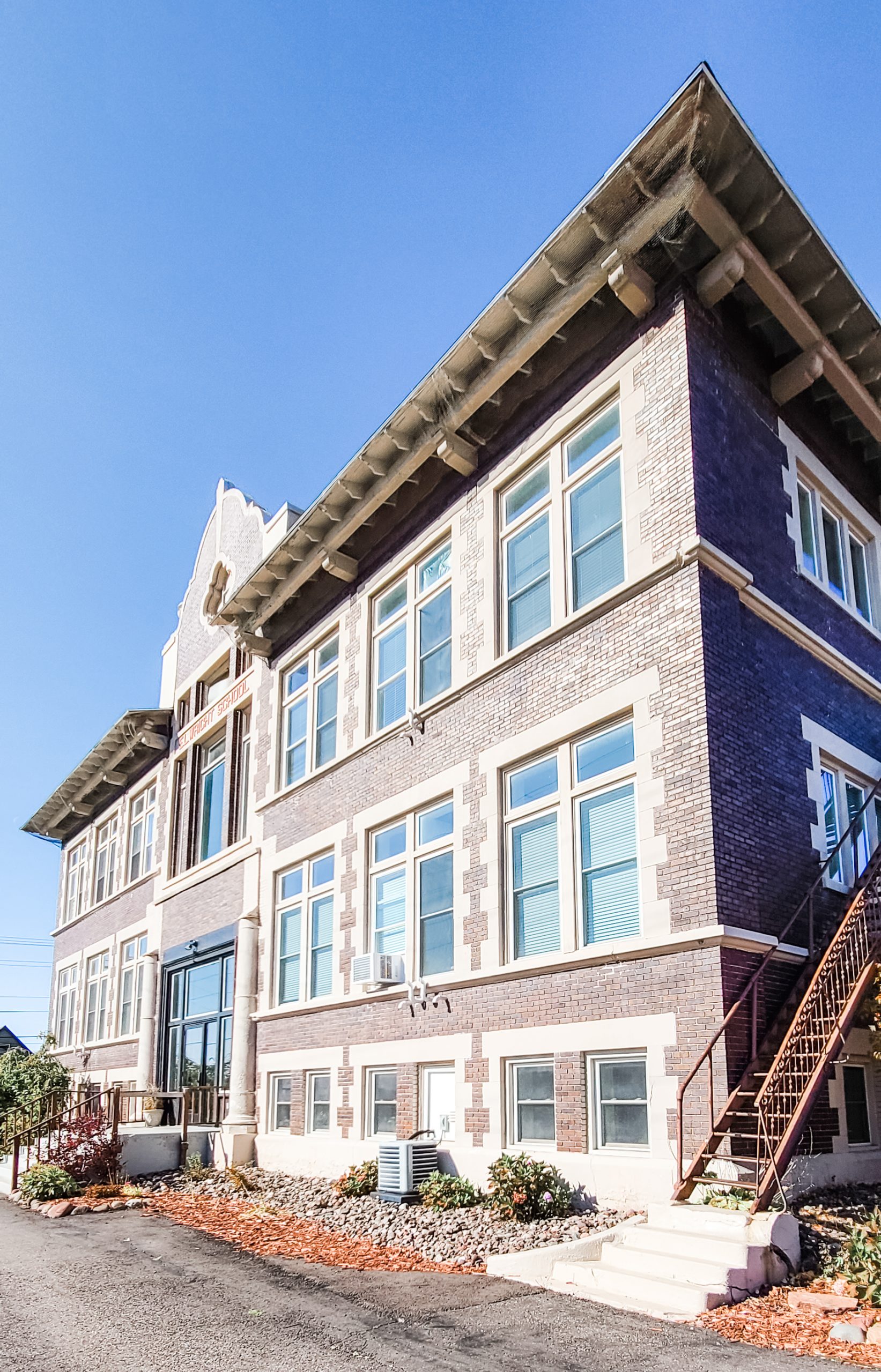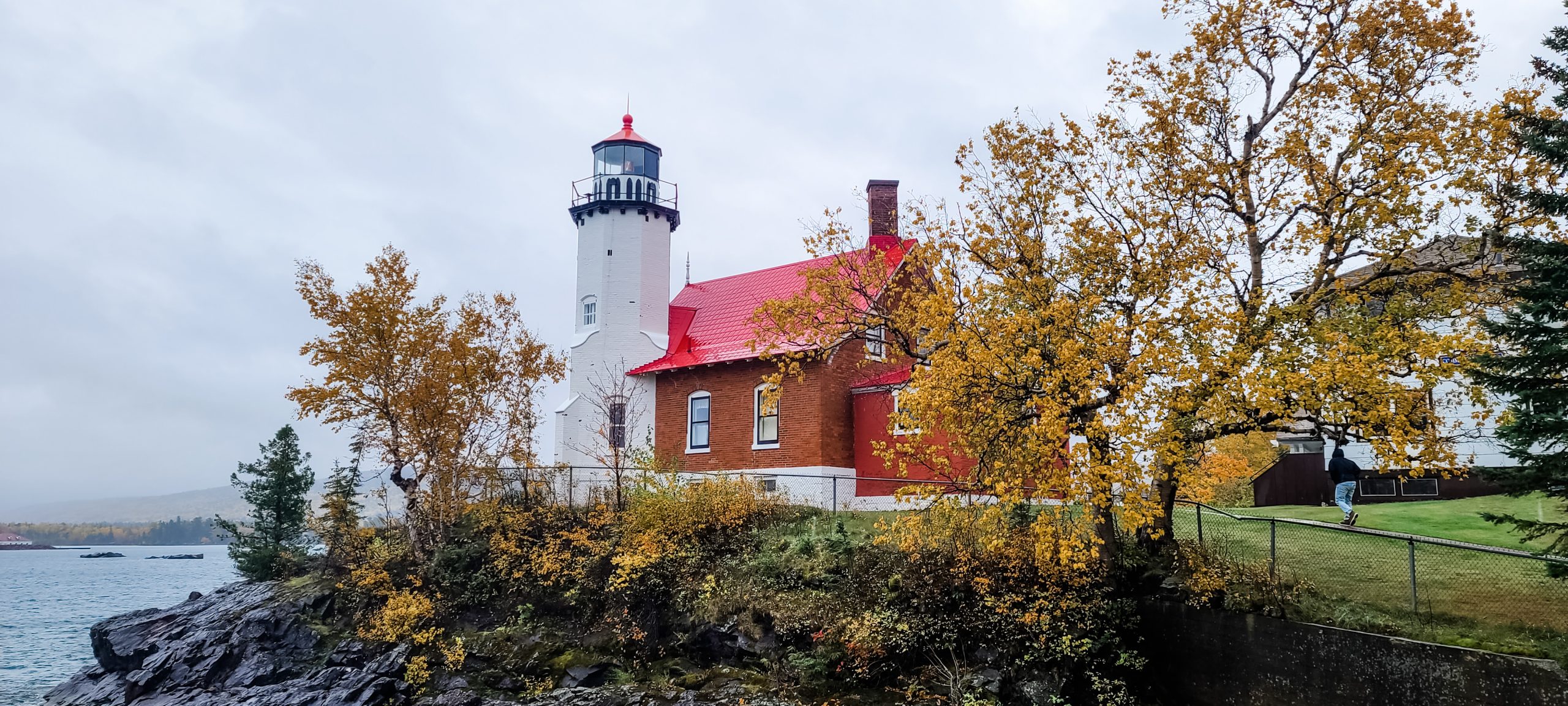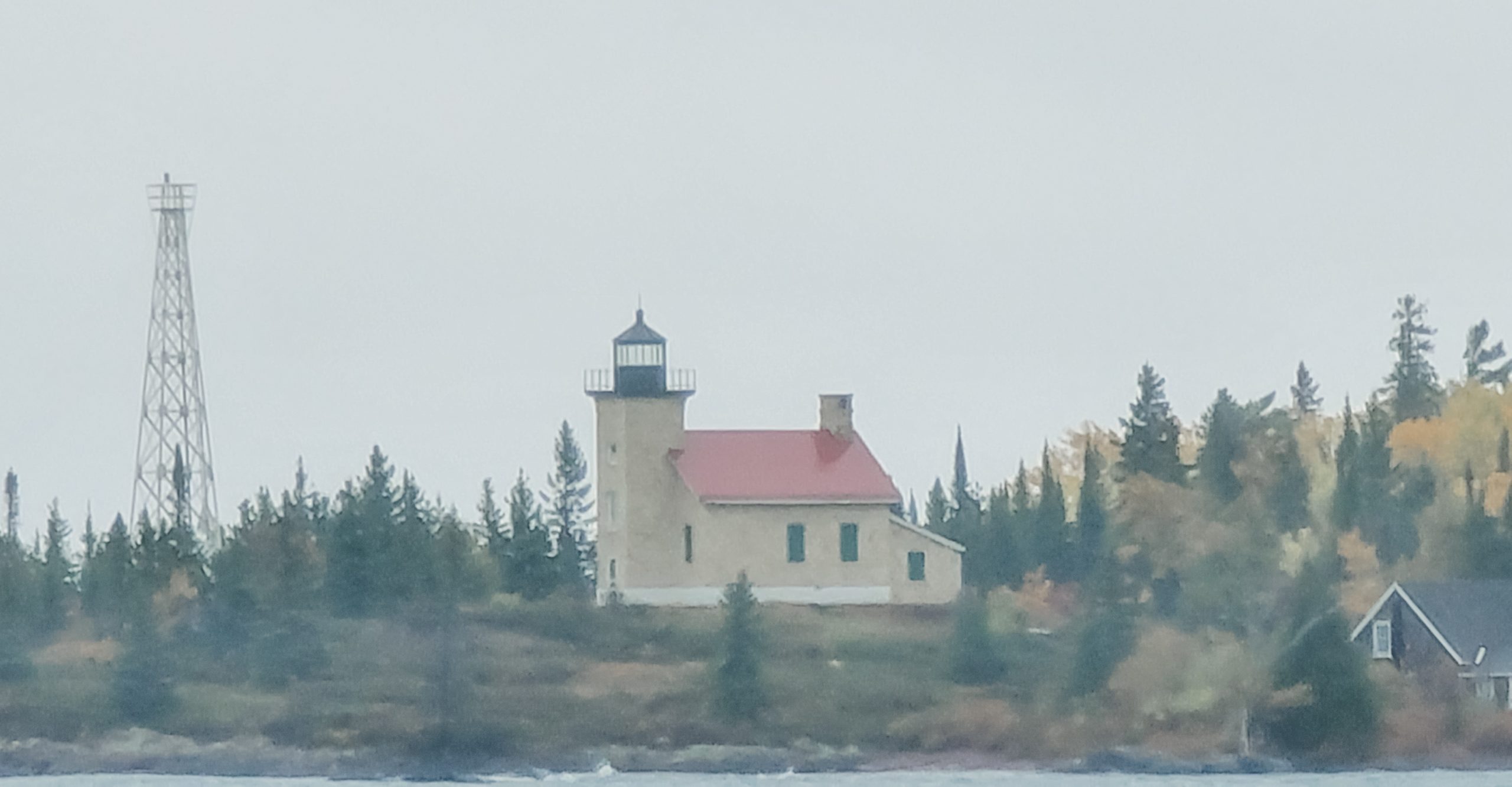 Day 12- Porcupine Mountains, Michigan/ Lake in the Clouds
We took our time packing up from the loft and headed out to Porcupine Mountains. We knew we were going to meet up with some friends that day and we were quite excited to see them. We were about two hours ahead of them so we decided to set up camp and then go for a hike to the Lake in the Clouds. I am so glad that we did. The lake was so beautiful and the weather was perfectly sunny and warm. It made for great pictures. The hiking trails were somewhat intermediate. The overlook was great for families but the side trails were at times challenging.  Definitely not for little kids. At one point there was a steep slope off the side of the trail that dropped pretty far, however there was enough space to freely walk. Our girls (10 years old) did well, but did eventually get tired and we had to turn back as the trail was too long for them.
When we returned back to our campsite, we dropped of some items and then went to visit our friends. It was nice to catch up with them and let the kiddos play together. More memories made along the way. Due to tenting, we had to get back to our site before nightfall so we could make supper, start our fire and have s'mores before bed. A memory, we for sure didn't want to miss. We knew we had to get a good nights sleep too as we were starting our trek back to Arkansas in the morning.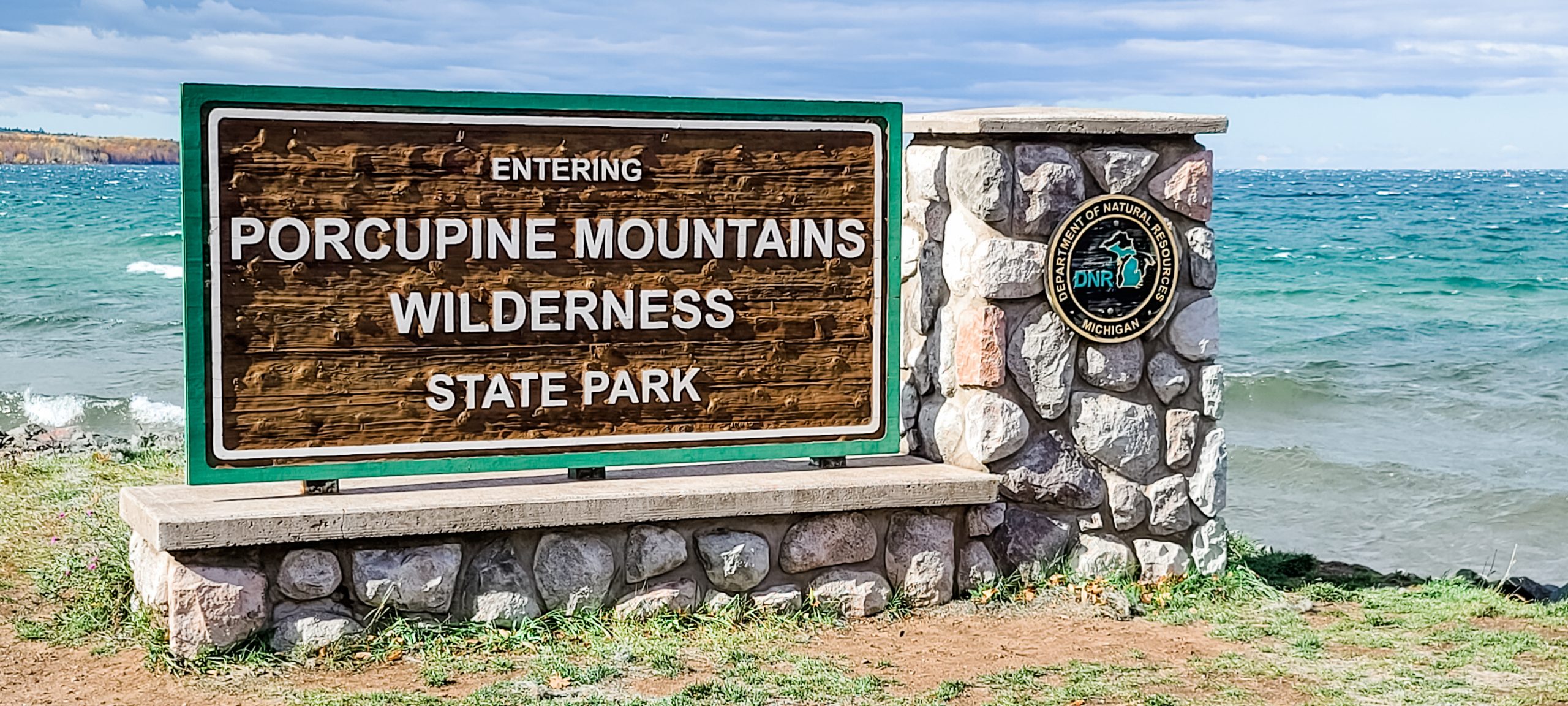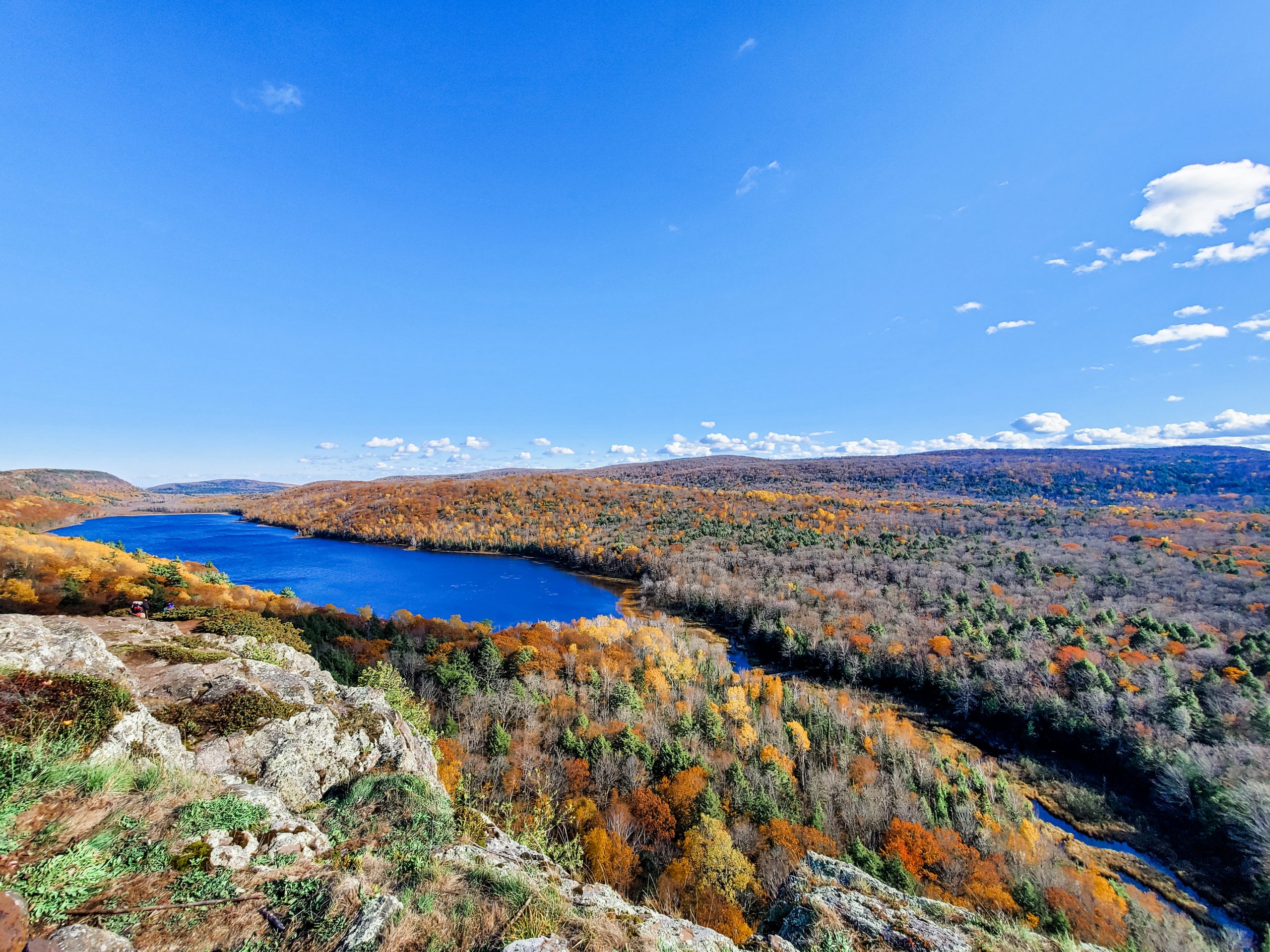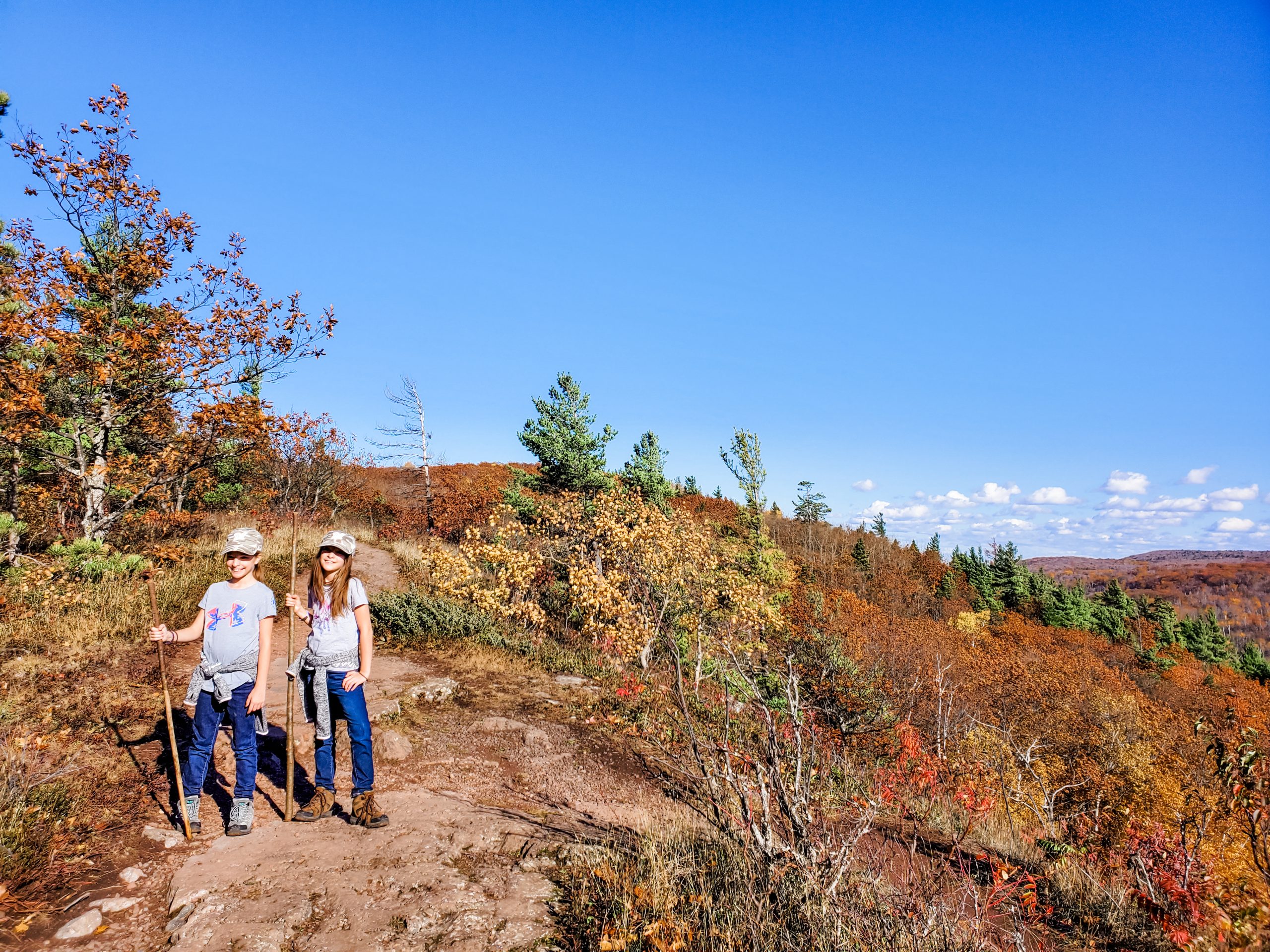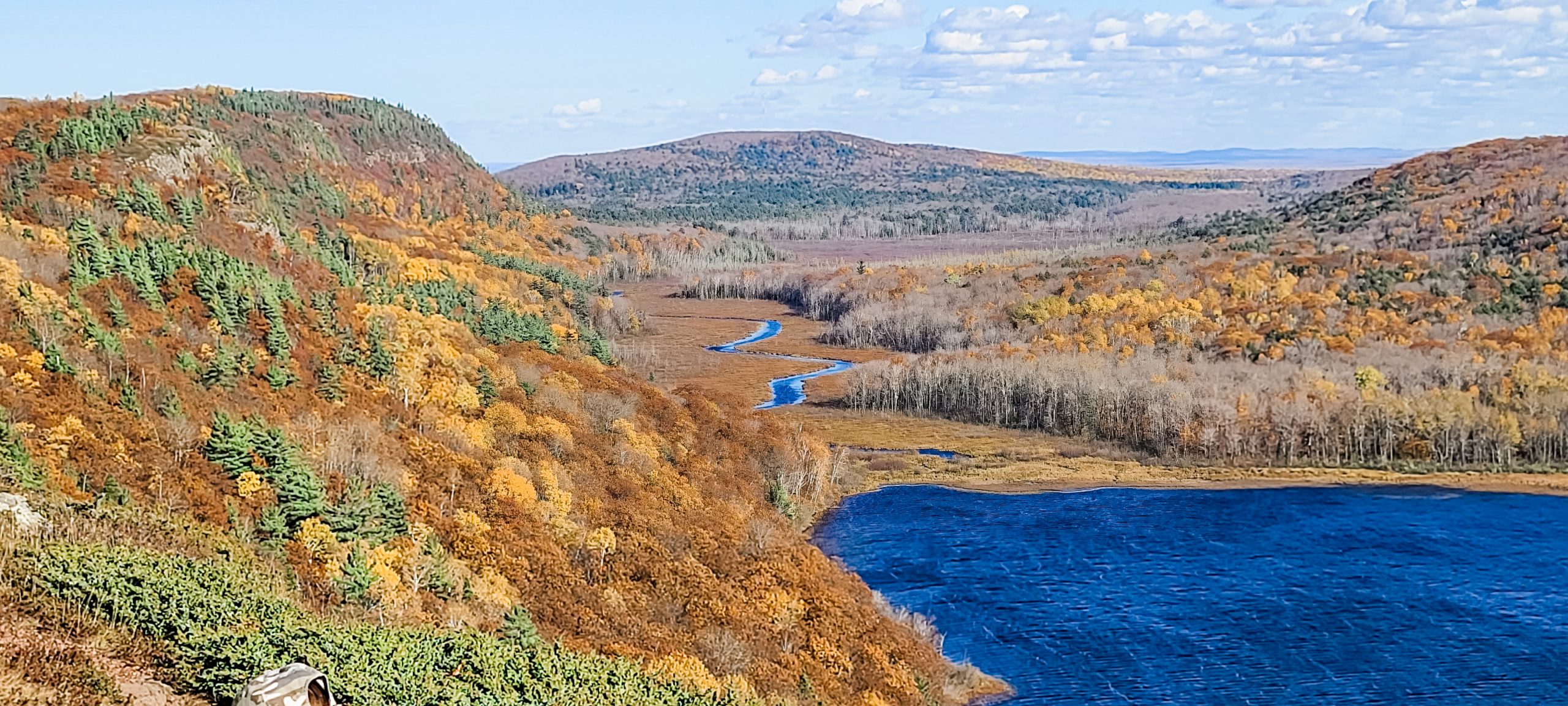 Day 13- De Moines, Iowa
This was the last morning camping and the sunrise didn't disappoint. Even though there was rain in the distance, we were able to close down camp, get breakfast, snap pictures of the sunrise and say goodbye to friends.  A bittersweet time, knowing that our vacation was coming to a close, it was a great reminder that there is so much out there that we have to experience. Life is too short to not see the beautiful places of this world.
We left Porcupine Mountains, the sunrise, and our friends and made our way on an eight and a half hour trip to De Moines, Iowa. We reflected during our travel on all the places that we had been and what we found to be our favorites on the trip. Here is what we came up with:
Olivia's favorites: Horseback riding and biking on Mackinac Island, camping, apple picking, Tahquamenon waterfall and hiking on the beach looking for rocks.
Juliana's favorites: Horseback riding on Mackinac Island, riding the ferry back, hiking the trails, camping, all the new restaurants, Bronner's Christmas Wonderland, and apple picking.
Mike's favorites: Camping at Pictured Rocks, family time around the campfire, Tunnel of Trees, hiking to the Lake in the Clouds, and biking around Mackinac Island and the Ferry.
My favorites: Spending time with my family, apple picking, Bronner's Christmas Wonderland, Mackinac Island Horseback riding, Karl's cuisine, camping, hiking, looking for stones, chillin in the loft while it rained, Cider at Tahquamenon Falls, Lake in the Clouds, seeing friends, staying at HR in Iowa, and eating at the Machine Shed.
We arrived to Hotel Renovo (HR) around supper time and decided to get cleaned up and walk over to the local restaurant The Machine Shed. This entire set up of the hotel and restaurant was designed to be more like a Farmhouse and barn. It was really cute and very comfortable to stay at. The food at the Machine Shed was very country and heavy, but we needed that after a long day in the car and eating just snacks.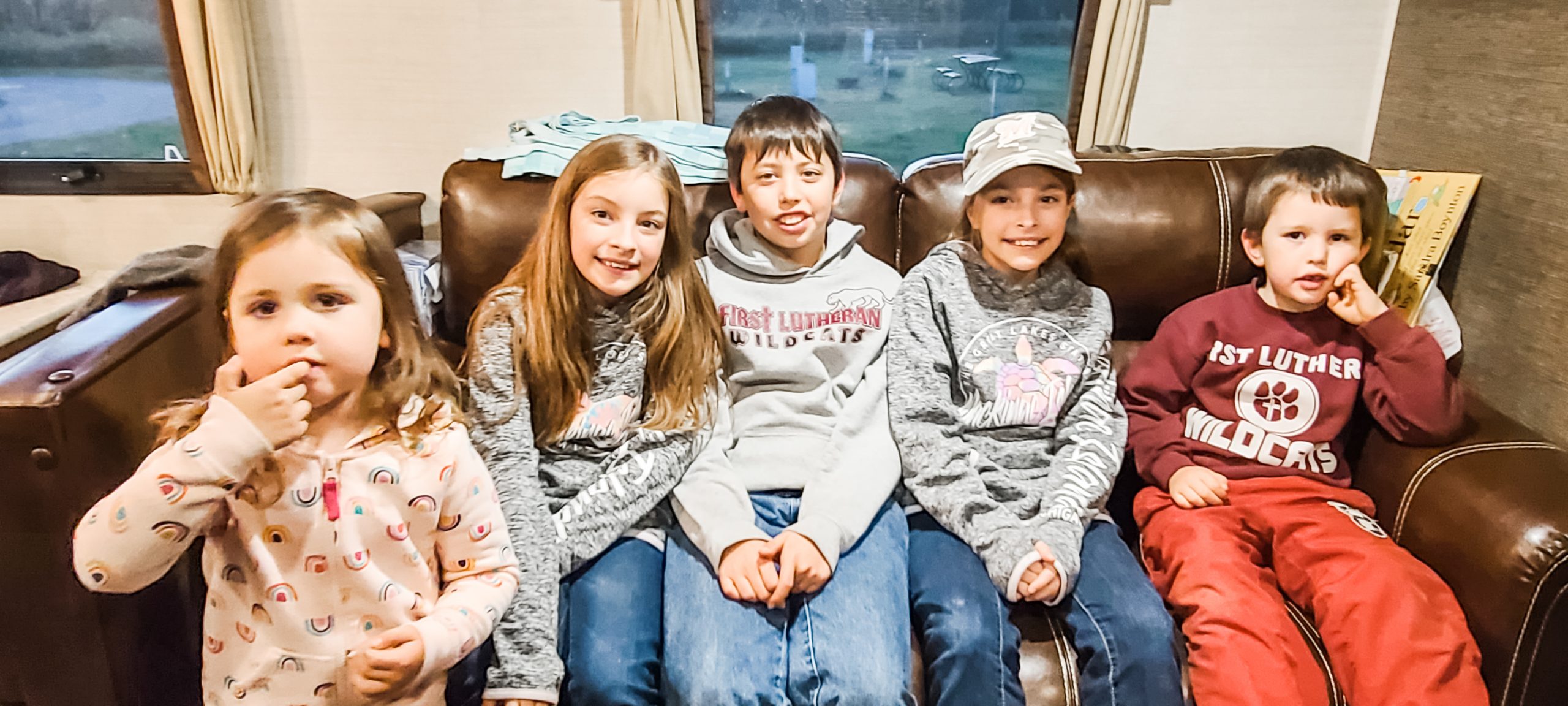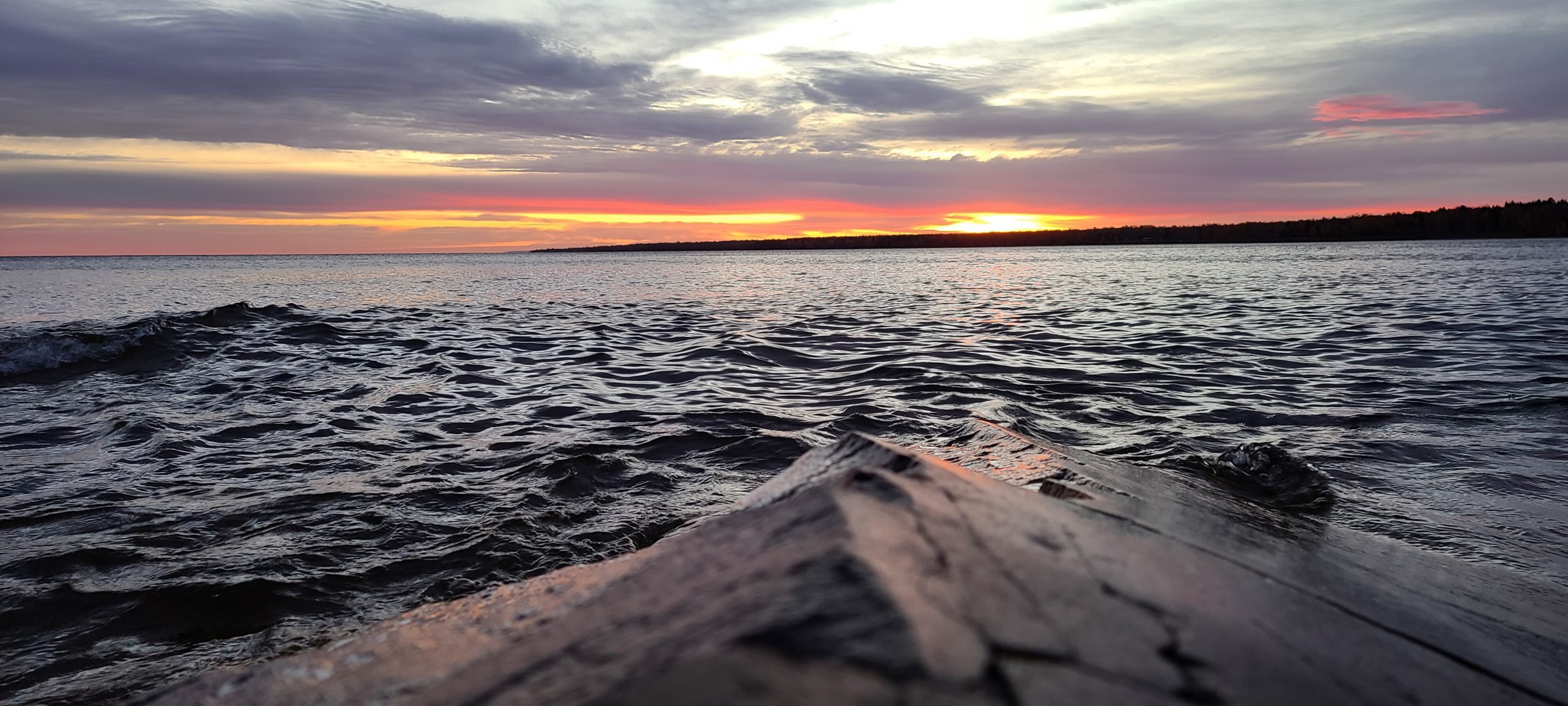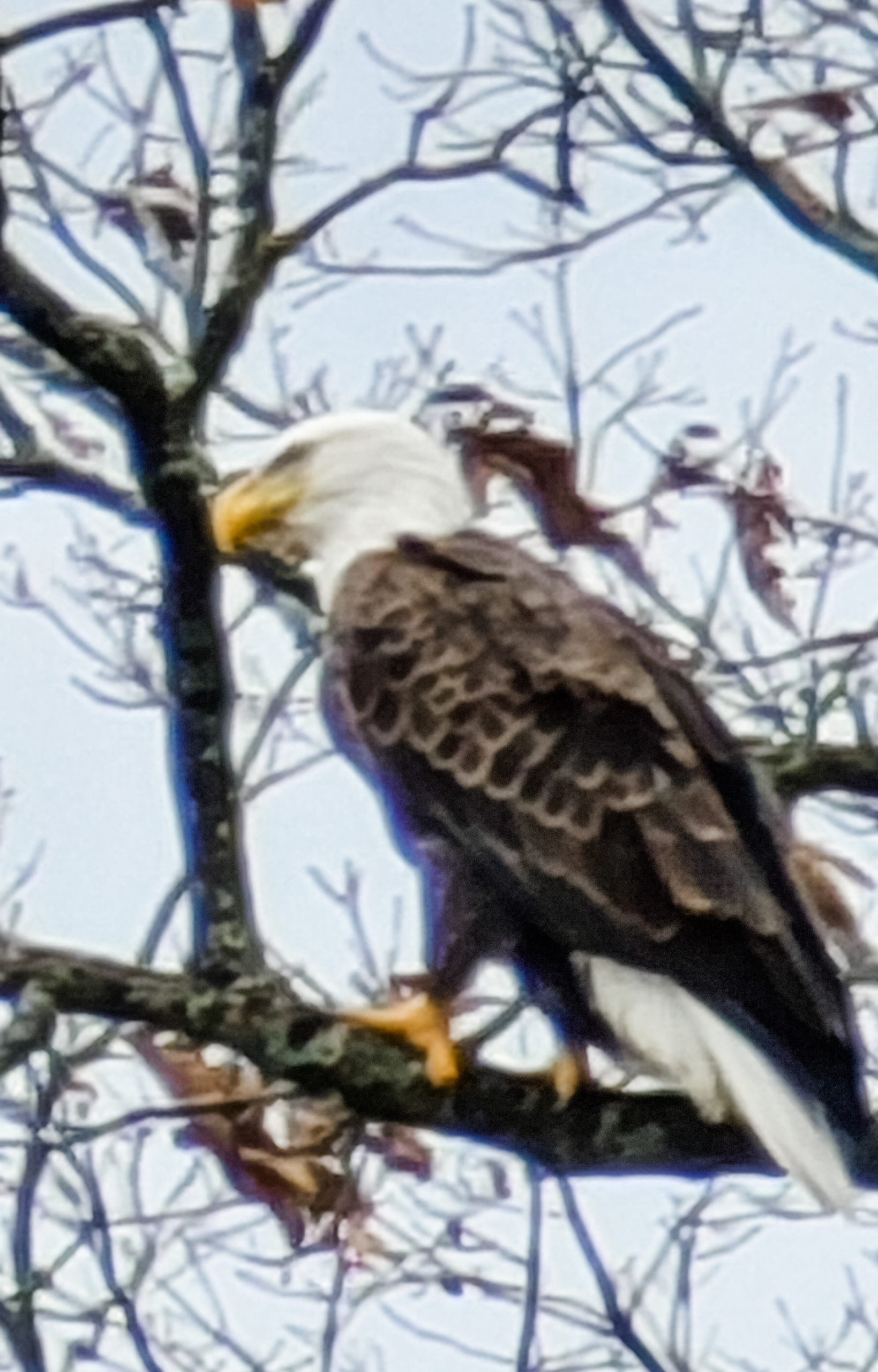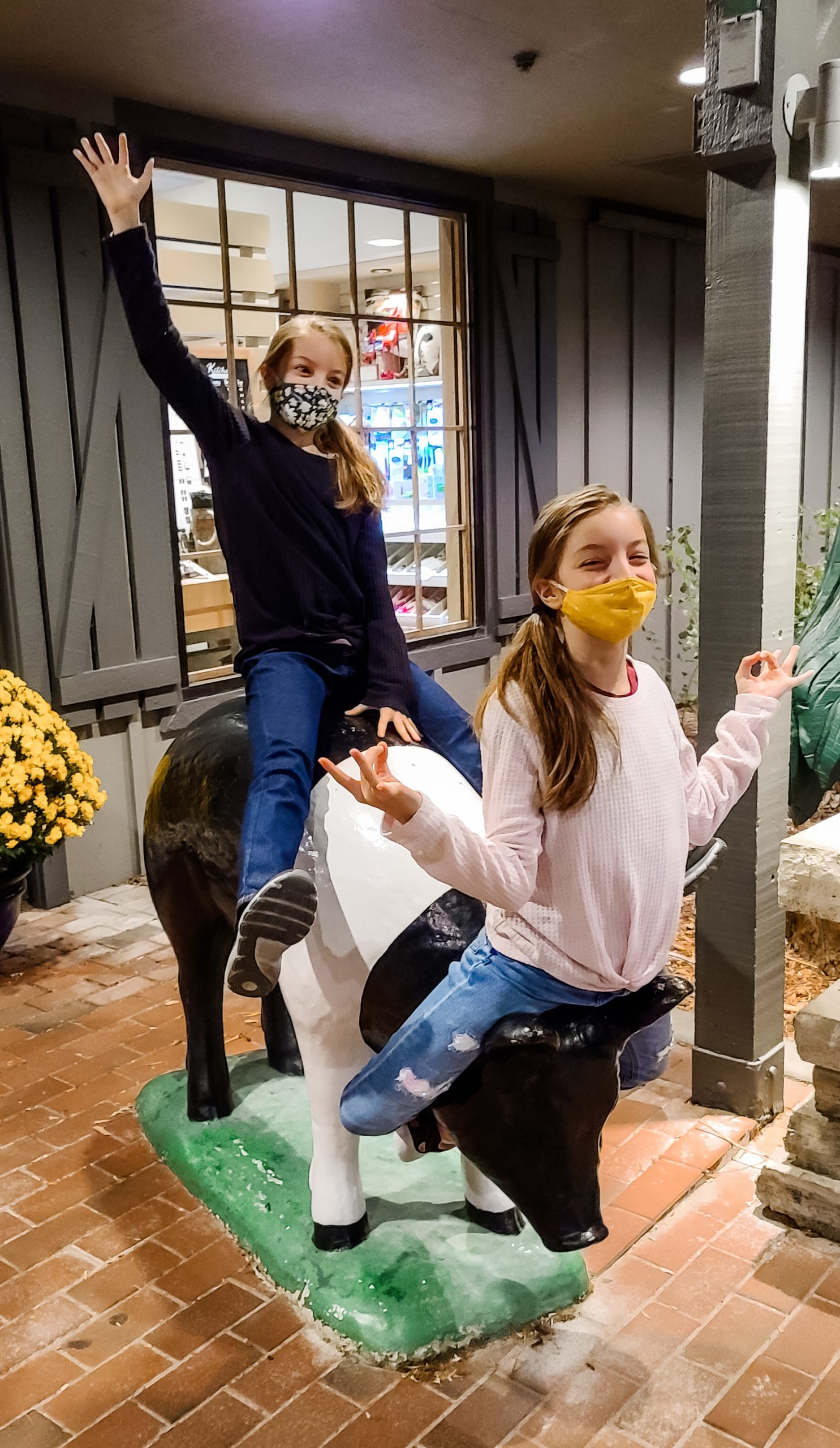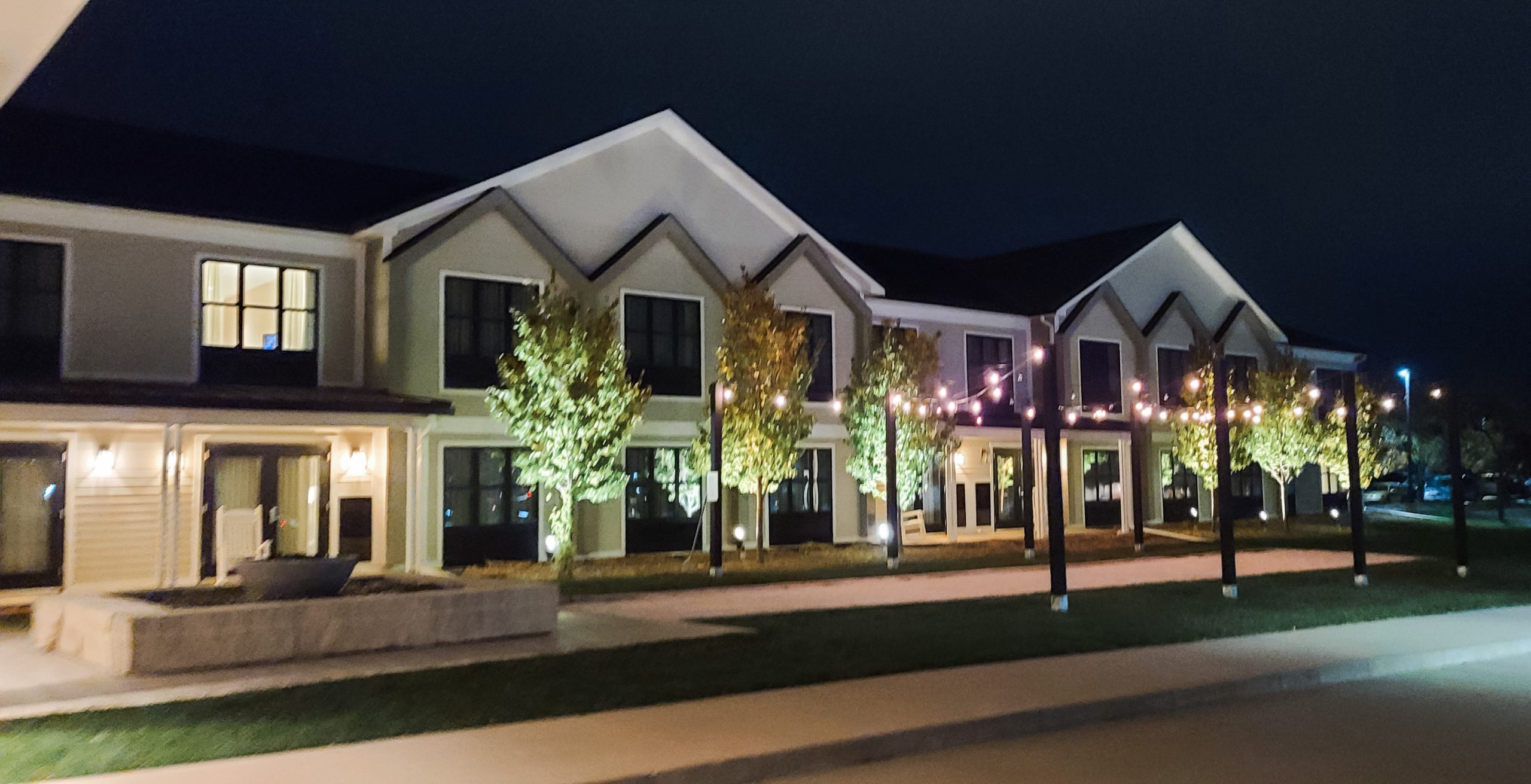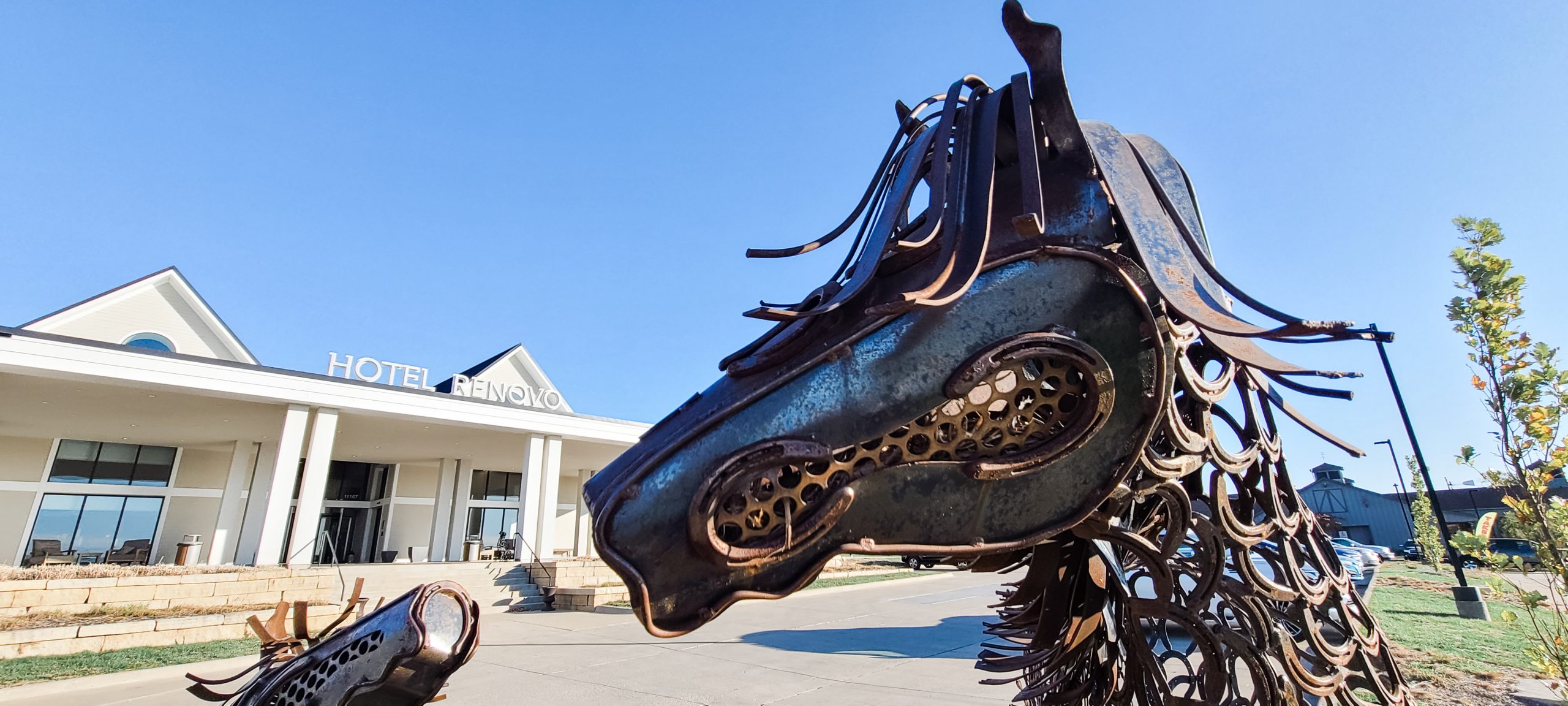 Day 14: Home/ Arkansas
We arrived home after a five and a half hour drive. We got back on a Thursday, which gave us plenty of time to get back into routine and enjoy the weekend before getting back to school and work. Oh, in case those are wondering, we homeschool our kids. So they doubled up on school for two weeks before their trip and they were able to take those two weeks off without it affecting their school schedule.  Something we decided we would do years ago, just so we could have these opportunities to explore when we wanted to.
Overall, the trip was amazing and if you all get the chance, give it a try. The memories that were made are priceless and in times like these, it's important to make them and hang on to them. Rest assured our family did our best to keep social distancing when in public places and we wore our masks. In the state of Michigan it was mandated anyways that you had to wear them.  Michigan is such a beautiful place to explore and adventure the great outdoors. If you go, please share with us your experiences too.