Tofu is a controversial issue, that I will save for another post on another day, however I do consume it from time to time. It is the only form of soy that I consume. I am very careful not to consume it in other foods or in any other form. But, the times I do choose to indulge I choose to eat organic, Non-GMO tofu.
I love being able to cook with tofu when it has a meatier texture. The only way that this truly can be achieved is by pressing out the water. Anyone who works with tofu, knows this is a pain to do. I have tried it so many ways: pressing it with my hands, between cutting boards, and using odd objects just to get the pressure down on it. That is, until I was introduced to the company Tofuture.
Tofuture created a tofu press that puts constant pressure. I am so amazed at this product. I think that anyone who works with tofu should have one. The following is my review on the Tofuture Tofu Press, see for yourself why this product should be in your home.
Before I go into detail about the product, I want to give you a little review about their website, www.Tofuture.com. When I went there, I was very pleased on how inviting it was. I loved the bright green throughout the site and all the information that I could possibly need to know about the company, the product, tofu, recipes and more. It is very user friendly.
Now for the review: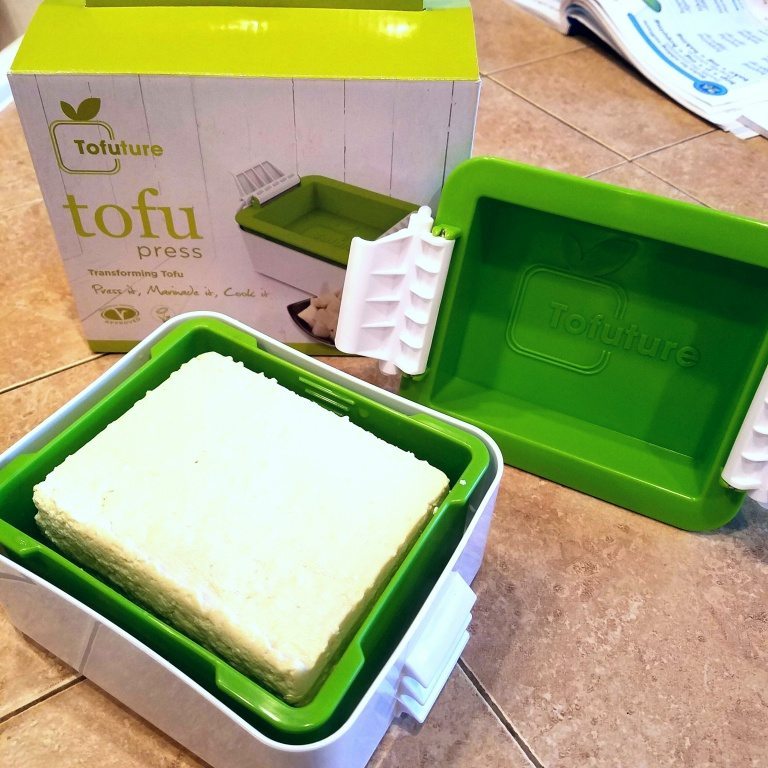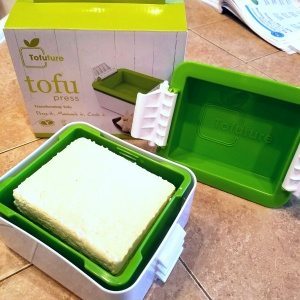 Packaging: The Tofuture Tofu Press came in a nice compact box and the tofu press had a bag around it. Easy to open and came with some instructions on the inside.
Cleaning: After I unpackaged my tofu press, I washed it. I used dish soap and a dish sponge to wash it as I wanted to use it quickly. There are only three pieces to this product and all three are very easy to clean.
Use of Product: So the tofu I used was an organic, NON-GMO extra firm tofu. This is one that I like to use the most often as it gives more of the meatier textures in my dishes. I decided I was going to make Vegan Tofu Nuggets using the Tofuture Tofu Press to press the water out. Before I put my tofu into the press, I ended up draining the water that was in the package and any water that was easily pressed out with my hands. I placed the block of tofu into the press and put the top of the press on. When I set the lid on, it was way taller than I thought it would be. So I put the band down over the second hook. I had to put a little effort into getting it pulled down, but I was wanting a hard press on it. I got both bands on the second hook and assumed I knew what to do next….I pushed the one handle DOWN! DON'T DO THAT!!!!! It snapped the handle out of the sockets. Fortunately, it was easy to fix and snapped back on with no problem. Pull the handles toward the inside of the tofu press. I should have paid more attention to the instructions. My fault, but now you know, it is fixable.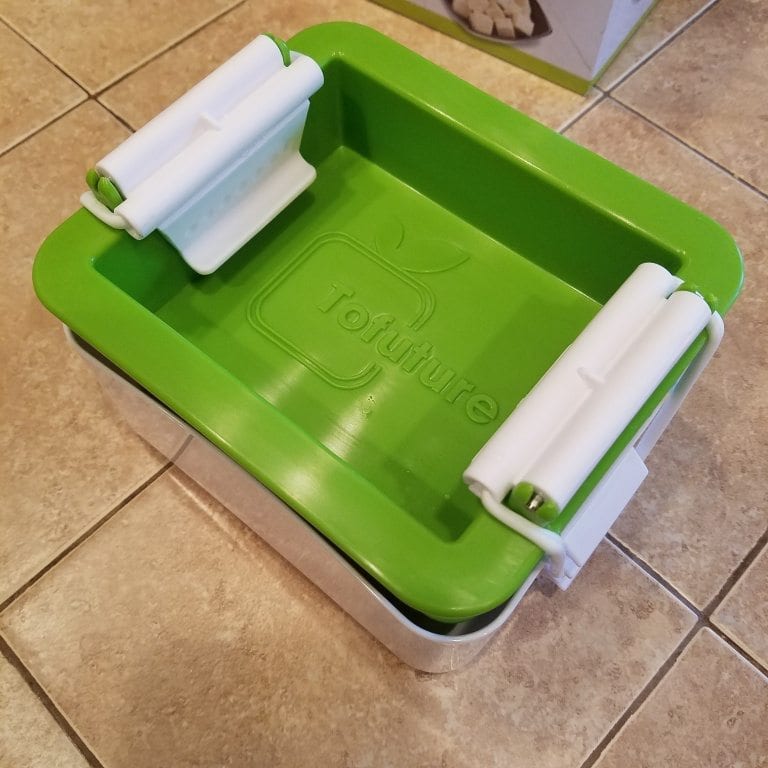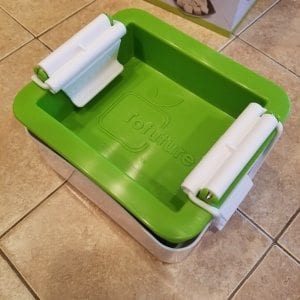 As soon as I got the handles snapped inward, it was now ready to put into the fridge. Almost immediately the water started to press out. Here is the cool thing. The inner green part has a straining bottom with little feet to elevate it from the outer box. So the water could drain out nicely. After an hour of letting it sit, I took it out of the fridge and simply tipped the container into the sink to allow the excess water to drain out. Then I put it back into the fridge for another hour. I loved that I didn't have to unlock it to drain the water out.
Result of Product: When I was ready to use the tofu, I pulled it out, drained one last time and put the tofu on a cutting board. It turned out amazing. My tofu was well drained and perfect for my tofu nugget recipe. I don't think I have ever had it pressed that well. Needless to say, I love this product.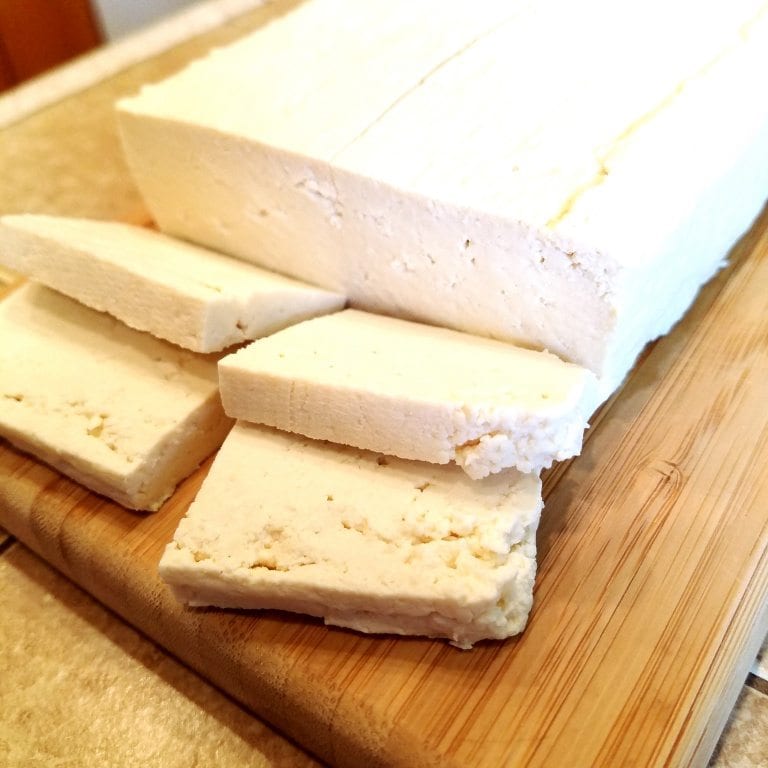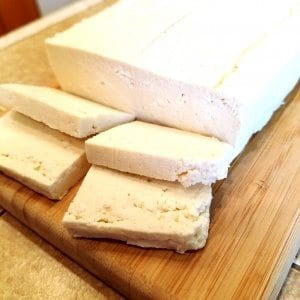 Where to find and cost: You can find Tofuture Tofu Press on their website at www.tofuture.com and it will direct you to the Amazon link. This is also available to get through Amazon Prime. The cost is $29.95. For those of you that work with tofu, you know that it is worth the cost to have quality dishes. This product will get you the texture you need for sure. I loved it so much, I went ahead and bought one for my sister's birthday. She loves to cook Indian dishes and the tofu press is perfect for that.
Overall Thoughts: I am absolutely excited about Tofuture Tofu Press. Seriously, I love this product and encourage you to get your own. Even though I didn't follow directions, I was still able to get the best texture out of my tofu for my dish. Be sure to get yours today.