As the summer nears its end, I have a beautiful herb garden that needs to be attended to desperately. A couple weeks ago, I spent some time canning homemade chocolate mint sauce which was absolutely divine and gut friendly. I will blog on that later, but in the meantime, I have this huge bush of pineapple sage that is so beautiful. I didn't want to just dry the leaves and make a tea out of it as I normally do with my fragrant herbs. Instead, I wanted to try it in something that I would eat. Now for those of you that know your herbs, pineapple sage is best in salads and savory dishes, especially meat dishes. Well, a meat dish wasn't going to work for me so I decided to try making a pineapple salsa.
Before I get too far ahead of myself, I want to share with you all why pineapple sage is in my garden. Besides the fact that it is a beautiful plant that has attracted the butterflies, when rubbing the leaves between your fingers, it smells like pineapple. This herb was new to me and I love things that challenge me in the kitchen. Pineapple sage has some great benefits that have been said to help those with depression, anxiety, constipation, hypertension, digestion aid, and heart burn. I love these types of benefits. Now, I will caution those that consume this herb, do so in moderation. I would not suggest eating just a salad of pineapple sage. In my opinion, food is medicine, our family eats certain foods when we aren't feeling well or if we feel we need to be balanced in a certain area, example: I eat a fresh raw kale and spinach salad when I am not feeling well or feel a cold coming on. When I do this, I boost my vitamins and give my body nutrients that it would need to fight off the bad guys. Anyways, pineapple sage is an herb that I felt that would benefit me in more than one way.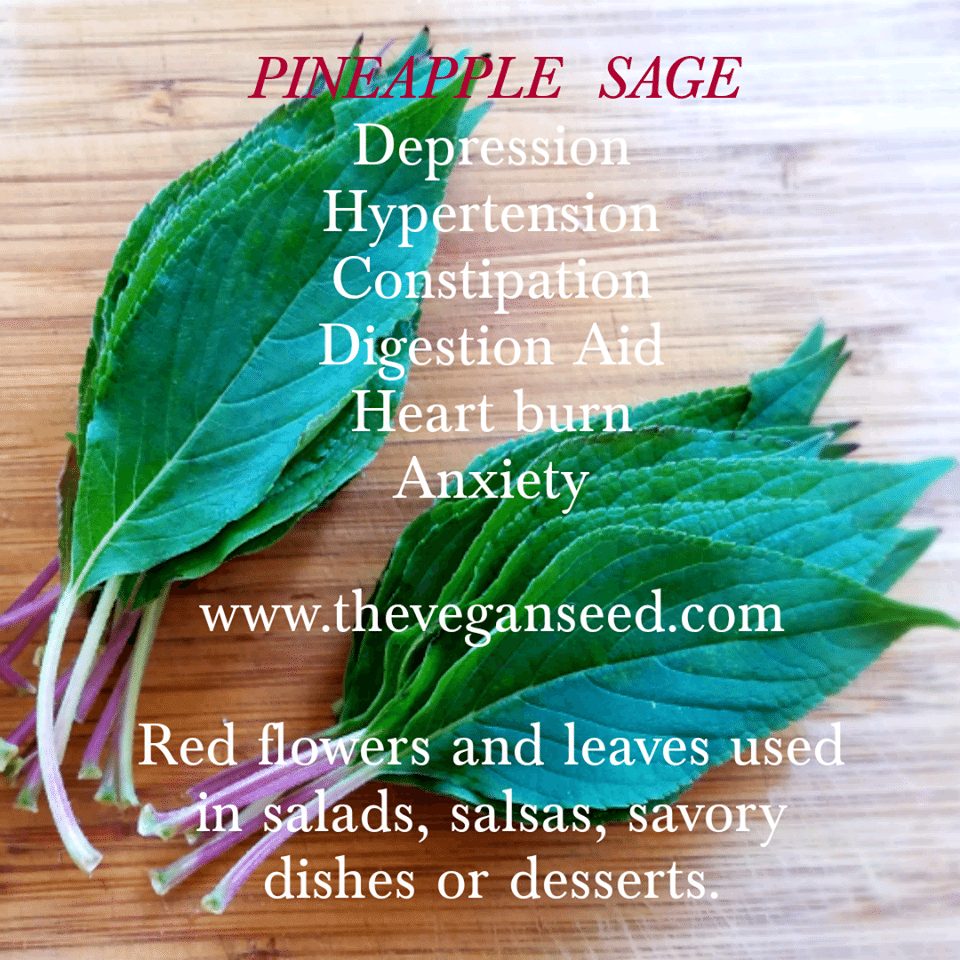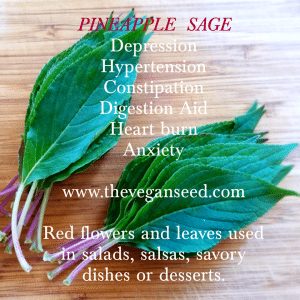 So lets get on to the recipe. The recipe I found was from Handmade Frenzy. It was the closest recipe that I found that would work for what I needed. I have changed this recipe quite a bit. She calls for onions, garlic, brown sugar, and clear jel (I am not even sure what that is.) Since I struggle with digestive issues, I have to stay away from onions, garlic, and some forms of sugar. And I am pretty sure that whatever "clear jel" is, my gut would not be happy with that either. So, what I chose to do was omit the garlic and onion, use coconut sugar instead of brown sugar and add some lemon juice for the preservative. I also made some adjustments to the measurements to this recipe. I made this a large batch to can about 12 pint sized jars. I also used all organic veggies, fruit, and spices, however if that does not fit in your budget, choose what works best for you.
Let's dig in…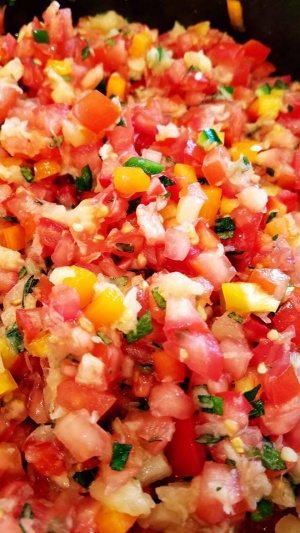 Pineapple Sage Salsa
Those of you that know your herbs, pineapple sage is best in salads and savory dishes, especially meat dishes. Well, a meat dish wasn't going to work for me so I decided to try making a pineapple salsa. This salsa is sweet with a little bite, not much heat at all. It has a nice full and flavorful taste and its hard to stop eating. This recipe is made for large canning batches. Please see notes for any adjustments.
Ingredients
15

cups

tomatoes of choice, diced

I used vine and roma tomatoes.

6

cups

pineapple, crushed (3 lrg. cans, drained)

I used canned pineapple, in water, NOT JUICE or Concentrate.

6

jalapeno peppers, seeded

I cut two full peppers with seeds to keep a little heat and the rest seeded.

3

tri-colored peppers, diced

Red, Yellow, and Orange peppers.

24

oz

tomato paste

1/4

cup

vinegar

3

Tbs.

Lemon Juice

1

cup

coconut sugar

1/2

Tbs.

salt

I lean on the lighter side of salt, so taste and add to your liking.

1

tsp

cumin

20

leaves

Pineapple Sage

Cut off stems (discard stems) , cut leaves and bruise with mortar and pestle.
Instructions
Remove stems and discard. Cut pineapple sage leaves into small pieces and place into the mortar. Bruise leaves with the pestle. Mix all ingredients, including bruised sage, together well in a large container.

Fill jars leaving a little head space at the top.

Process in a hot water bath canner for 15 minutes.
Notes
For those that want to scale down this recipe to make a smaller batch:
5 tomatoes, chopped to the desired consistency
1 cup crushed pineapple (1- 16 oz can), You can also used a fresh pineapple and dice it.
1-2 sm jalepeno peppers, seeded or with seeds (whatever you desire)
1/4 cup sweet peppers, chopped
4 oz tomato paste
1 Tbs. vinegar
1-2 Tbs. coconut sugar
Salt to taste
1/4-1/2 tsp. cumin
1/2 Tbs. lemon juice
Mix all ingredients together well in a large container. Enjoy