Through the years of cooking, I have really come to love the flavors of Asian food. The warm spices of Thai food are my favorite, but there are days I love the taste of peanut butter. Oh! That reminds me of a story of when I was little.
When you were a kid, or maybe secretly as an adult, did you like weird food combinations? I have a good one to share with you. My mom happened to be at work when I returned home from school one early evening, and I was extremely hungry. Let me pause and remind you that I hadn't learned how to cook yet and I was not versed in the benefits of leafy greens and fresh produce. I began looking on the shelves for any quick canned foods I could open up and warm, in the microwave, to eat. There it was, the song began to play over and over in my head as my mouth began to salivate "Oh Oh, SpaghettiOs". For those that don't know what that is, it was canned pasta in the shape of circles in tomato and cheese sauce.
I opened the can and immediately took my spoon and dished out the pasta directly into my mouth, thinking, I should warm this. Pouring the rest into a bowl, I felt like I needed to add something to it to give it a creamy texture. What I didn't know is that my palate was starting to develop with more distinction and to this day, I can pick out subtle flavors of spices and herbs as well as savory, sweet and sour notes in desserts or dishes. Ok, back to the story. So in my search for an item of creaminess, I found peanut butter. I took out a teaspoon and took a little of the peanut butter out and then dipped it into the tomato and cheese sauce of the SpaghettiOs. Into the mouth, it went. For sure, this was it. I scooped out a heaping spoonful of peanut butter and plopped it into the middle of my bowl of SpaghettiOs, threw it in the microwave and my concoction became a huge favorite of mine until I was in my early twenties.
It wasn't until my later years that I realized that this happens all the time! For example in the recipe from The Lazy Cat Kitchen! They make a Peanut Curry that uses tomatoes and tomato paste with 2 tablespoons of peanut butter. I feel totally vindicated for eating my canned pasta with creamy, nutty goodness.
Even though this recipe didn't call for the use of tomatoes or tomato sauce, I loved the combination of ingredients that The Pioneer Woman uses in her original recipe, Grilled Peanut Chicken and Broccolini. There have been many alterations made to fit our dietary needs, but it turned out fantastic in taste. If you are not a peanut butter person, this is not the recipe for you. You are welcome to try almond butter, but I can't attest to what that would taste like.
I did use low fodmap options for this recipe, but it has not been tested by Monash University, so be sure to check to see if the ingredients and recipe would fit into your dietary needs.
I encourage you to give this a try and broaden that peanut butter horizon.
Let's Eat!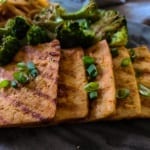 Print Recipe
Grilled Peanut Tofu and Broccoli
A great way to change up the typical supper. Peanut pasta and marinated tofu grilled along side of broccoli is a hearty meal for the whole family to enjoy.
Ingredients
2

Tbs

garlic infused oil

1/4

cup

peanut butter

low sugar

2

Tbs

Tamari sauce

2

Tbs

maple syrup

2

Tbs

barbecue sauce

I used Fody, vegan, gluten-free and low fodmap

2

whole

limes, juiced

1/4

tsp

cayenne pepper

1

pkg

Super firm tofu

I used Wildwood Brand

2

cups

broccoli, frozen

4

spring onions, green parts only

8

oz

spaghetti

gluten free pasta

salt and pepper to taste
Instructions
Whisk together the garlic oil, peanut butter, tamari sauce, barbecue sauce, maple syrup, lime juice and cayenne.

Pour 1/2 cup of sauce into a cup and put it into the fridge for later.

Slice tofu and place in a bag. Cover with the sauce making sure that the tofu is covered completely in the sauce. Marinate for at least 1 hour.

When its time for supper, cook pasta by instructions on box and set aside.

Cook frozen broccoli in boiling water for about 5 minutes. Strain and place pieces on an oiled grill pan over medium heat. Add the tofu.

Cook tofu for 5-7 minutes each side. Be sure to keep turning broccoli so that it won't burn.

Add remaining sauce from the fridge to a small saucepan. Heat up and toss with the noodles.

Plate the broccoli, tofu and pasta, and sprinkle with tops of green onions. Serve immediately.
Notes
For those sensitive to peanut butter, you can make this with almond butter. It will change the taste a bit. Be sure to use unsweetened almond butter or a low sugar option. 
Nutrition
Calories:
489
kcal
|
Carbohydrates:
62
g
|
Protein:
21
g
|
Fat:
18
g
|
Saturated Fat:
3
g
|
Sodium:
750
mg
|
Potassium:
622
mg
|
Fiber:
5
g
|
Sugar:
14
g
|
Vitamin A:
475
IU
|
Vitamin C:
43
mg
|
Calcium:
93
mg
|
Iron:
3
mg