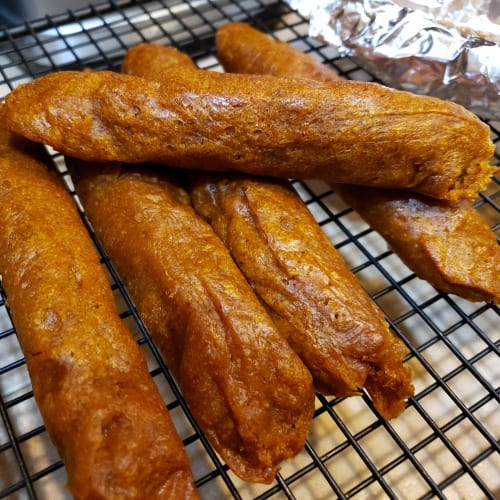 Gluten Free Hot Dogs
This recipe was originally created to be vegan and gluten free pastrami. I loved having a sandwich "meat" that I could actually eat. I decided to tone down the kick, alter the ingredients to fit my dietary needs and create them into hot dogs instead of sliced "meat." It worked perfectly. These are a must try for those that need a gluten free and vegan option for sandwiches or travel food.
Ingredients
1 1/2

cups

All Purpose Gluten Free Flour

1/4

cup

nutritional yeast

2

tsp.

paprika

1/4

tsp.

cinnamon

1/4

tsp.

ground cumin

1/4

tsp.

Ground Mustard

1/8

tsp.

allspice

3/4

cup

Cold Water

4

Tbsp.

tomato paste

2

Tbsp.

Gluten free soy sauce

2

Tbsp.

Garlic Infused Oil

1

tsp.

pink hymalayan salt
Instructions
Place the gluten free flour, nutritional yeast, and the seasonings in a large mixing bowl and stir them together.

Mix the liquids in a small bowl. Pour the liquids into the dry ingredients, and mix them thoroughly. You will end up with a large, semi-firm mass in the bowl.

Knead the mass directly in the mixing bowl for about a minute or two to make sure it is well blended.  


Section the mixture into eight parts. Form each section, one at a time, into hot dog shape.

Wrap the log in parchment paper twisting both ends tightly.  


Then, wrap the hot dog tightly in aluminum foil. (I use the heavy duty kind). Place on a dry baking sheet.

Bake the hot dogs in a 325 degree oven for 1 1/2 hours. When done, unwrap the hot dogs and transfer them to a cooling rack, and let it cool completely.


When completely cooled, wrap the hot dogs tightly in plastic wrap and chill in the fridge overnight or longer before eating.
Notes
Note: Mixture may be loose. I had to use the parchment paper to form the hot dog into its shape.
I found that these hot dogs lasted for about 3-4 days in the fridge. I am guessing they would have lasted longer if I stored them in the freezer and thawed only what I needed. 
These taste the best one day after they are made. As time passes they tend to harden in the fridge. 
The original recipe says to use plastic wrap to tie the hot dogs up. I didn't like the idea of baking plastic wrap in foil around food. So I opted for parchment paper as a safer method. 
Overall these hot dogs were a hit with my family and it is great to be able to make several of these and store them in the freezer. I love that we can also use this as sandwich meat. 
Nutrition
Serving:
1
hot dog
Calories:
126
kcal
Carbohydrates:
19
g
Protein:
4
g
Fat:
5
g
Saturated Fat:
1
g
Sodium:
506
mg
Potassium:
138
mg
Fiber:
3
g
Sugar:
2
g
Vitamin A:
720
IU
Vitamin C:
1.7
mg
Calcium:
23
mg
Iron:
1.6
mg