My birthday comes just once a year and I am grateful to see it arrive. It just means that I have just spent another year of my life with my amazing family, friends, clients, and acquaintances making memories. So, I was asked, what do you want to do for your birthday? My response would probably shock many people. "I want to be in my kitchen cooking." Yep, food and health are my passions. If anyone knows me well, they know I am a true foodie. I love the tastes and flavors of foods, to try different textures and recipes. I love creating and learning. I read and write about food almost everyday. I coach my clients about how to incorporate great tasting healthy food into their lives. In my free time, I am watching baking shows, cooking shows, food science shows, and documentaries. Along with that, I am reading 4 different books on health and food and listening to podcasts and audible books in the car about food. Yep, hardcore foodie right here and I am proud of that. So, naturally on my birthday, I want time to play around with some recipes to modify them to fit my family's dietary needs. This birthday, I decided to make a recipe called Vegan Creamy Chipotle Pasta. I found the original by
Dora's Table.
 In her recipe, she calls for garlic, and almond milk. Which, I don't drink almond milk and I can't tolerate garlic. So I chose to substitute the almond milk with unsweetened flax milk and omit the garlic. Once I did this, the sauce turned out well, but it seemed to me that I needed something additional. I am not sure if taking out the garlic left the absence of a flavor, but it really did need something to fill that void I was tasting (or not tasting.) What my mouth seemed to be asking for was fat. Now, almonds already have a natural fat in them, but it didn't give that full and satisfying flavor my mouth was searching for. I added 1 tablespoon of coconut oil to the sauce. BOOM! That was it! That fullness flooded my mouth and it amplified all the other tastes in this dish. So my recipe has those slight modifications. And not to forget, to keep it gluten free, I used Andean quinoa spaghetti. Not only did this bring a party to my palate, my family LOVED it. We had no leftovers and the kids went back for seconds. A bit of caution for those that don't like heat. This is a spicy dish. If you would like to try it, reduce the amount of chipotle peppers used and serve this dish with an optional topping of vegan sour cream or unsweetened plain vegan yogurt. So yummy, I encourage you all to try this just to expand your food horizons and to have fun with flavor. Enjoy.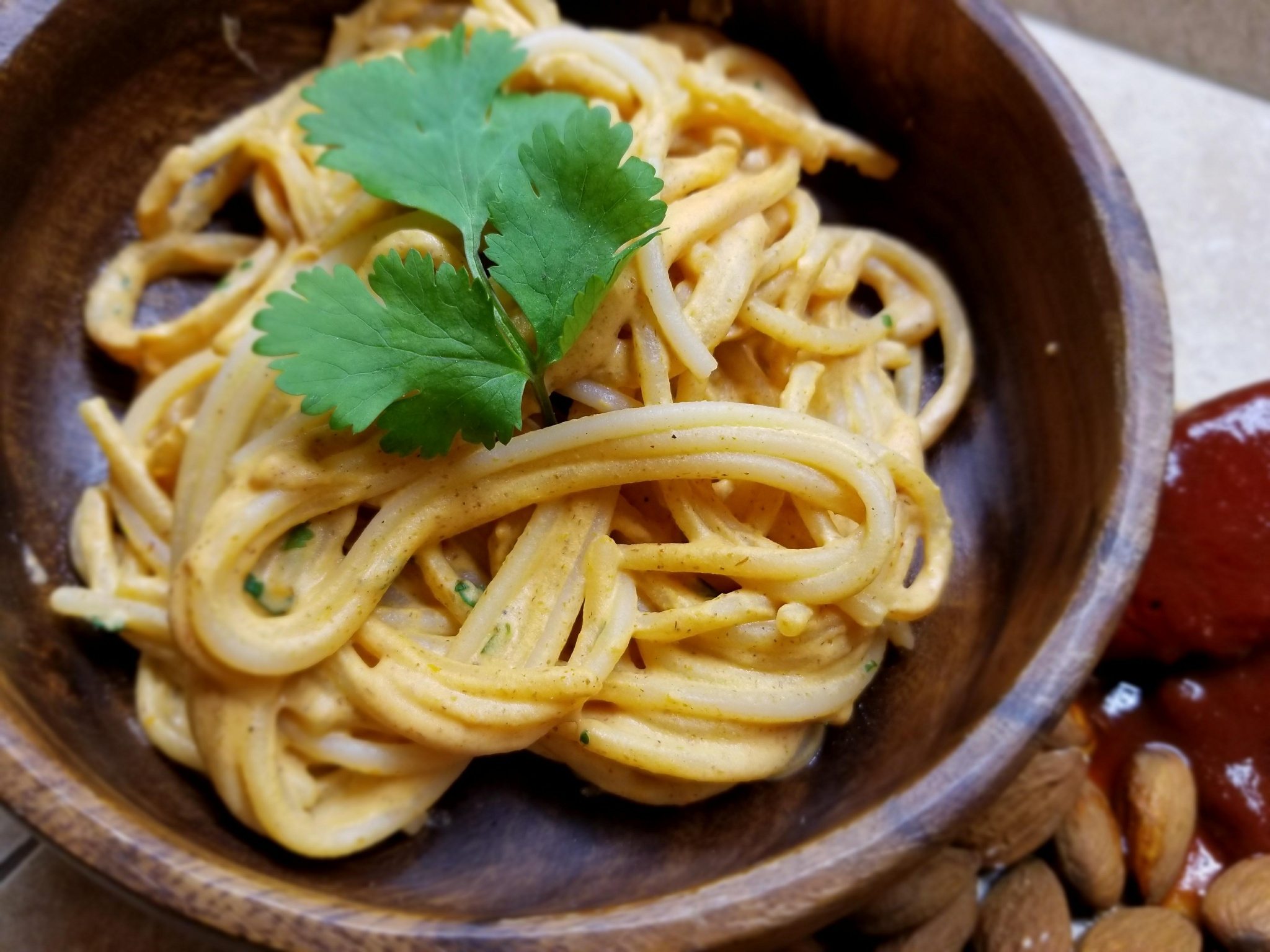 Creamy Chipotle Spaghetti
This is some of the best spicy spaghetti that I have had in a long time. Not only does it pack the heat, but it is full of all kinds of flavor. This is something my whole family enjoyed. This recipe is also kid approved. My kids came back for seconds. Kid tip: serve with a side of sour cream so they can mix it in to cool the spiciness down. This dish was super creamy and easy to make. I hope you enjoy it as much as we did.
Ingredients
1

cup

Almonds, raw

Blanched (60 seconds in boiling water, rinsed in cold water)

1/2

cup

Flax milk

Any unsweetened non-dairy will work.

1 1/2

cups

water

1

cup

Tomatoes, fire roasted, canned

I used Whole Foods brand 365, organic

1/2

tsp

Black pepper, freshly ground

1

tsp

pink hymalayan salt

Adjust to your liking.

2

Tbs

Lemon Juice

1

pkg

Spaghetti

We used gluten free quinoa spaghetti by Andean

2

Tbs

Cilantro, chopped

1

Tbs

coconut oil, refined

I use organic refined so there is no coconut taste.

2

Chipotle peppers in Adobo Sauce, canned

I used 2 peppers from the can.
Instructions
Blanch almonds. Place blanched almonds, milk, chipotle peppers, roasted tomatoes, lemon juice, salt, pepper, and coconut oil into a high processing blender. Process for 2-3 minutes or until smooth.

Boil spaghetti in a medium to large sauce pan, according to directions on package. Drain and return pasta to pan.

Pour the chipotle sauce over the spaghetti and mix well. Add in cilantro.

Dish onto plate with additional sides of choice.
Notes
For those that don't like it so spicy, reduce the chipotle pepper to 1 and serve with a side of vegan sour cream or unsweetened plain vegan yogurt.