So, the holidays are over for now and our family is trying to get back to our daily routine. I enjoy hosting and cooking from Thanksgiving on til the New Year. Most of my time is spent in the kitchen cooking for family and friends, for this is the reason, many do not hear from me online. I love food. I love cooking, I love to teach people how to cook and I love cooking for people. When I really cook, I pour every ounce of love and creativity into the dishes I make, even when I am cooking just for myself.
This particular evening, I wanted to use my new Le Creuset Balti Dish I got for Christmas. Oh man! The excitement I have just now, sharing about this with you, brings me so much joy. I spent some time looking at different curries others have made and I found one that was simple enough that I could make quickly, as I was really hungry by now. The recipe is for Coconut Chickpea Curry, you can find the original recipe here. This curry looked great, however, I had to make some adjustments to meet my dietary needs. The curry turned out exceptional. The flavors married so well and the warmth of the sauce warmed my tummy and made me so happy. I didn't have a chance to serve it to my family, as I made it for myself that evening after the kids went to bed and then I ate the rest the next day, without sharing. I see this one being made again in the future. It was super quick and simple. I hope you like it as much as I did.
Enjoy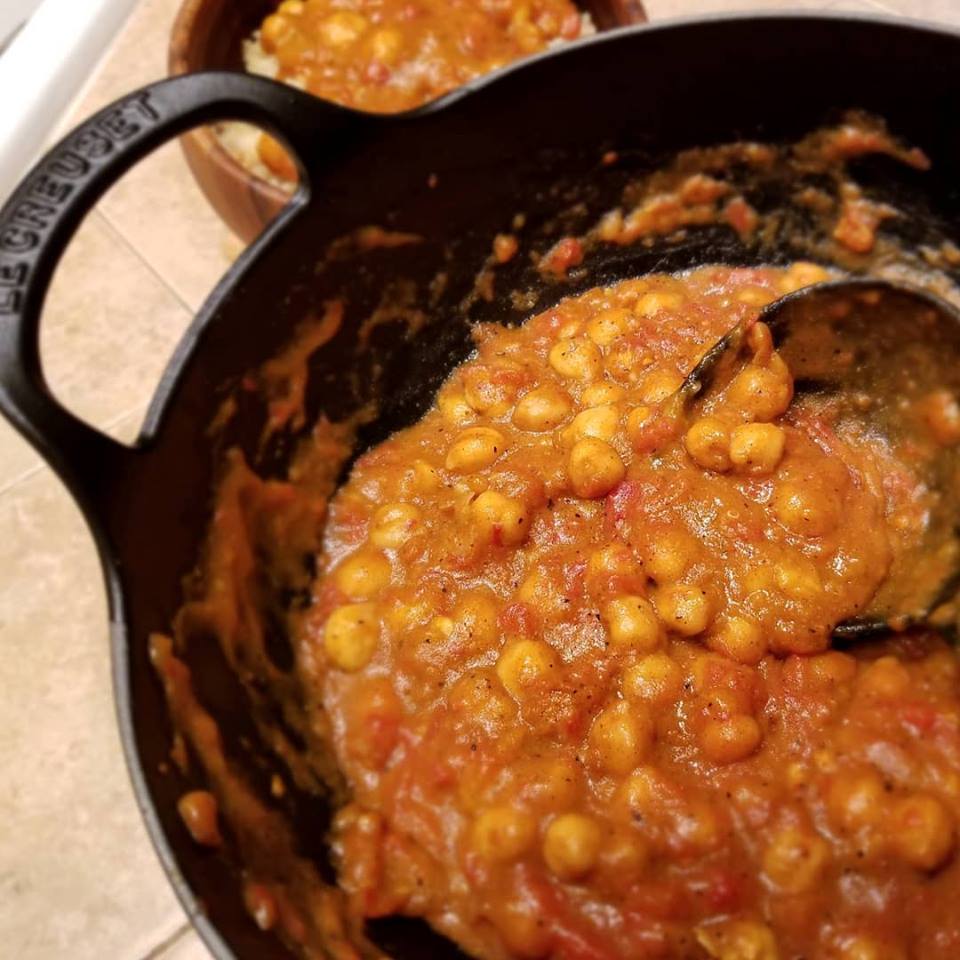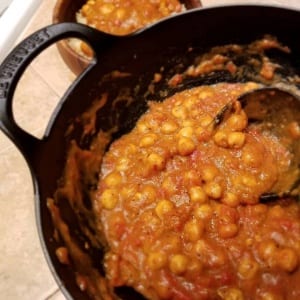 Coconut Chickpea Curry
This is a great recipe for those that love curry, that are gluten-free and vegan. It is a warm dish packed with fun flavors found in Indian cooking.
Ingredients
2

Tbs

coconut oil

14

oz

Fresh chopped tomatoes or canned tomatoes

Drain canned tomatoes

To taste

salt

I used Pink Himalayan Salt

To taste

pepper

16

oz

Chickpeas, canned

Drained

1.5

Tbs

garam masala

1

tsp

curry powder

1/4

tsp

cumin

13.5

oz

Coconut milk, canned

Remove Milk Fat (Coconut Creme)

2

Tbs

coconut flour

As thickener

1

Sm

Lime
Instructions
In a curry pan or large saucepan, add coconut oil over medium heat.

Add tomatoes, salt, pepper, garam masala, curry powder and cumin. Allow for tomatoes to cook down (about 10 minutes.)

Add chickpeas and stir until all is combined. Add in the cocnut milk and stir again. It will look like too much liquid, but its ok.

Add in coconut flour. This will thicken the curry. Bring the curry up to a boil and them reduce to a simmer for 10-12 minutes.

Remove the curry from heat and squeeze a lime lightly over the top of the curry. Stir to combine.

Serve over rice, quinoa, or naan. You may also top with vegan sour cream or vegan yogurt.
Notes
The curry will last up to 5 days in the refrigerator. However, our family ate it in less than 24 hours.
To make the curry more warm/hot you can add chili paste or harissa paste. I didn't have either of those so I put in a dash to 1/4 tsp of cayenne pepper.