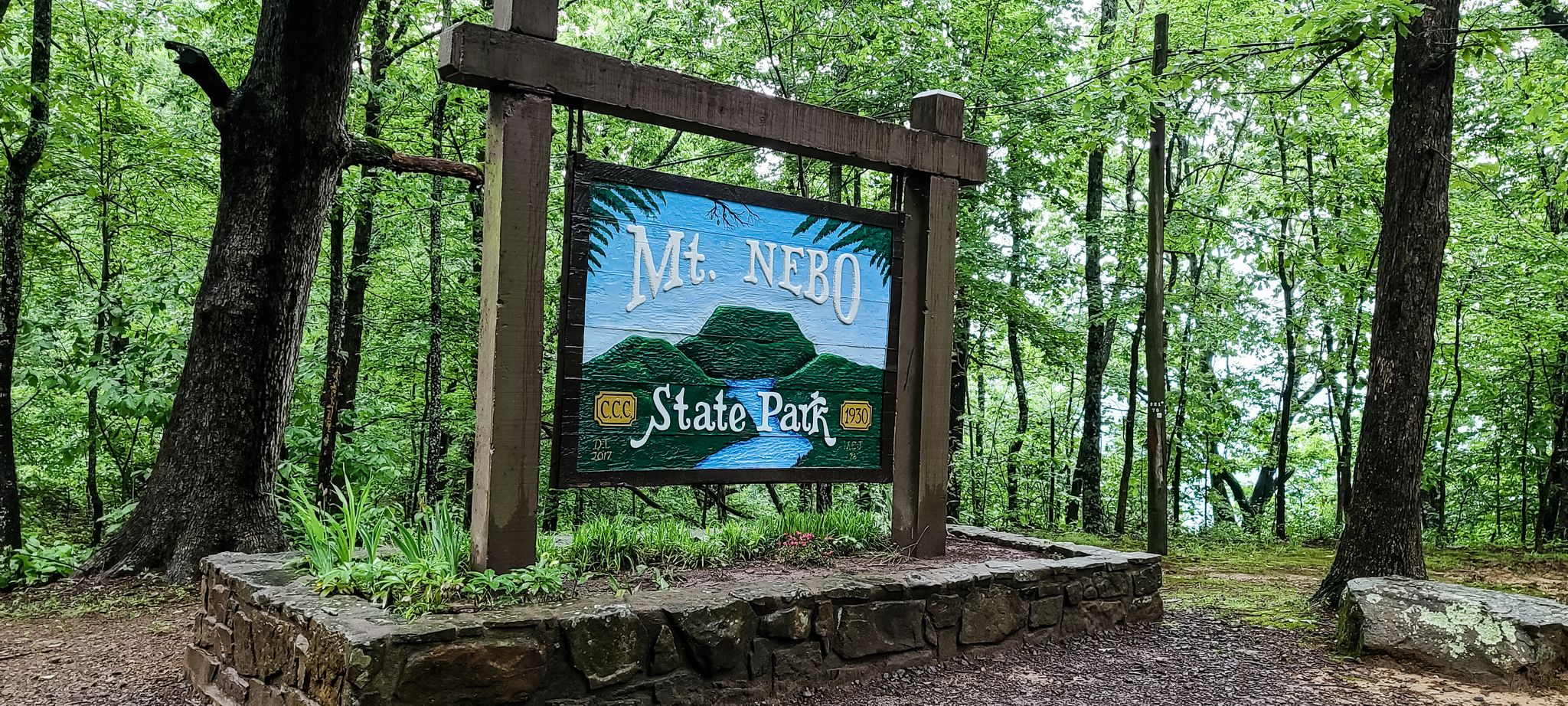 When I was a kid, I loved to spend my time in the woods. I would often build forts and pretend that I was scouting for animals. As I grew older, I never lost my passion for the forest. In college, I spent many days hiking to a lookout point on Signal Mountain, TN. There I would sit on a rock that overlooked a beautiful waterfall and study for hours. I even had a chance to take my mama up there before she passed away a couple years later. The woods are my happy place. I feel at peace there and like I belong. No traffic noise, no rush of having to get anywhere and beautiful sights everywhere I look.
As an adult, I gradually backed away from the place that made me so happy. Time with twins made it hard to get anywhere, let alone hiking a trail. I would need to lock it away for some time. Years later the door was opened again in October 2020. My family decided to go on a vacation within the states away from people, since COVID was everywhere. We decided on traveling to the Upper Peninsula, Michigan. You can find that travel story here. But on that trip, I remembered how much love I had for the great outdoors, for the peace it brought my soul.
Just a recently we had another opportunity presented to us to go camping on Mount Nebo in Dardanelle, Arkansas with the Pathfinder group at our church. We have all the gear, so why not?! We packed up, got in the car, and joined a bunch of kids and our friends, on a weekend (Friday to Sunday) of fun.
Mount Nebo from our location took about 2 hours to get to. Most of the drive was easy and mostly highway, that is until you reach the base of the mountain. At the base you start a steady steep incline up the mountain. Switchback after switchback made us grateful for our 4-wheel drive. Once at the top we found our camping site. Due to the size of our group, we were placed behind the tennis court and ball field back in the woods a bit. A perfect place for the kids to play and relax. We got out, pitched our tent and then worked on setting up the rest of the site, kitchen, buffet line, and chairs around the campfire. The fire was made, and we were ready for a weekend of the great outdoors.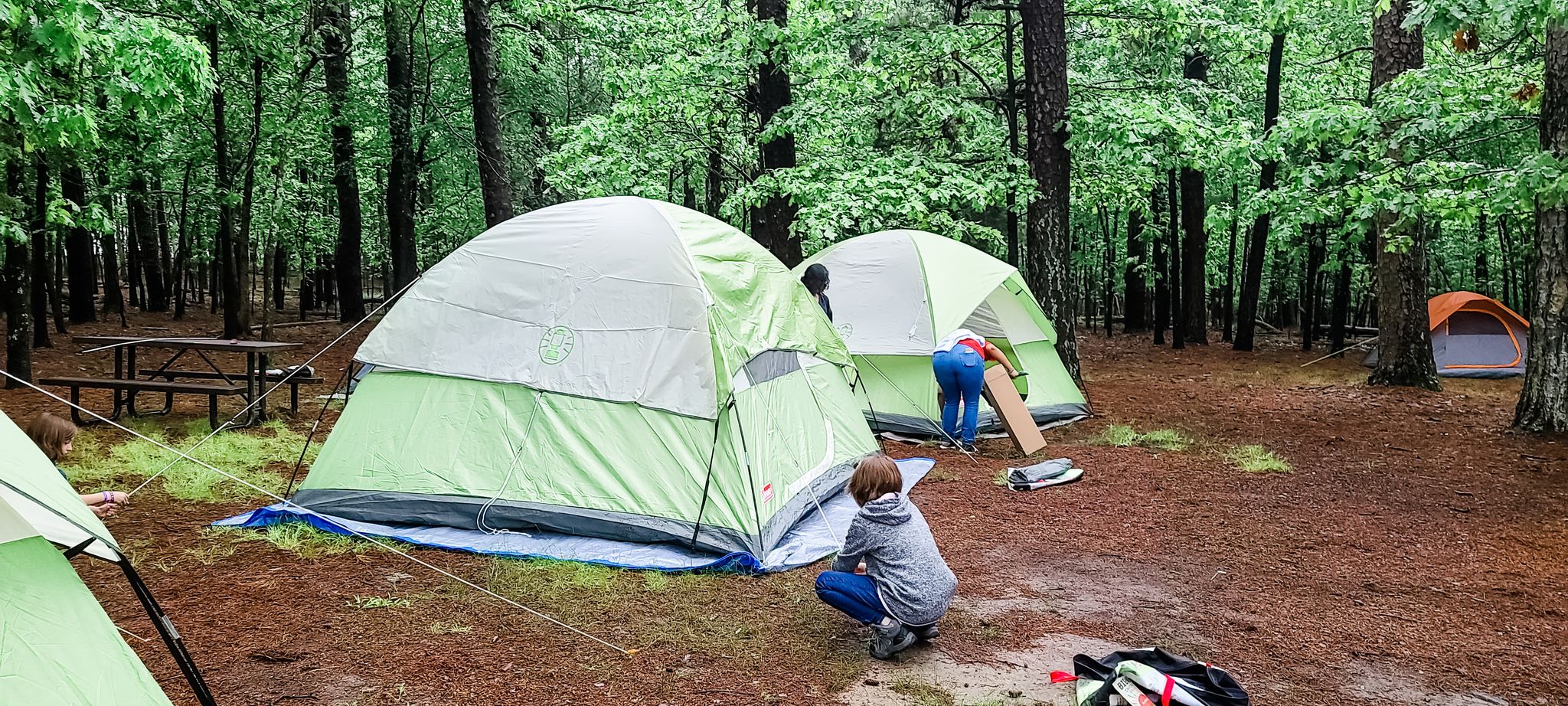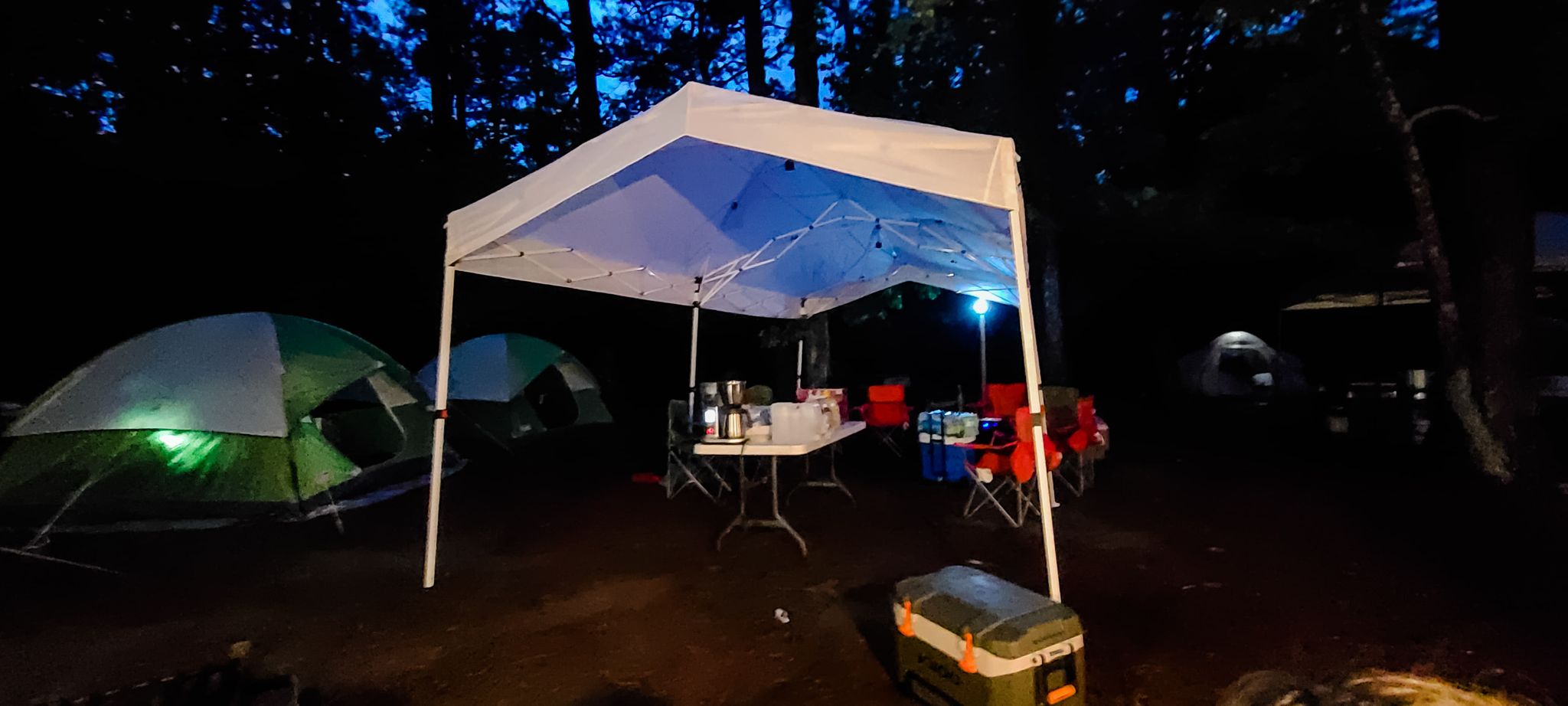 That evening, Friday, we ate hotdogs, sang songs, and had a little devotional together before bed, then we all went off to our tents to sleep. This was the first time that our girls were going to sleep in a tent by themselves. I had a feeling that they may would end up in our tent. In the middle of the night one of our girls had to go to the bathroom. This was of course a quarter of a mile from where we were tenting. So, I gave our sweet girl a lesson on how to go to the bathroom in the woods. Not exactly what she had in mind, but at that hour I was not going to hike up to use the bathroom when there was a perfectly big round tree behind us. Lesson learned and all went back to bed.
I could not get back to sleep, an issue I often deal with at home with my Hashimoto's. So, as I lie there, I could hear the storms in the distance and the gentle rain on our tent. I wondered if we would get that storm. We did not. The wind blew high above us in the tops of the trees, yet it remained quiet on the ground. I thought about how great it was to be right where I was in that very moment. How grateful I was to be out with our family and friends and then I dozed off for the remainder of the night.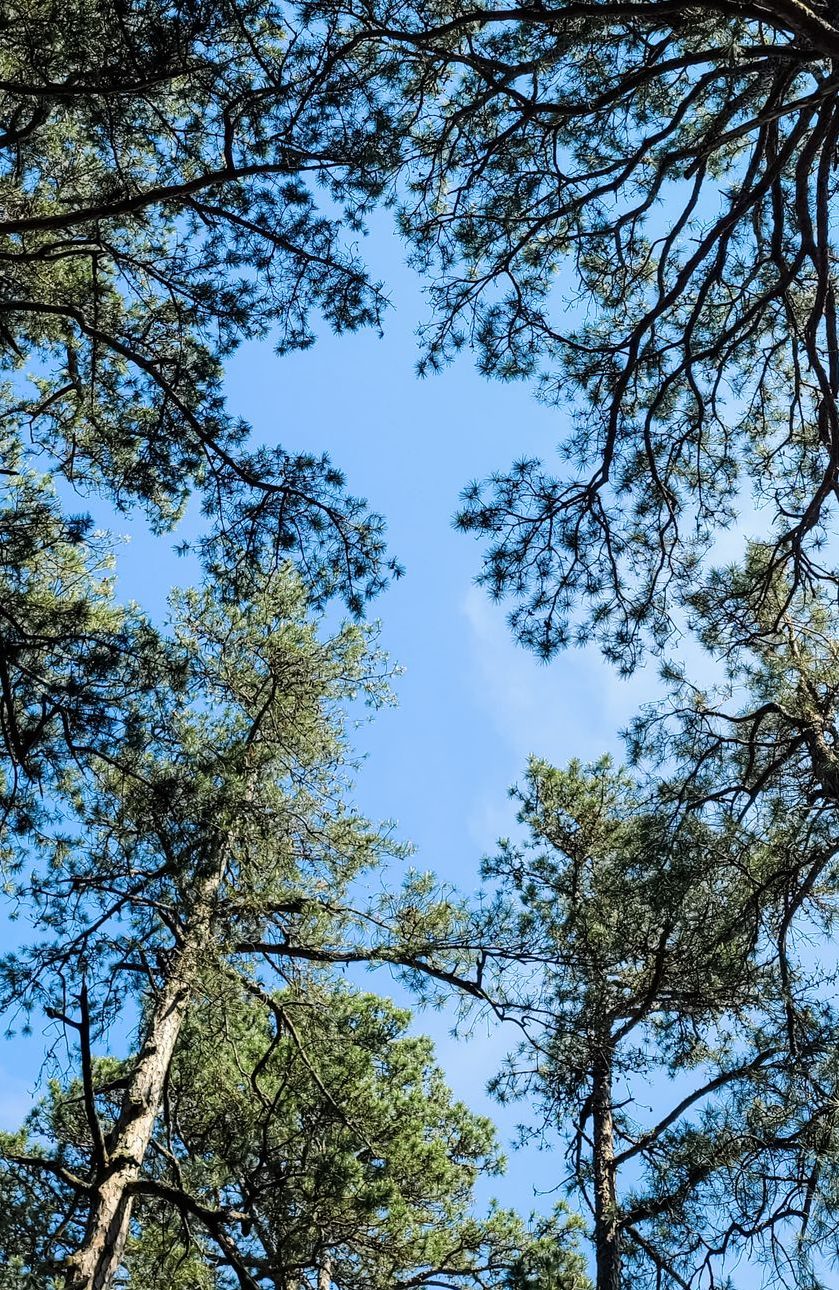 Saturday morning came and after getting dressed we managed to get breakfast and discussed what we were going to do for the day. We already knew we wanted to go for a hike in the earlier part of the day as it was going to be sunny and hot and then in the afternoon, we could have lunch and let the kids play in the area and some of the adults could nap. I was more than excited to get to hike. I was ready to go.
We took all the kids and about 5 adults, drove up to a parking area and started on a trail. It was one of the best hikes I had done in a long time. The trail was labeled STRENOUS and indeed it was, but all of those we came with mastered the trail with ease, even a little 7-year-old among the group. Best sight on this trip was the waterfalls. What we thought was going to be about a half hour hike turned into an hour and a half hike as we may or may not have taken a different trail then intended. Regardless, the views were spectacular, and all the kids and adults had such a great time.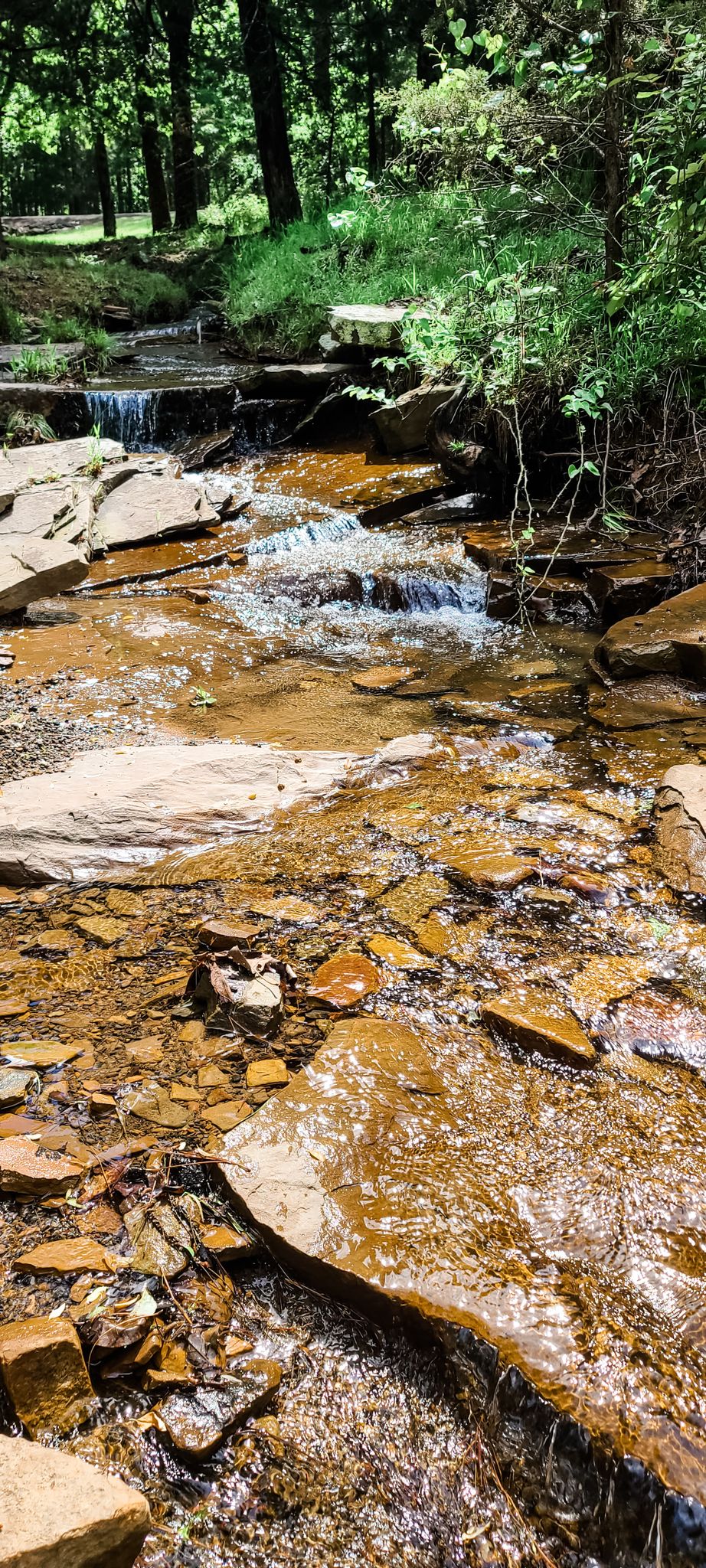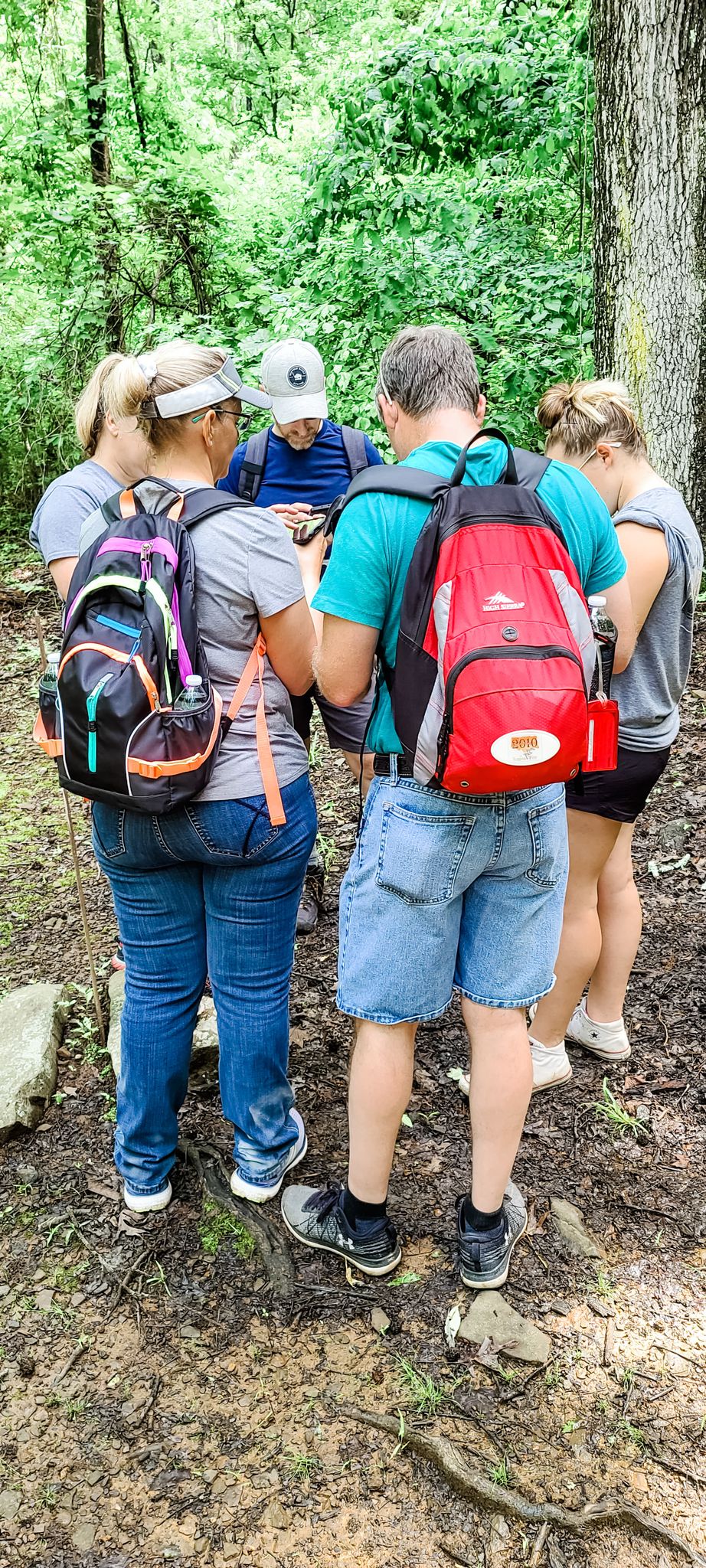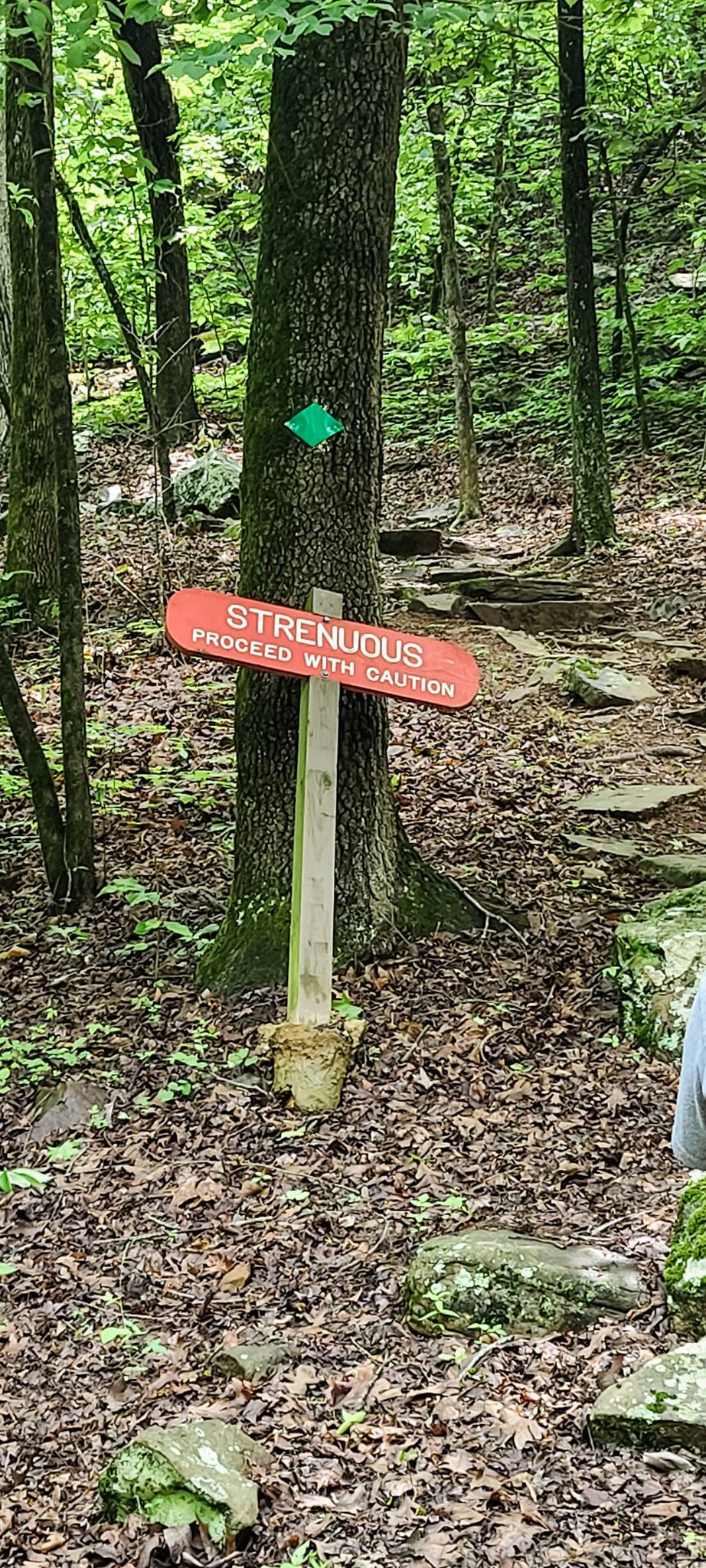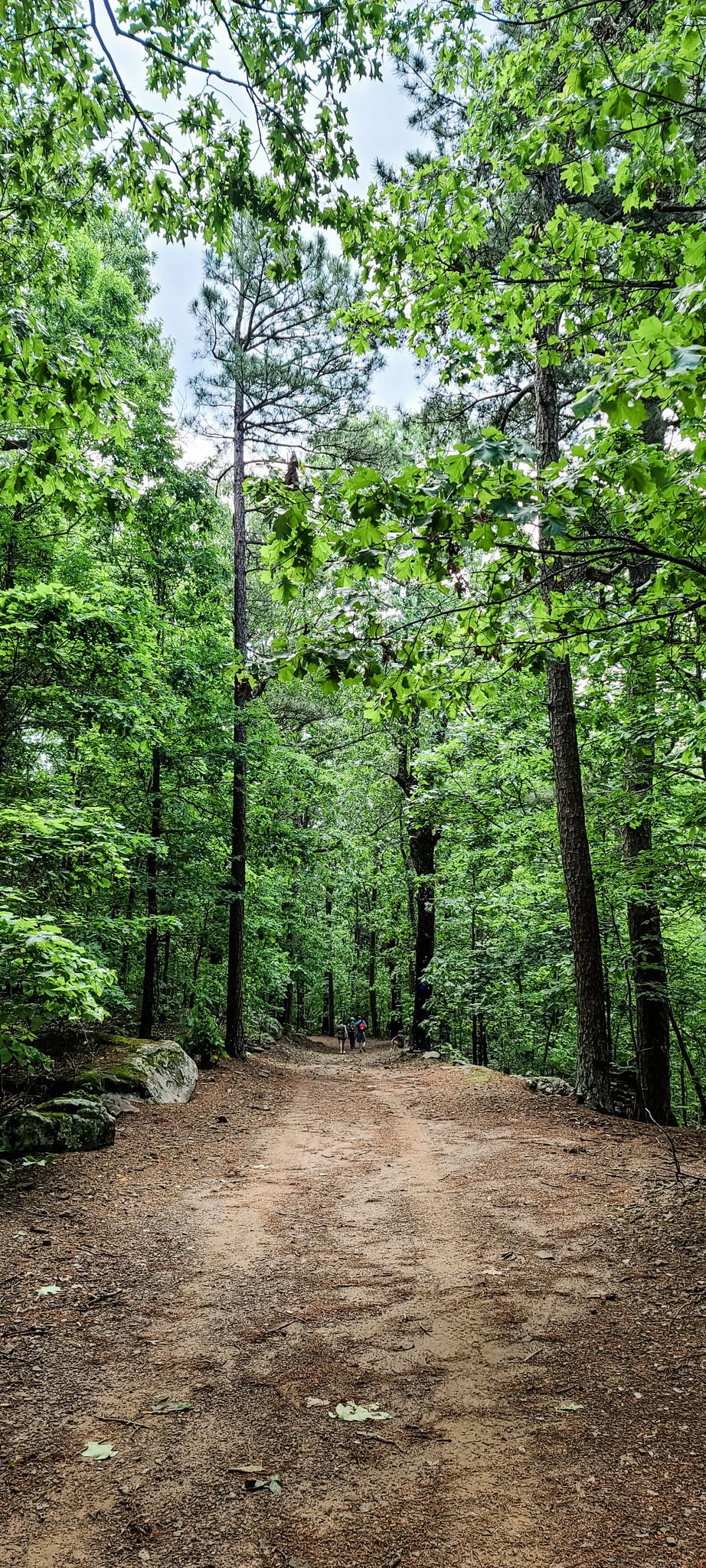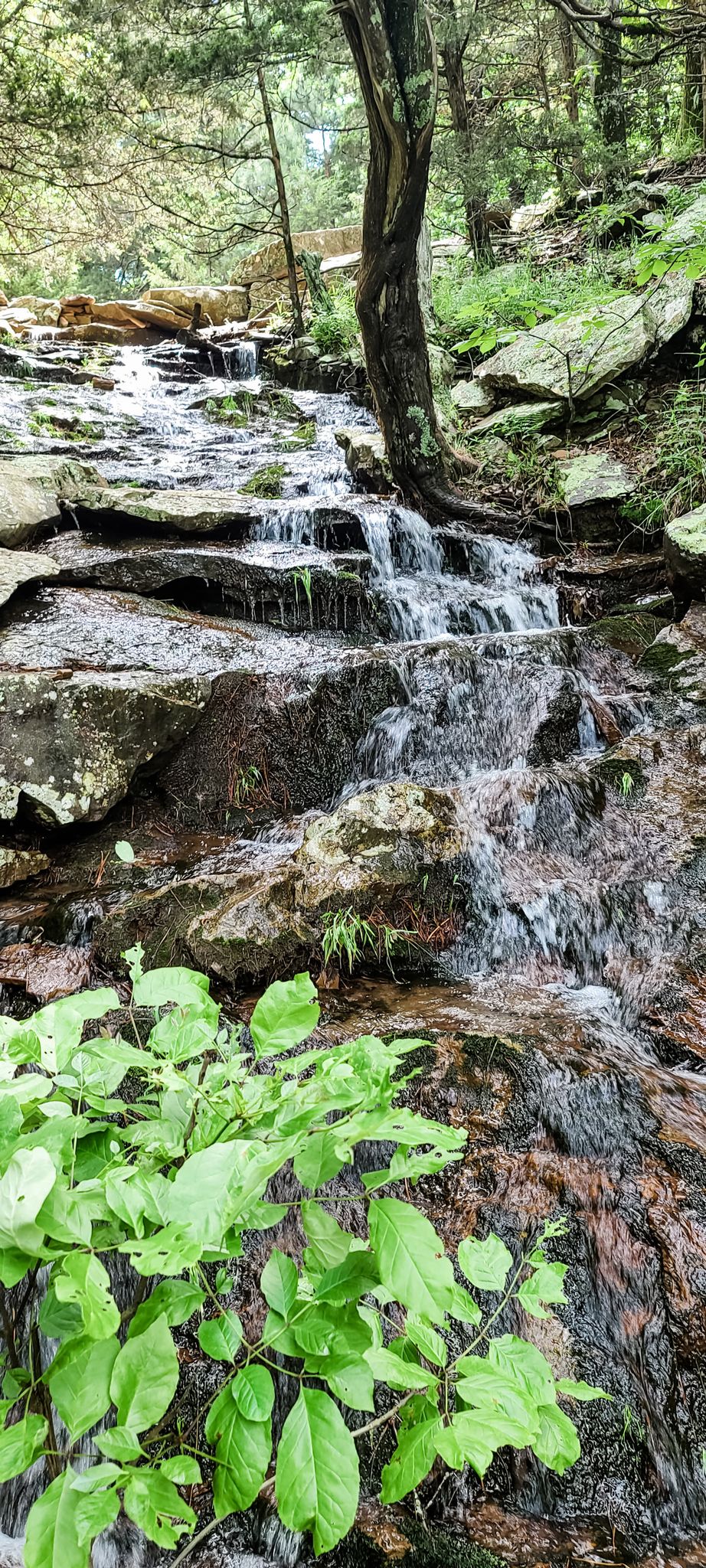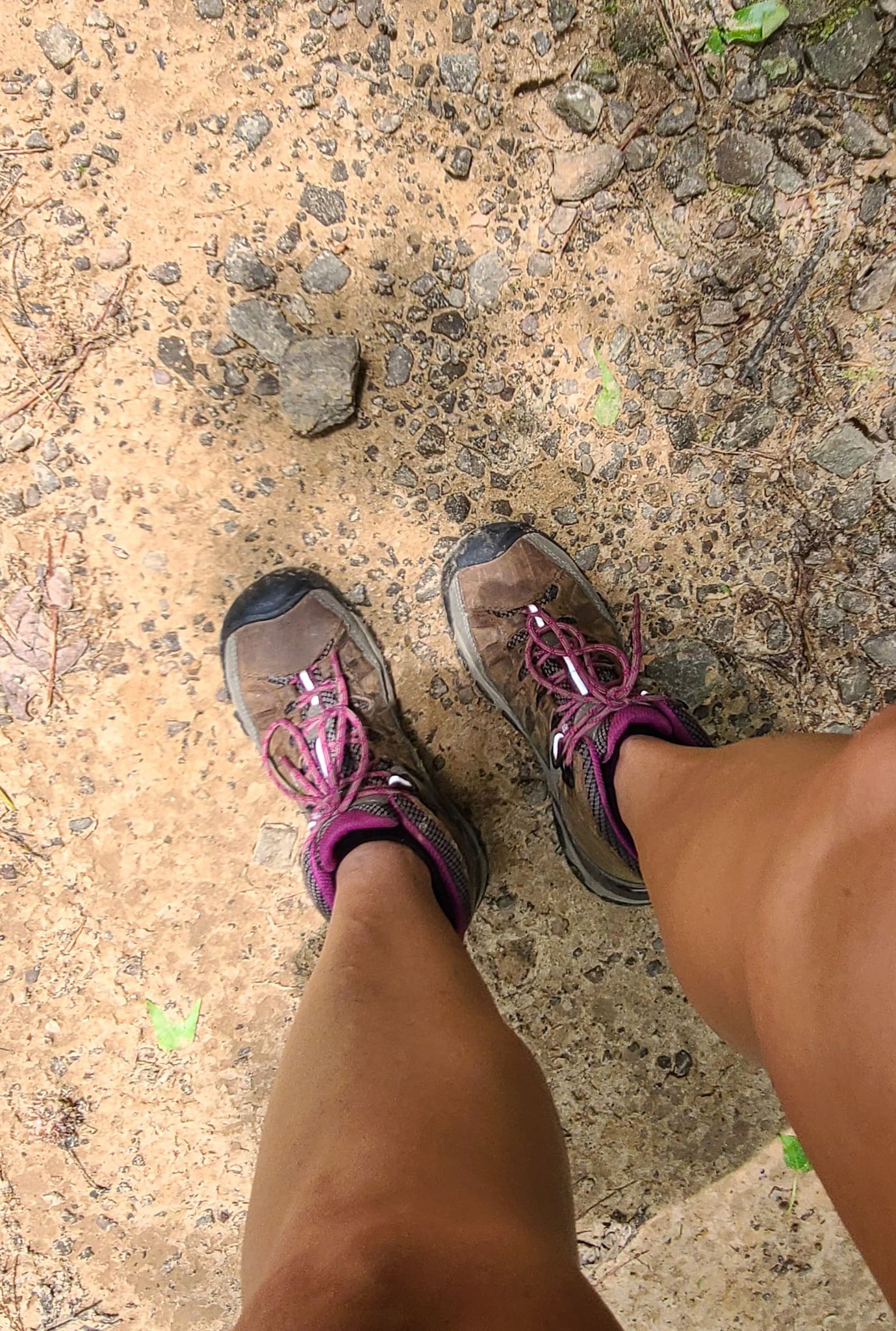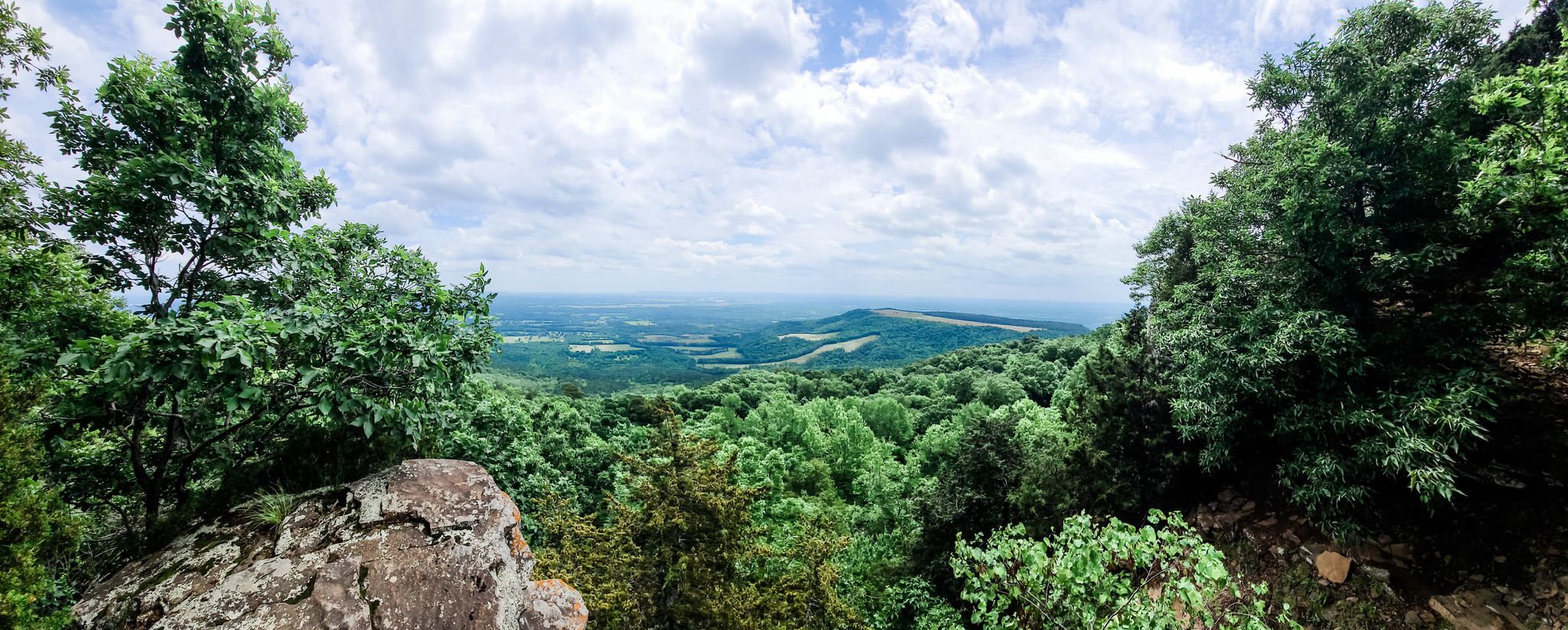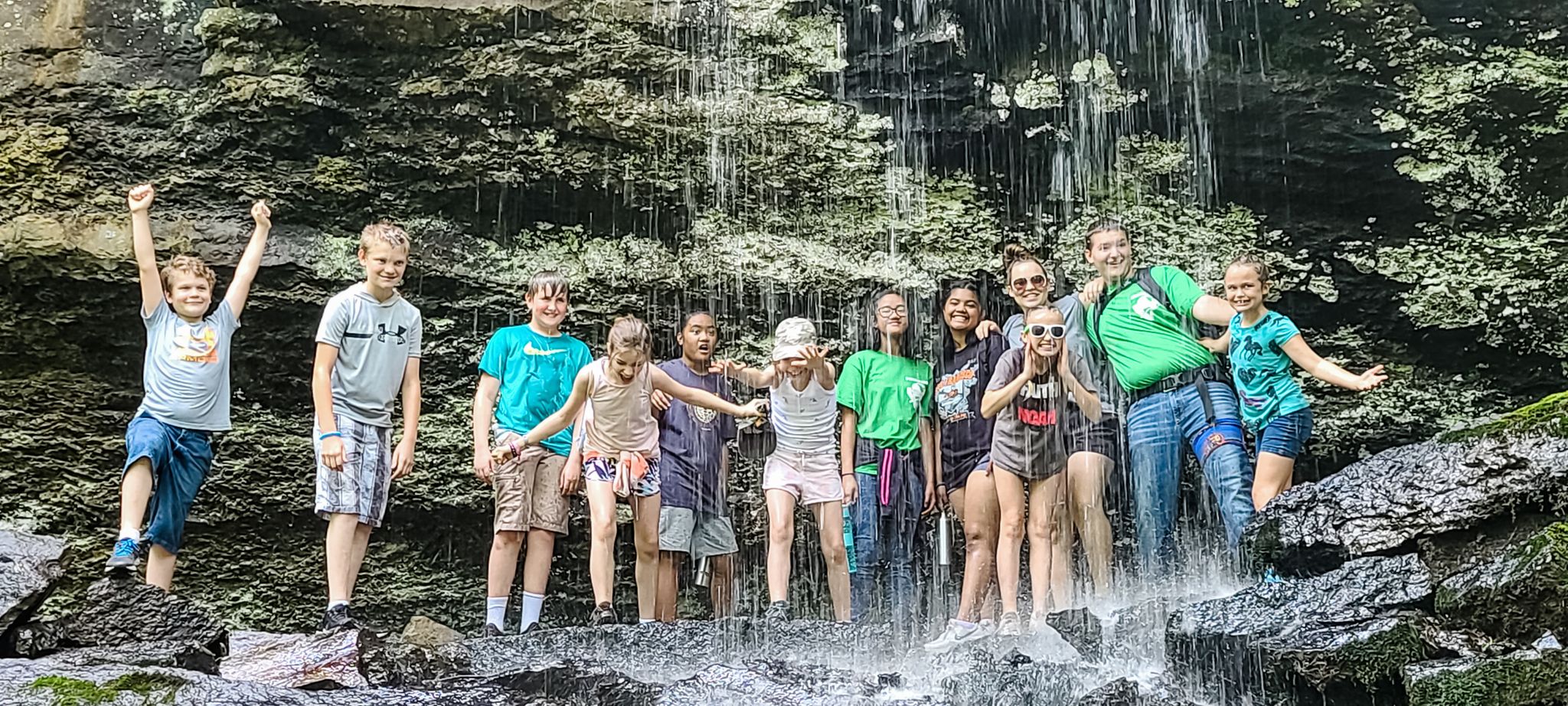 We made it back to our campsite and just in time for lunch. For lunch we had spaghetti and garlic bread, a much-deserved meal after the hike we did. Then it was off to go take a nap for myself. I decided to take a nap in the tent. It was super-hot, so I opened the windows. That did not stop me though from drifting off into my dreamland. Once awake I spent some time reading a little and then chatting with friends around the fire. Truly a restful day in my book. After a while, supper came, and the kids were hungry from playing together. For supper we had veggie packets with burgers. The kids put veggies of choice onto aluminum foil and added some seasonings and then rolled it together and put it on the fire. A super yummy and nutritious meal to be followed by some tasty s'mores. This was the perfect day.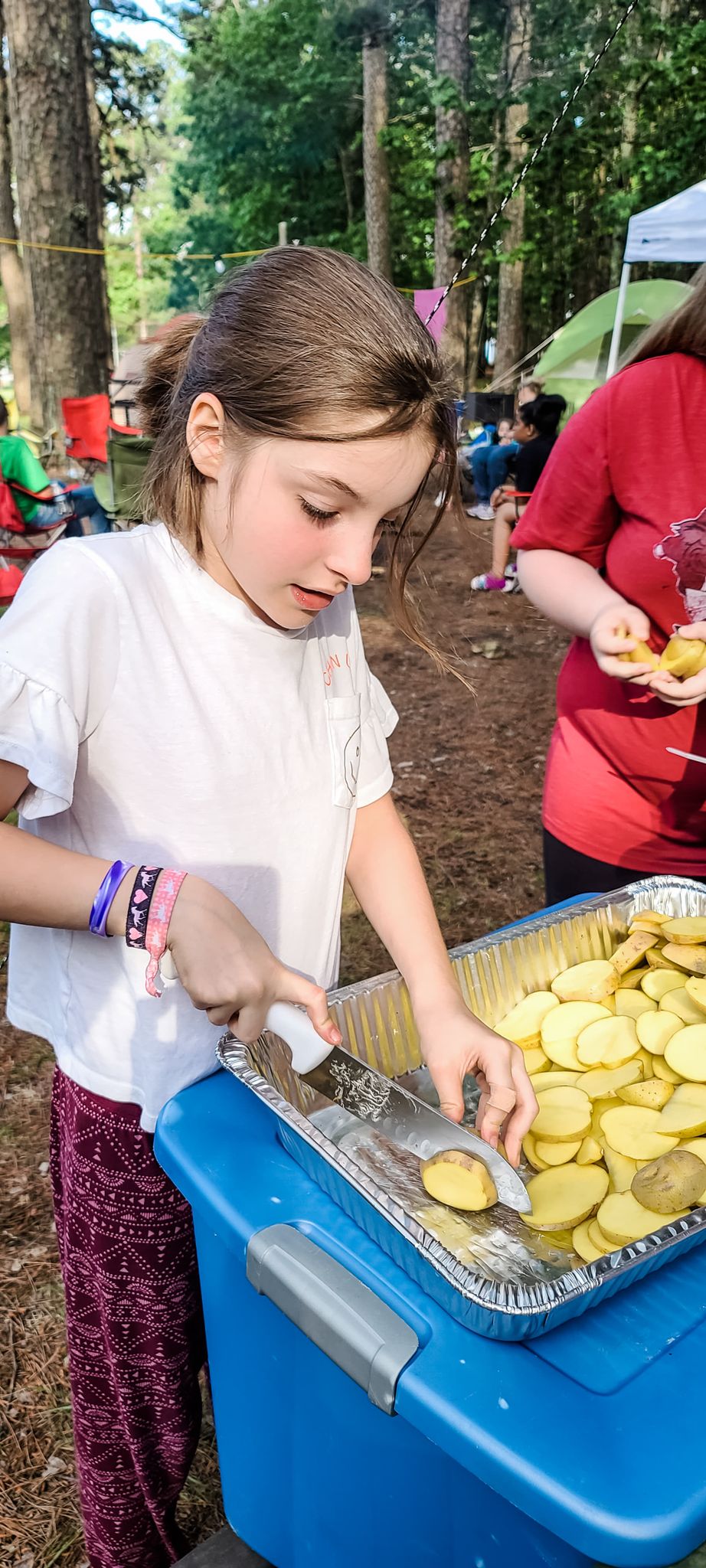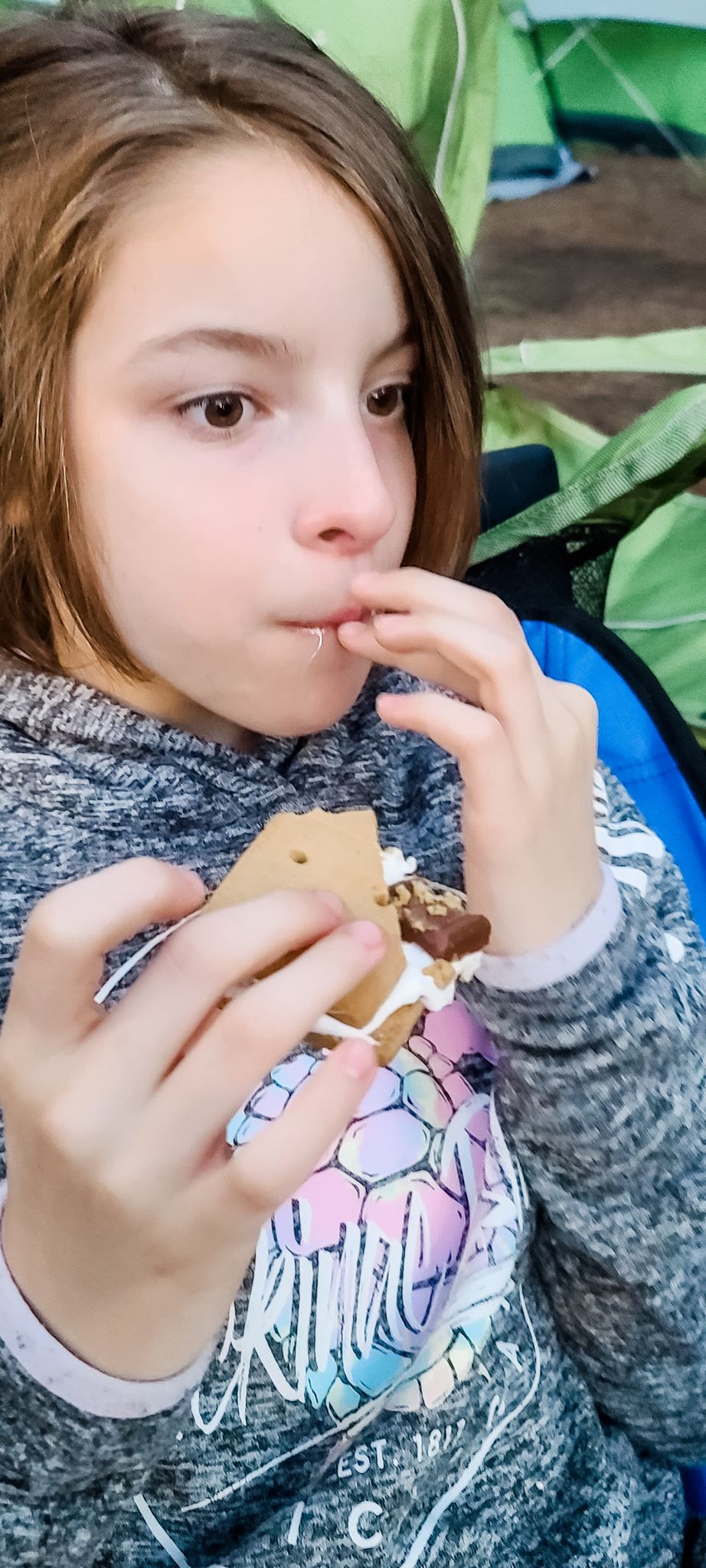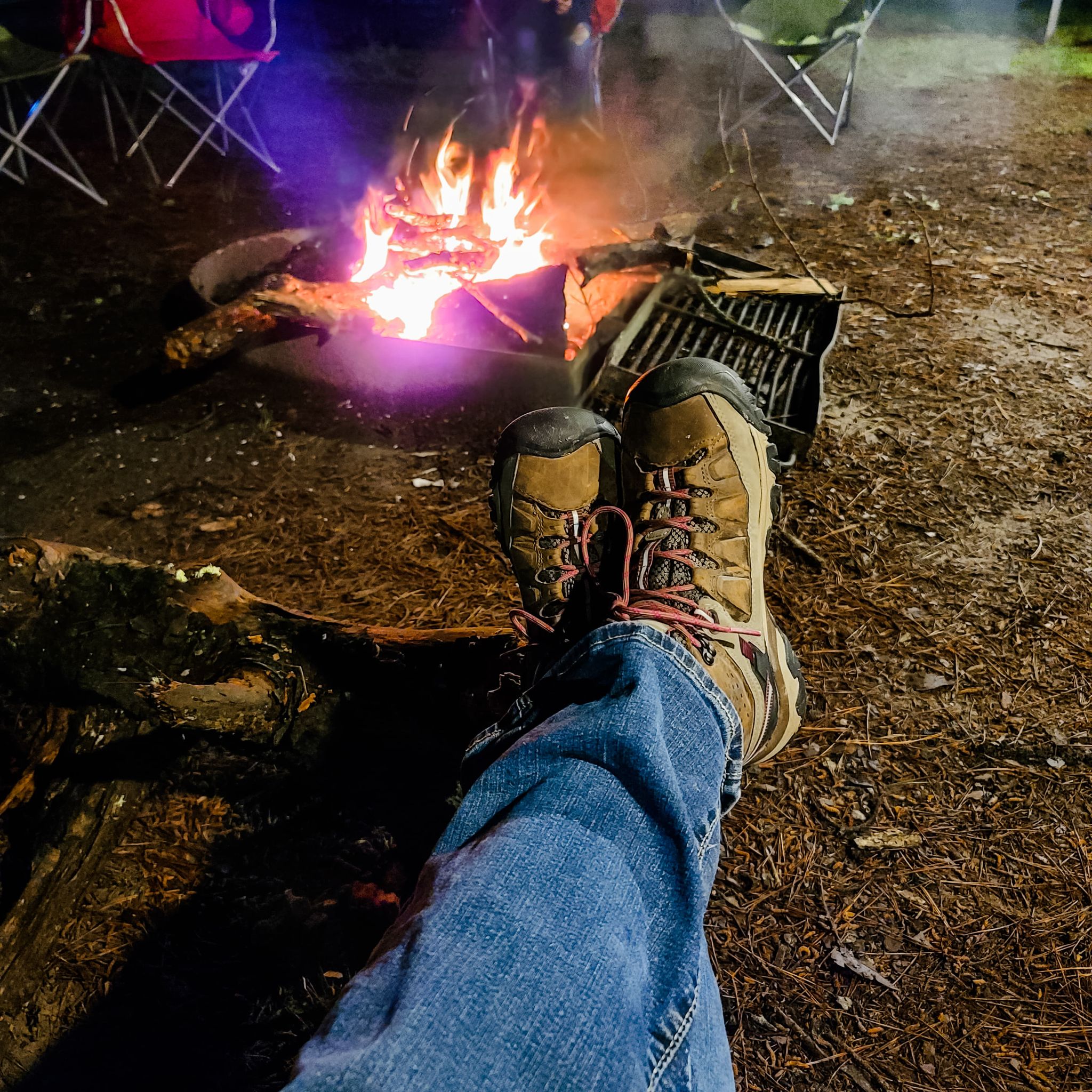 Sunday morning soon arrived, and we all got dressed and ate. Breakfast was eggs, turkey bacon and hash browns and pancakes. Once our bellies were full, we were on a mission to break down camp. I snuck away for a little bit to a lookout just down the way from our campsite. There I found a rock, like the one I sat on in my college days. I opened my Bible, prayed, and did a study right there amongst God's nature. My heart was filled with gratitude and awe. I sat and reflected on my weekend and how much joy it brought to my heart and whispered, this is my happy. In all the ways to describe happiness, this place said it all.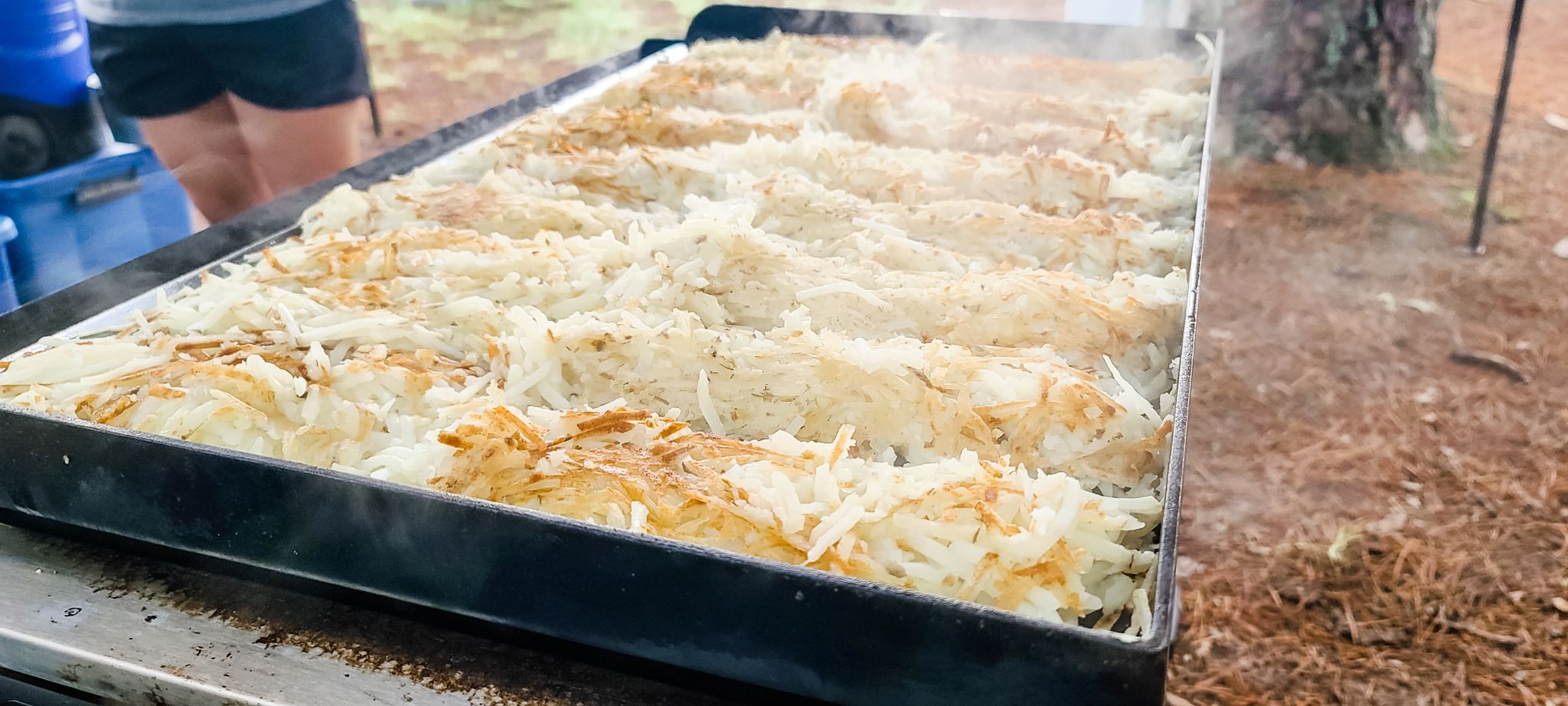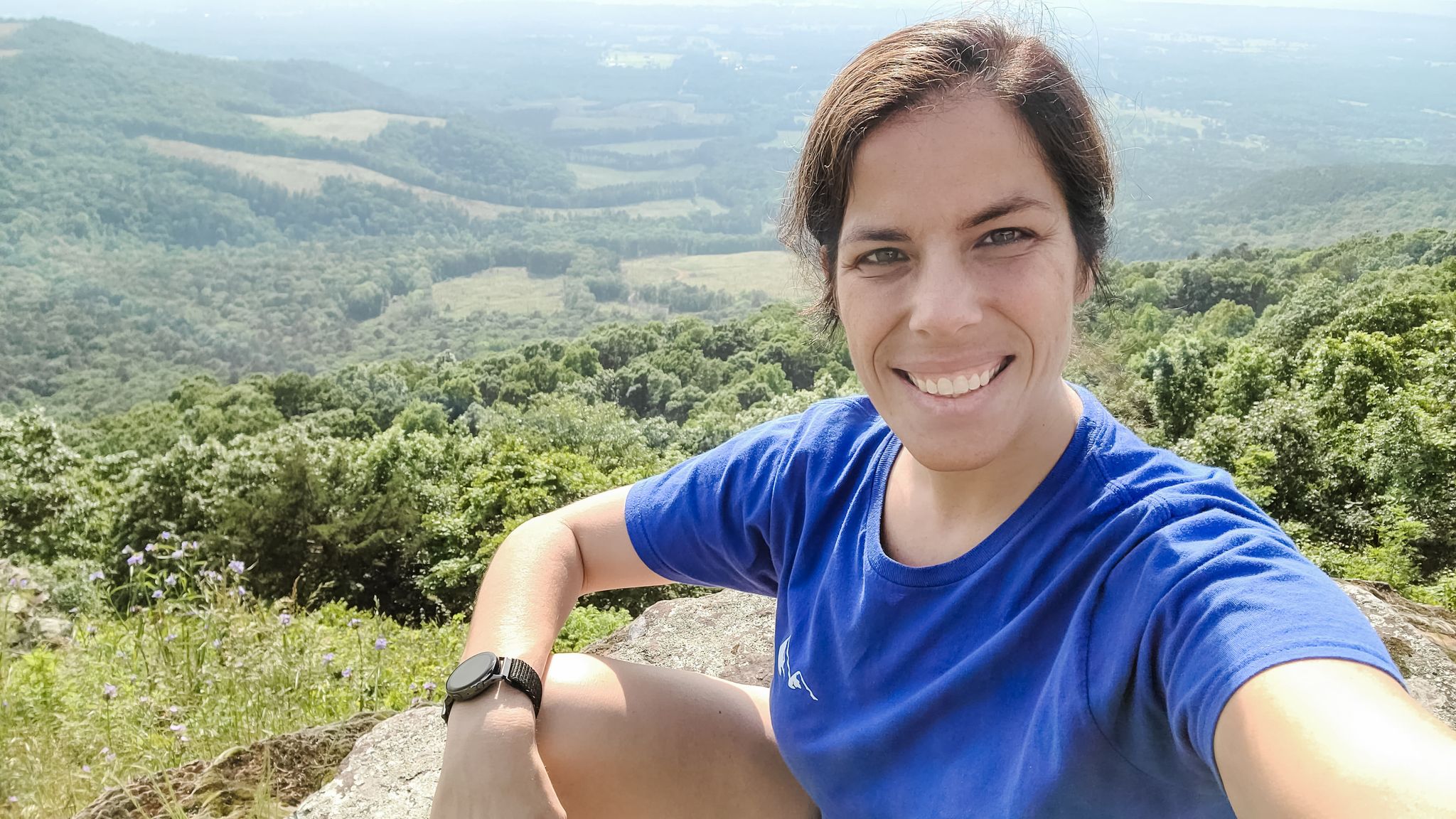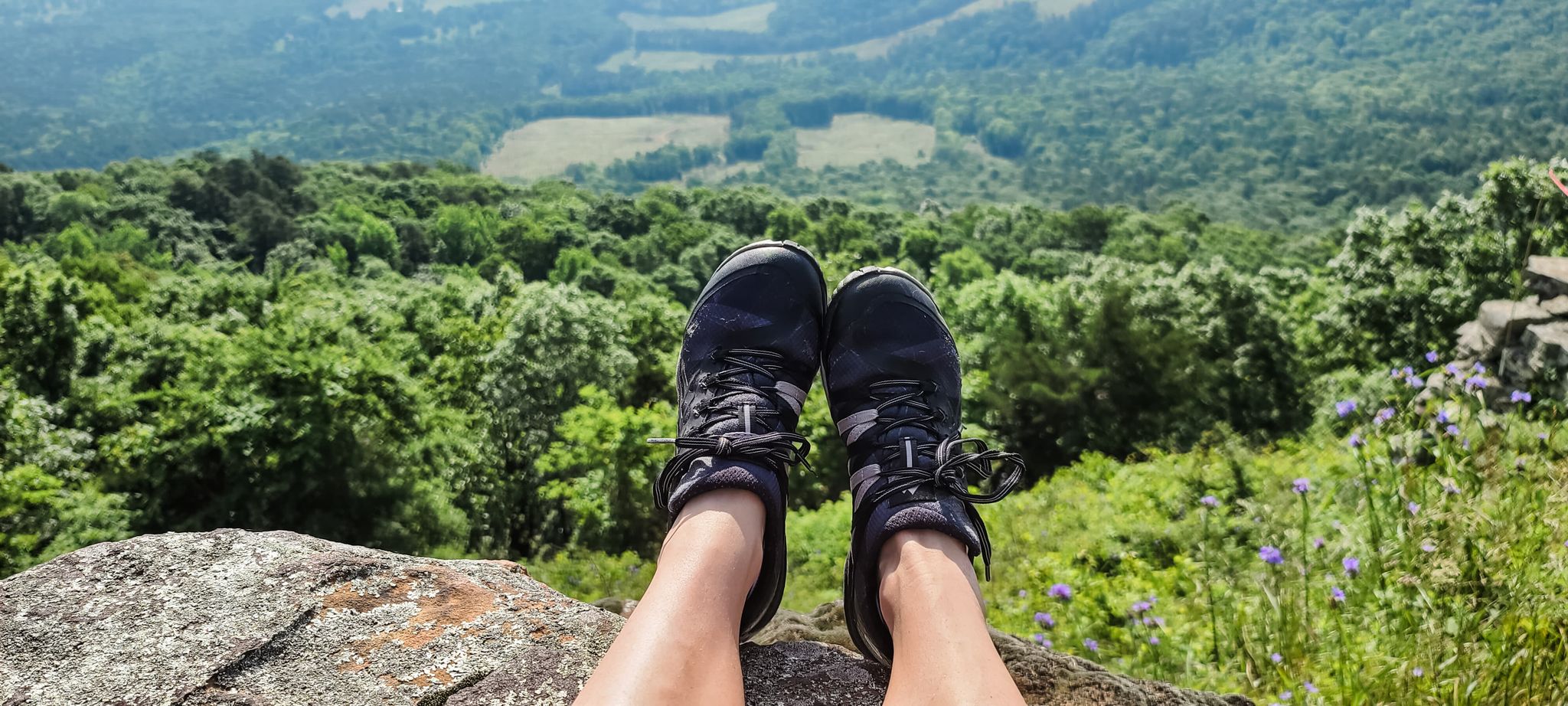 Once we had the site cleaned up, we made a trip to the visitor's center and bought some souvenirs to remember our trip. On the way out I spotted some cool Park Passports for the kids. I grabbed some for the girls and stamped them with Mount Nebo State Park Stamp. The Passport has all the state parks of Arkansas. I look forward to filling those passports.
Overall, Mount Nebo is an amazing place to camp and to spend the entire day hiking. The trails are great, and they even have trails for mountain biking. The staff on the campgrounds were kind and helpful and the bathrooms were clean and maintained. The only issue we had were the ticks. Being that we were so far out from the smaller campsites we were tucked back into the woods. We had to spray often and check every night to be sure we did not have any invaders. That still would not keep me from coming back. It was worth it.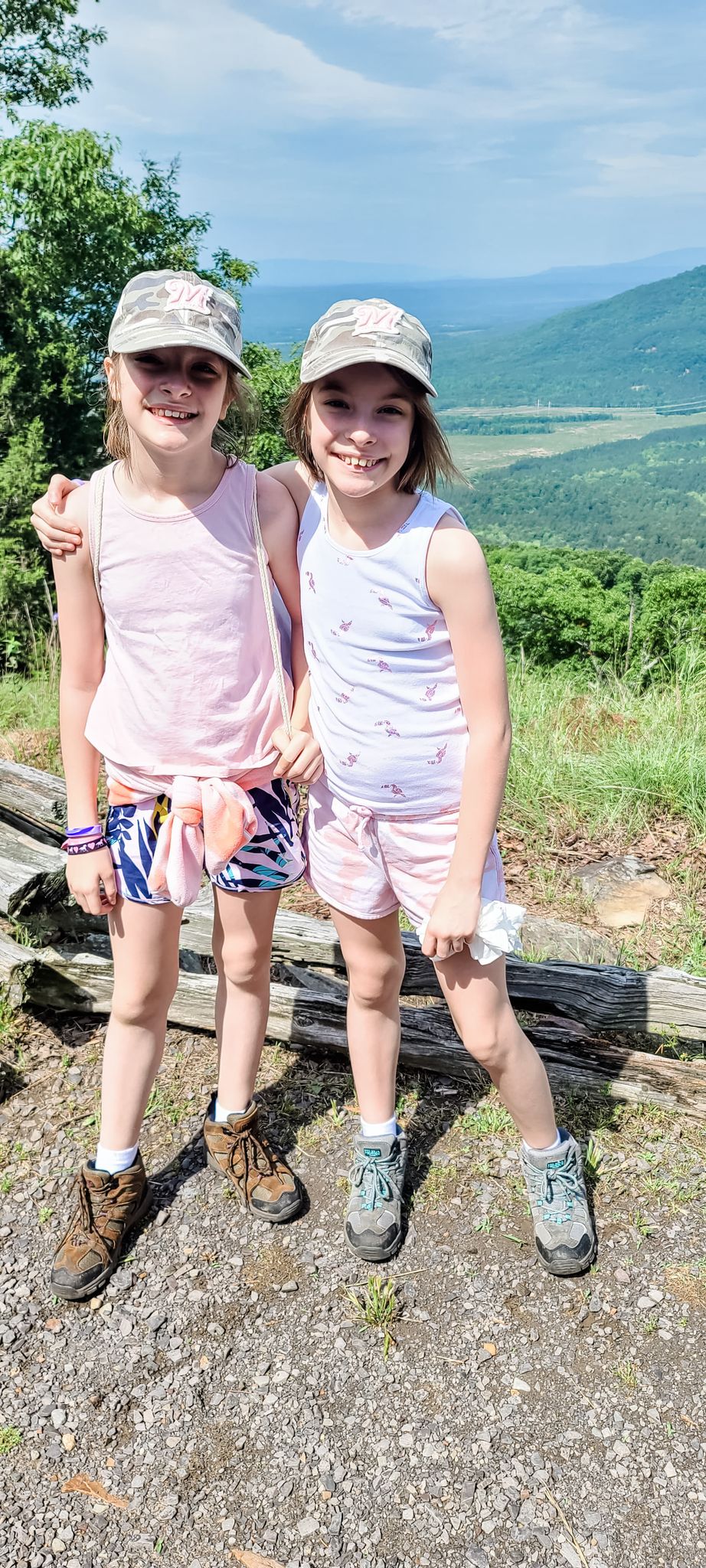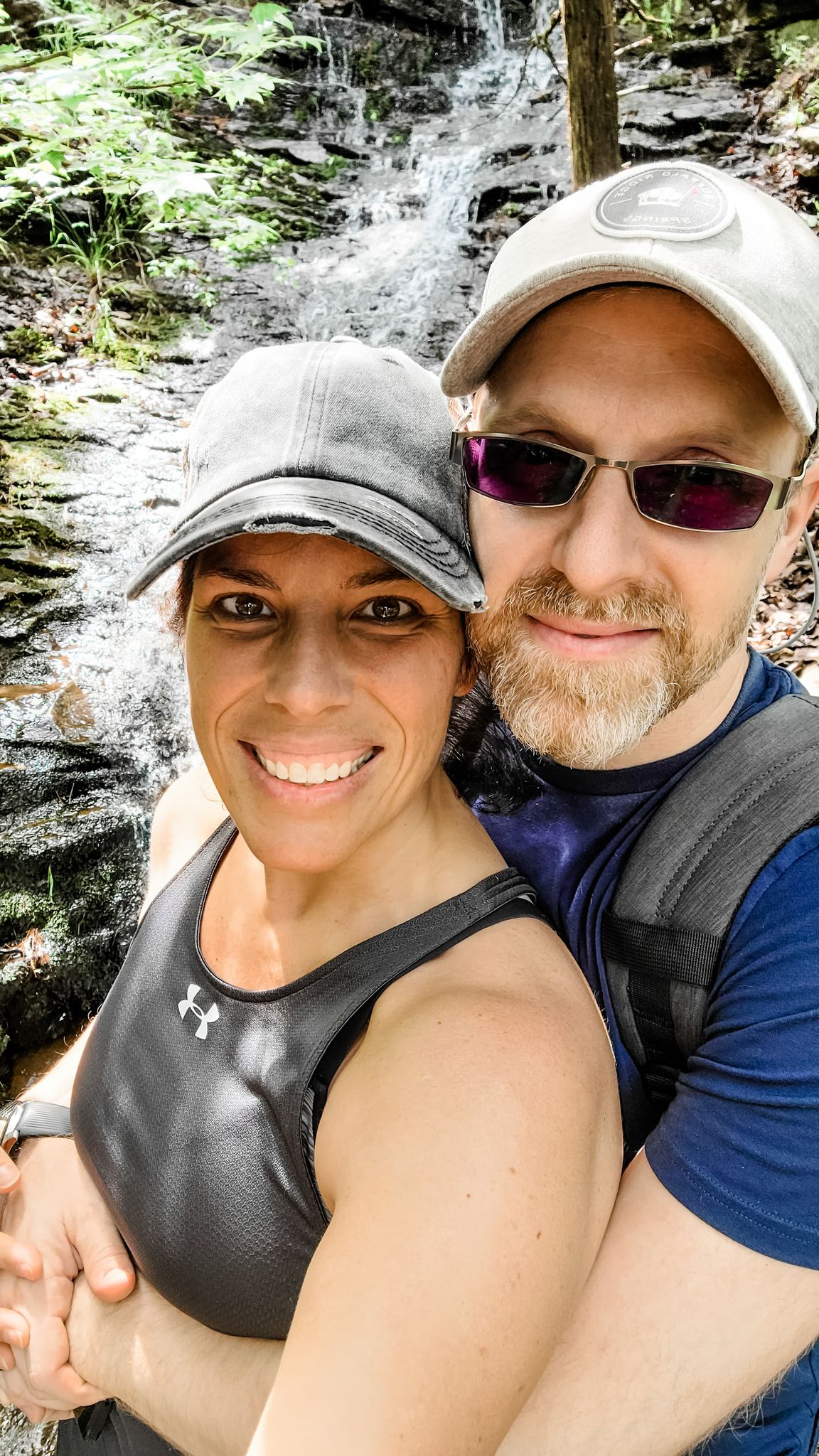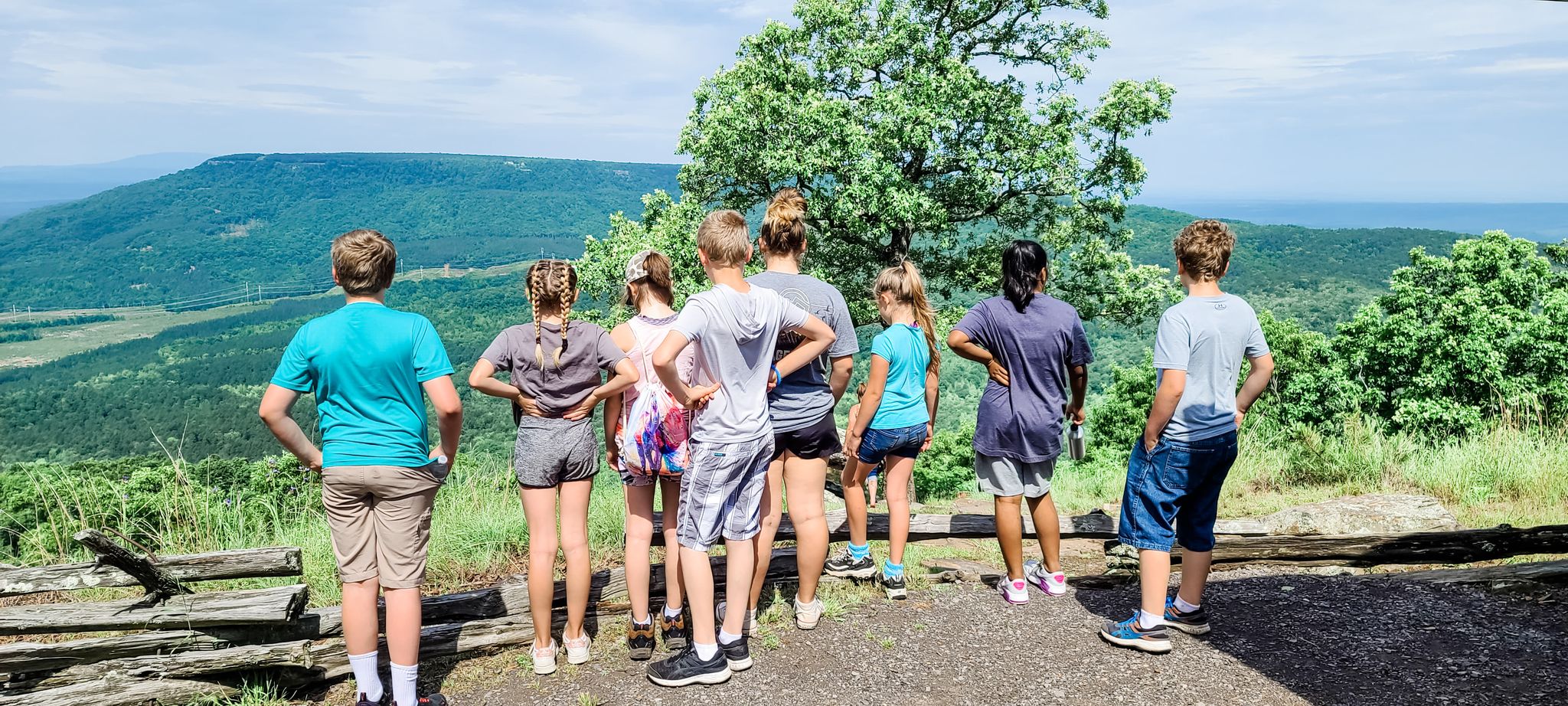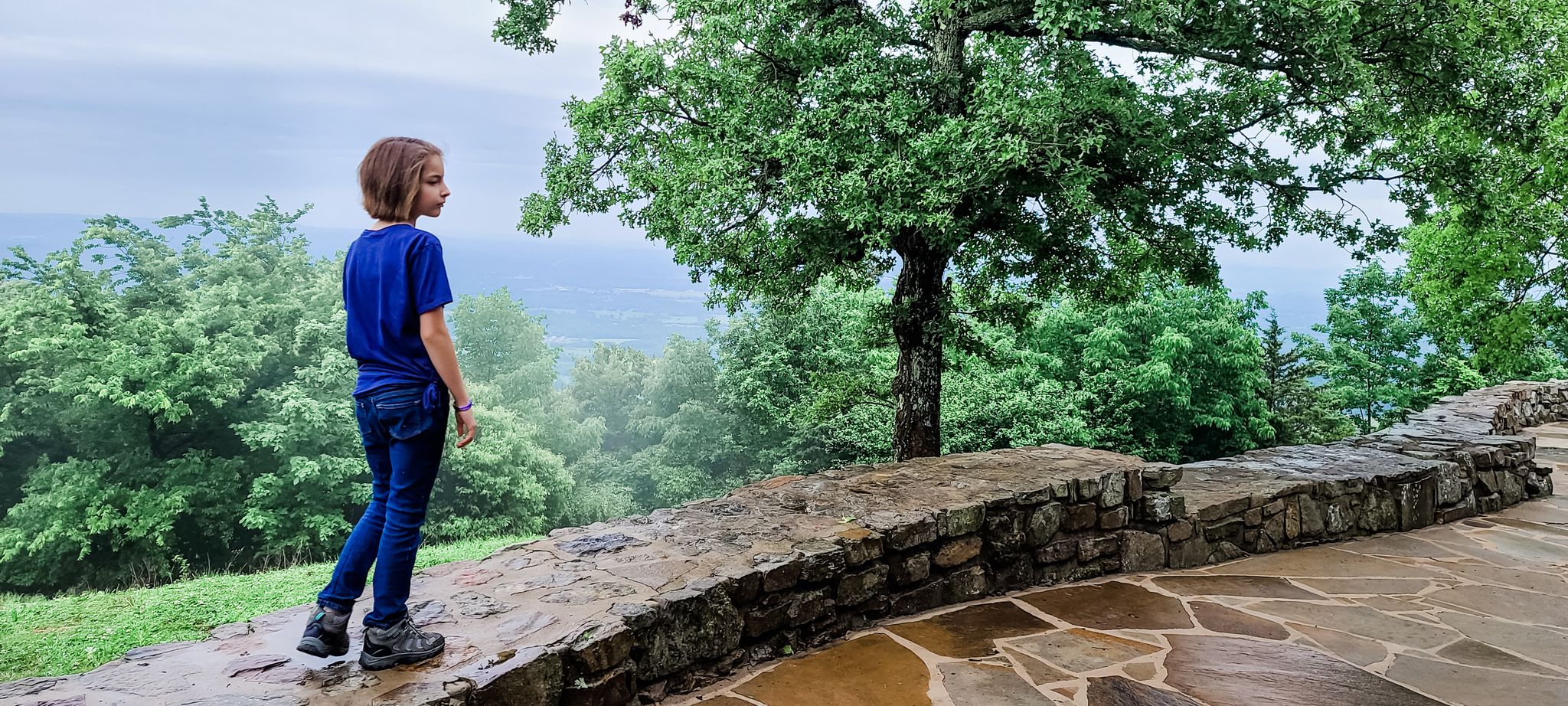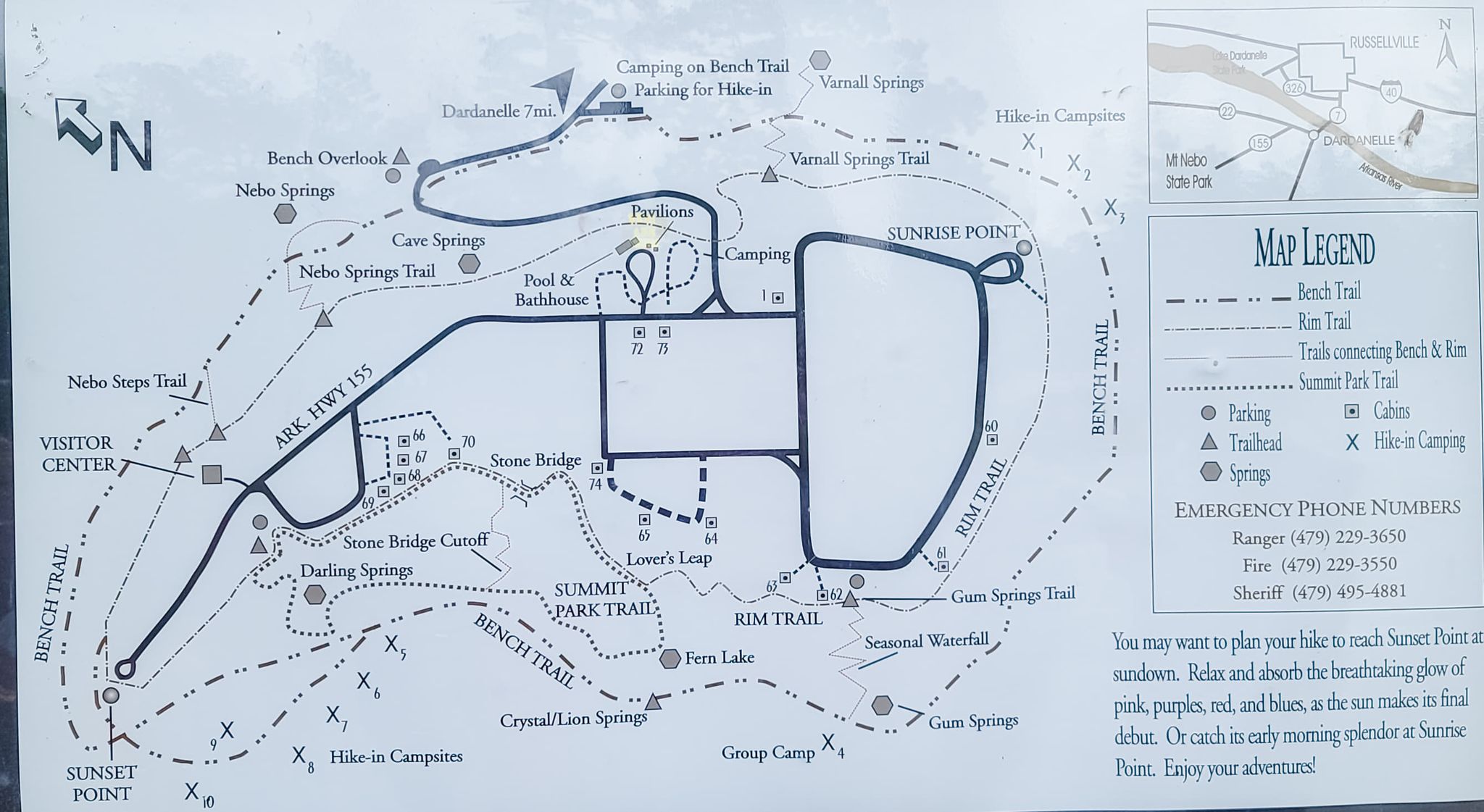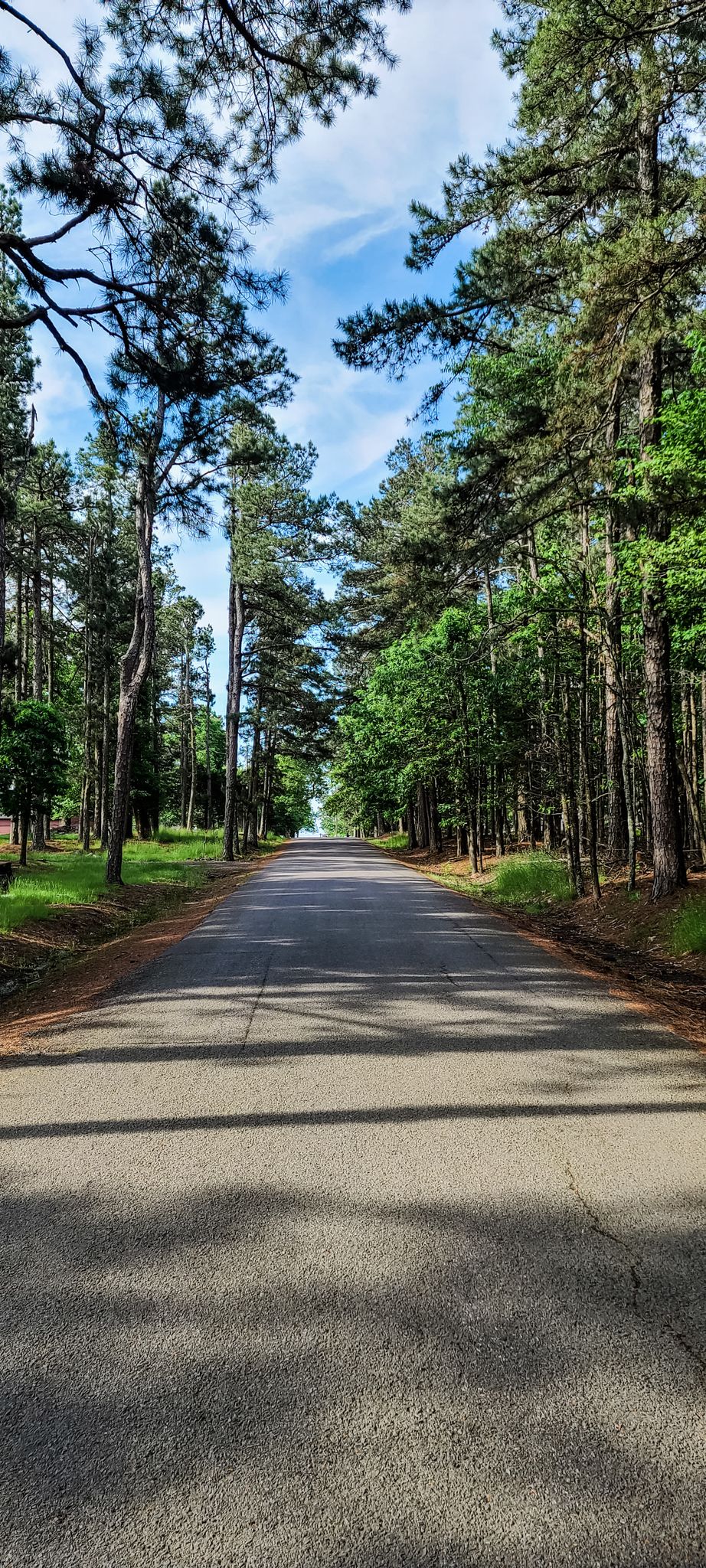 Here are the things I did for my Hashimoto's during this time:
Meals– I brought my own meals, which were all AIP and Low Fodmap.
Friday Supper- Sweet Potato Soup
Saturday Breakfast- Turkey bacon, morning basil hash I pre-cooked.
Saturday Lunch- Cassava Pasta
Saturday Supper- Veggie Packs, brought my own veggies: Parsnips, Sweet potato, green beans, Broccoli, Shredded Chicken, and carrots.
Sunday Breakfast- Morning Basil Hash
Snacks- Chomps Turkey Jerky, Plantains, Freeze Dried Fruit, and Carob chocolate bar (homemade).
Rest– I took the entire weekend at my own pace. No one was in a rush to get anywhere, and we had a great time talking and laughing together. I knew I was going to exert energy with the hike so I tried to maintain my energy the best I could in the morning. After the hike I took a nap to assist by body in restoration. Any time I needed to rest, I did. There were enough adults there to keep an eye on the kiddos.
I also slept on a cot and in a regular sleeping bag, this was tough as my pain levels were a little high. Next time I may opt for a blow-up mattress or a blanket under me to make the cot more comfortable.
Medication/Supplements– I packaged them into bags for everyday and kept on a schedule of when I would take them. They help me live healthy and without fatigue, so I don't ever have a problem with wanting to take them. They are a priority.
I hope this helps someone who may have Hashimoto's or an Autoimmune disease. I refuse to be a victim and I refuse to let it stop me from the things I enjoy. I may have to modify my life a little, but I will do my best to live out my happy.