Cooking healthy can be tasty and fun, but often a challenge for those that haven't cooked much this way. One way I like to help my clients learn new ways to cook with food is to show them through videos, or create recipes designed for thier dietary needs. This one particular recipe is to highlight a new vegetable for both myself and my client, broccoli rabe. Greens are super important to get in and help our bodies in so many ways. Broccoli rabe is one of the most nutrient dense foods out there. It's packed with potassium, iron and calcium, dietary fiber and as well as vitamins A, C and K.
Here are some benefits of broccoli rabe: (draxe.com)
Slows aging
Stronger bones
Decreased risk of hypertension
Lessens inflamation
Cancer protection
Alzheimer's protection
Stroke prevention
Protects against birth defects
I would say that these are some good reasons to eat this vegetable, but grab it up fast when you see it. It is usually only offered in the spring time and fall. Broccoli rabe has a distinct bitter taste. To cut some of the bitterness, you can blanch them for a few minutes in water and then transferred to an ice water to stop the cooking process. For this recipe I chose not to blanch them as I wanted to keep as much of the nutrient as I could before roasting it.
Broccoli rabe is good with other vegetables, pasta, salad, or by itself. The paring I chose was butternut squash and lentils. The combination cut some bitterness, and gave a great added flavor to the lentils. A side note to know is that this vegetable does have high doses of K (like kale), those on an anti-coagulants may want to avoid this vegetable.
Enjoy.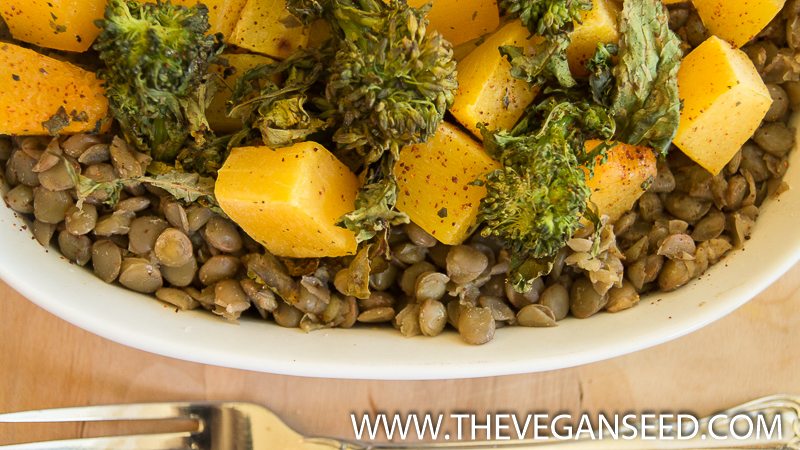 Butternut and Broccoli Rabe on Lentils
This recipe is great for lunch or supper. The broccoli rabe, on its own, has a bitter flavor, however when mixed with the seasonings, butternut and lentils, it balances out quite nicely. If you are not one for bitter, try regular broccoli or broccolini. This recipe is simple in flavor. I kept it this way to help my clients and others to get back to the simplicity of food. It has no oil and low salt for those that need it for their dietary restrictions.
Ingredients
1

bunch

broccoli rabe

Substitute with broccoli or broccolini

1

butternut squash

skinned, chopped into cubes

2

tsp

basil

dried

1

tsp

paprika

1/4

tsp

black pepper

2

cups

brown lentils

5

cups

water

1/2

tsp

salt

2

bay leaves
Instructions
Pre-heat oven to 450 degrees. Cover sheet pan with parchment paper.

Roughly chop the broccoli rabe and skin and chop butternut squash into small cubes. Place them in medium sized bowl.

Sprinkle a little water on top of veggies and add paprika, basil and black pepper to the bowl. Using your hands coat the veggies in the seasonings. Once coated, place on covered sheet pan.

Put veggies into oven for 15 minutes, uncovered. Start on cooking lentils.

Place 5 cups of water, bay leaves, and salt into a large pot. Add 2 cups of brown lentils. Bring lentils to a boil and then reduce the heat to simmer for 25-30 minutes or until desired consistency. Stir occasionally. Check on veggies.

After 15 minutes in the oven, take veggies out and cover with foil and place back in oven for another 10 minutes.

Once veggies are done, the lentils should be done too. Serve, putting lentils down and then roasted veggies on top.
Notes
For added flavor you can coat the veggies in lemon juice before roasting.