I love avocados. They have a distinct creamy taste and full of all the good kind of fat your body needs. I decided to to try a chocolate pudding. I have had avocado in ice cream so I figured it would be similar in the pudding. I found an avocado chocolate pudding recipe from penniesonaplatter.com. I made the recipe exactly how it was designed to be made, however, there was a powerful avocado taste that overpowered the chocolate. I couldn't add much more chocolate as it would be too bitter. I chose to alter this recipe by adding 1 drop of  peppermint essential oil that can be ingested. WOW! The peppermint oil cut the avocado taste and I was able to taste the chocolate better as well. The taste was a chocolate mint pudding, which is perfect for me as I LOVE chocolate mint.
The texture of the pudding was smooth and creamy and wouldn't even guess it to have an avocado base. I would suggest chilling the pudding. It tasted really good cold. I am glad to have a healthy alternative to pudding when I am in the mood for it.
Enjoy.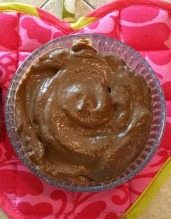 Avocado Chocolate Peppermint Pudding
This is a smooth and creamy alternative to the high sugar processed puddings out there. It contains a strong avocado flavor, so I added peppermint essential oil (the kind that can be ingested) to it to mask the avocado taste.
Ingredients
1

avocado

ripe

1/4

cup

Agave nectar

1/2

cup

Almond Milk

unsweetened

3

Tbs

Cocoa powder

unsweetened

1

tsp

pure vanilla extract

1

drop

peppermint essential oil
Instructions
Place all ingredients into a food processor and blend until smooth and creamy. Scoop into dishes and chill.